Kacey Musgraves And Harry Styles' Relationship Explained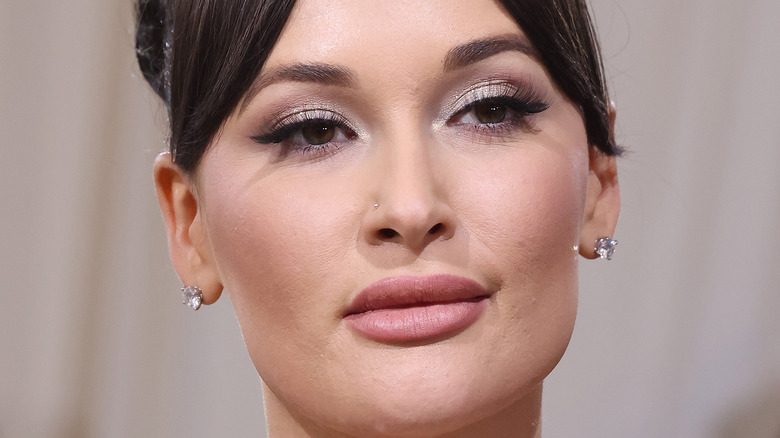 Taylor Hill/Getty Images
A good duet can be a powerful thing. The harmonies, the voices, and the song have to all click together to make a good performance with two singers. And it's apparent that for Kacey Musgraves and Harry Styles, that sort of thing just comes naturally.
Styles released his first solo album in 2017 and it was his first venture on his own after One Direction went on their hiatus/disbanded. Since then, Styles has released two more albums and he's been on two stadium tours. Musgraves, on the other hand, released her first album in 2013. Since then she's released three albums (four if you count her Christmas album in 2016) and headlined and opened for several different tours. And during Styles' "Live on Tour" tour in 2018, Musgraves opened for the former boy band member.
Even though she was married at the time, fans couldn't get enough of the two on stage, possibly hoping for more than just a tour together. They didn't duet in every city they visited, but they had a few videos go viral of their joint performances. But Musgraves and Styles get closer than just their performances?
Kacey Musgraves and Harry Styles are a match made in duet heaven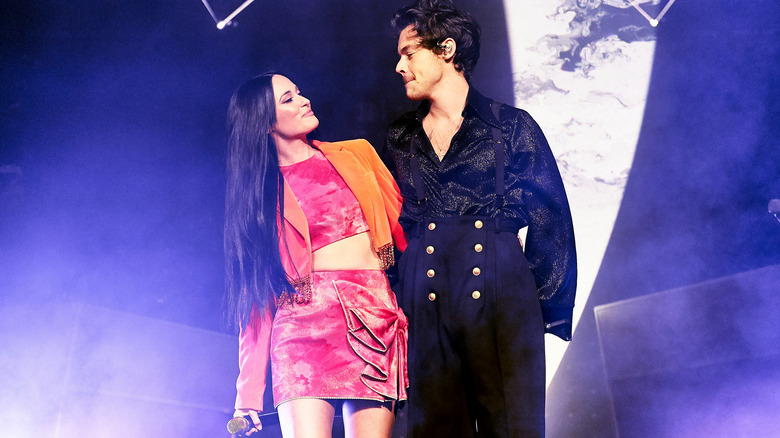 John Shearer/Getty Images
Kacey Musgraves and Harry Styles have a pretty recent, but strong, history of performing together and supporting each other while on the road. As mentioned before, it all started when Musgraves started opening for Styles' headline tour in 2018. During a show at Madison Square Garden in New York City, Styles brought Musgraves on stage and told the crowd he was going to perform "one of his personal favorites," via Country Thang Daily. Since then, fans can't get enough of their voices together. Many want the artists to put the live version on Spotify.
Then the two did a little swap. During her tour in 2019, Musgraves invited Styles on stage to sing "Space Cowboy" together. The tune is from her Grammy award-winning album "Golden Hour." Rolling Stone reported that after their performance together, Styles kindly thanked Musgraves. "As a peer, and someone I like to call a friend, it's always a pleasure, an honor to share the stage with this lady," he told the audience. "She's made a couple of my favorite albums, and it's an honor to be here tonight with all of you to say congratulations and round off this wonderful tour, and a wonderful year."
Kacey Musgraves dealt with a very public breakup in 2020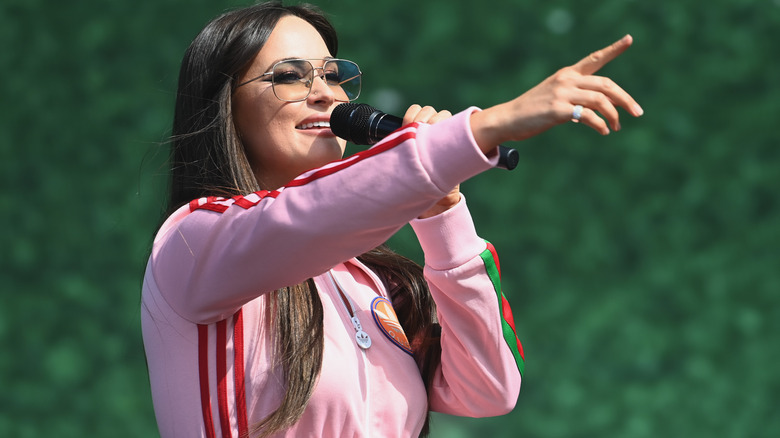 Dave J Hogan/Getty Images
Harry Styles and Kacey Musgraves very obviously have respect for one another as fellow artists. And as stated before, they make a mean duo on stage. However, the two have never dated. While on tour with Styles and on her own tour, Musgraves was married to her now-ex-husband, Ruston Kelly. In her interview with V Magazine in 2021, the singer said that her latest album, "Star-Crossed" is inspired by the breakup, via People. When talking about mourning the relationship, she said that she looked at it differently than how people usually do.
"When you lose something in your life — it might be a friendship or relationship, or even a business relationship or something like that — we're all conditioned to think, 'Oh my gosh, this one thing is ending. This is the worst; it shouldn't be this way'," Musgraves said. "But it's really cool that life can have this beautiful surprise around the corner from you." She stuck by the notion that it was the best decision for herself and her growth. She also told Zane Lowe in their Apple Music interview that the divorce shook her back to "ground zero" so she could really get a handle of who she is and get back to herself. The country singer said, "I'm honestly really glad for the opportunity to acknowledge the relationship, acknowledge the love that I had, but move on and be better."