Hugh Grant And Drew Barrymore's Relationship Once Got Romantic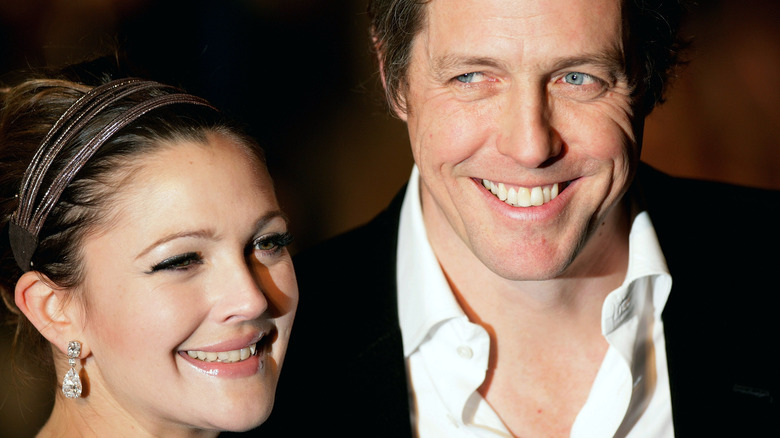 Gareth Cattermole/Getty Images
Drew Barrymore and Hugh Grant have only worked together once, but their chemistry will never be forgotten. The two stars were the lead actors in the 2007 romantic comedy film "Music and Lyrics," in which Barrymore played a plant lady tasked by Grant's character, a washed-up singer, to write a song with him.
While the actors aren't particularly known for their musical prowess, they truly shined in the film, largely thanks to their palpable chemistry and charms. They enjoyed working with each other, too, with Barrymore saying she jumped at the opportunity to star opposite Grant in a project. "I've always wanted to work with Hugh because I loved his movies. He's so funny, and contrary to what he says about his intensity, I think it's also about making it as good as it can be," she shared with MovieWeb in 2007. "He's incredibly professional, punctual, and thoughtful about everything he does." Meanwhile, Grant was drawn to Barrymore's enthusiastic nature. "[What] I love about Drew [is] the fact that she can you know, I am can be a bit of a gloomy bastard — I bring a bit of London gloom to the set, and she brings California sunshine, and she can give us all a lift," he told Reuters. "She especially gives me a lift."
With Barrymore and Grant having natural chemistry, it can sometimes be hard to believe they were never involved romantically. But apparently, they almost were due to one "bizarre" incident.
Drew Barrymore and Hugh Grant once made out for 10 minutes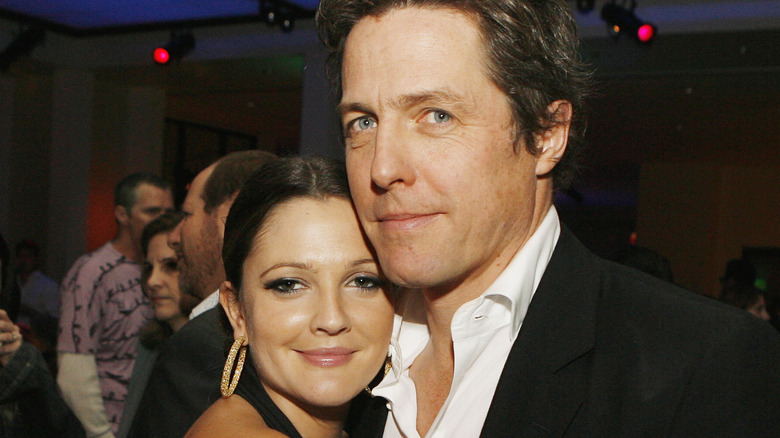 Kevin Winter/Getty Images
Once upon a time, during a drunken night out, Drew Barrymore and Hugh Grant admitted to having a steamy makeout session. But what's funny is they never discussed it until years later.
"I don't think we've ever talked about this," Barrymore recalled in an episode of "The Drew Barrymore Show," for which Grant was the special guest. "I'd had a few drinks, and I walked in, and I ran into you, and instead of saying hello, I grabbed you by the collar, and I fully started kissing you." Grant confessed that he indeed remembered the incident, telling his former co-star that she had "never greeted me that way before." He said that at the time, he thought that "I'm not hating this," so he just let it happen. Barrymore added, "And then we flirted, and then we were like, 'OK, yeah, bye! See you soon.'"
Grant went on to acknowledge that it was "really bizarre." He initially thought that he would just be saying hi to Barrymore, but then "we make out for 10 minutes, and then I sit down again, and [he and studio executives] go and talk about the script."
And while they both admit that it was awkward, it helped them be comfortable with each other on-screen. In 2007, when MovieWeb asked if they had any bad moments on-set where they grew sick of each other, Barrymore simply said, "There is no bad for me."
Hugh Grant and Drew Barrymore first met through a letter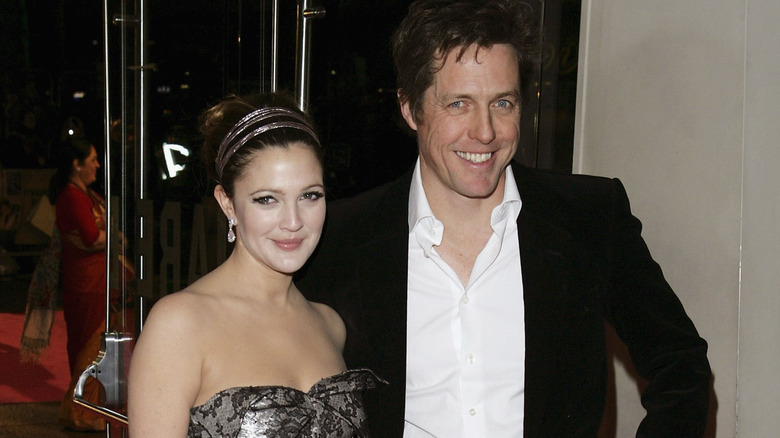 Dave Hogan/Getty Images
Hugh Grant and Drew Barrymore go way back. While they only got to work together in the early aughts, Barrymore had already been supportive of Grant, even during when he was involved in a cheating scandal in 1995.
In "The Drew Barrymore Show," the "Charlie's Angels" star asked Grant if he remembered how they first met, and the actor recalled the time Barrymore had written him a letter during his Divine Brown scandal. I was back in England with 5,000 members of the press around the borders of my farm, and I opened a letter from you that was very supportive and nice. And it was very cheering-up, and I thought, 'I love Drew Barrymore.' Words of support from an actress I didn't know in Hollywood was lovely, so you will always have a place in my heart," he recalled. Barrymore then said that she felt compelled to write a letter because she knew how tough it is to have your personal affairs broadcasted in the media. "I just had to reach out to you," she explained. "I just appreciated you and you were just the most charming human."
When they finally met in person, Barrymore admitted to being disappointed. She said during an episode of "The Drew Barrymore Show": "I was so upset because when I met him. It turns out he's a totally grumpy old man ... You're supposed to be like the dashing rom-com guy!" Eventually, Grant came out of his shell, she added. "And then, you fall in love with him for the real Hugh."