Kanye West's Friends Are Reportedly Worried By His Controversial New Pal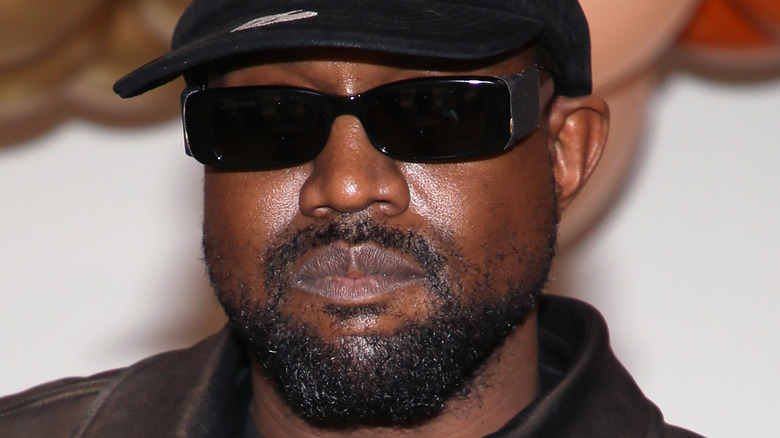 David Livingston/Getty Images
Kanye "Ye" West is continuing to cause some serious drama both online and in real life which has been a cause for concern. Recently, the rapper was restricted on both Instagram and Twitter after making antisemitic remarks on the platforms, according to Entertainment Weekly. His latest rage seemed to start after his controversial surprise YZY fashion show in Paris that had everyone talking. Before the show began, Ye made a speech in front of attendees while wearing a "White Lives Matter" t-shirt that was also seen on models who walked the runway, per Page Six.
During the speech, Ye seemingly expected some backlash and said, "I am Ye, and everyone here knows that I am the leader. You can't manage me." He also defended the shirt during an interview with Tucker Carlson following some serious criticism online. Ye explained, "So, the answer to why I wrote 'white lives matter' on a shirt is because they do. It's the obvious thing.
One person that seemingly supported Ye's "White Lives Matter" design was conservative influencer and talk-show host, Candace Owens. Owens posted a photo of herself and Ye wearing matching "White Lives Matter" shirts on her Instagram Story after the fashion show (via CBS News). At first, it seemed like a one-time thing. But now, it appears the two are closer than we may have expected. 
Kanye West's friends are concerned about his friendship with Candace Owens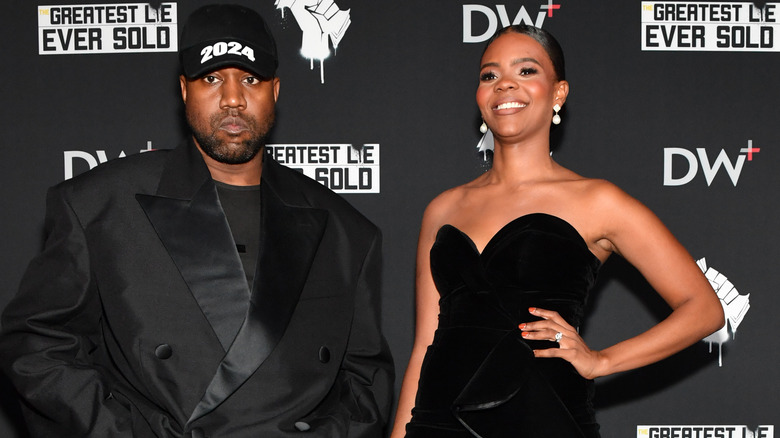 Jason Davis/Getty Images
Kanye "Ye" West and Candace Owens caused an internet frenzy after Owens posted a photo of them wearing "White Lives Matter" YZY shirts, but now, their friendship itself is also causing concern. Sources told TMZ that Owens is now acting as Ye's day-to-day advisor and has been setting up meetings and appearances for him recently. Many of Ye's close friends have distanced themselves because they believe he's in a bad mental place and that others are taking advantage of that. One source revealed, "Anyone taking money from him is taking advantage of him." When asked about Owens, the source replied, "She's gonna run him into the ground."
Recently, Ye attended the premiere of Owens' new documentary, "The Greatest Lie Ever Sold: George Floyd and the Rise of BLM," and reunited with one of his ex-wife's former boyfriends, Ray J, per Page Six. This reunion came as a bit of a surprise, as Ye fought with Ray J during Season 1 of "The Kardashians" after he threatened to leak new explicit footage of Kardashian online. 
Owens defended Ye's antisemitic tweets on her podcast (via Newsweek) and told her listeners that the comments were, in fact, not antisemitic at all. Many Jewish groups, including StopAntisemitism, and the majority of online users strongly disagreed. It's unclear why Owens has developed such an interest in Ye, but many believe it's a serious cause for concern.