What Kyle Richards' Relationship With Her Mom Was Really Like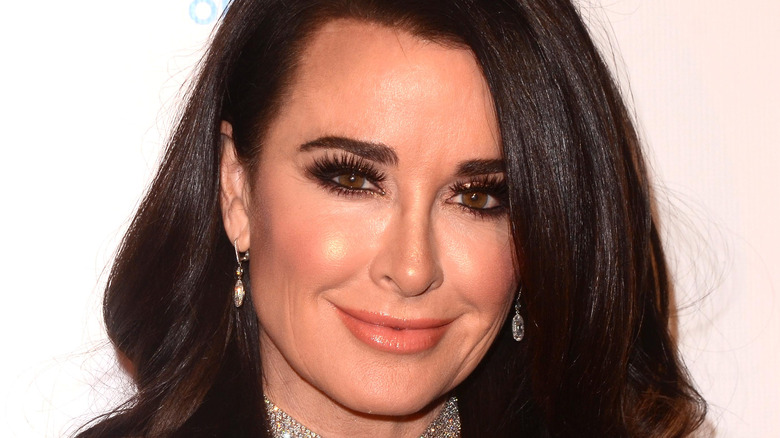 Kathy Hutchins/Shutterstock
"The Real Housewives of Beverly Hills" star Kyle Richards has shown fans glimpses of what her dynamic with her mother was like. Per Us Weekly, Kyle's mother, Kathleen Richards, passed away from breast cancer back in 2002. Kathleen was the mother of Kyle, as well as Kim Richards and Kathy Hilton, per The U.S. Sun. The Nebraska native wanted Kyle to learn independence while she was raising her as a single mother for a time in the 1970s. Kyle explained on "Megyn Kelly Today" in 2018, "She wanted me to take control and learn from a young age how to look after myself because she didn't like finding herself in that position in the '70s."
In 2020, Richards shared a heartfelt Instagram message on the 18th anniversary of her mother's passing. "Not a day goes by that I don't think about her," Richards wrote alongside a black and white image of her mother. "I wonder what she's thinking looking down upon our family. Wish she was here to be a part of it all in person." Other statements Kyle has made show how strong her connection with her late mother was.
Kyle Richards' mom was her 'biggest cheerleader'
Kyle Richards had a very close connection with her mother, Kathleen Richards. During a past interview for PageDaily, Kyle explained how she was surrounded by women during her childhood, and she shared a bed with her mother until her mid-teen years. "I actually slept with my mom until I was 15 years old," Kyle said.
When she chatted with People in 2018, Kyle revealed that Kathleen had an "unconventional" way of raising her kids, and she passed along "a lot of confidence and trust" as a parent. This included Kathleen letting Kyle start to go to work on her own when she was a young teenager. "My mom was a strong woman, opinionated and outspoken," Kyle said. "The way that she raised us was very unconventional. Our house was open and our conversations were open ... And my mom instilled in us a lot of confidence and trust." In addition, Kyle said that Kathleen was the "biggest cheerleader" as a mom. "And she made me feel like I was the greatest thing in the world," Kyle said. The "RHOBH" star has carried out numerous public tributes that display her mother's impact.
Kyle Richards keeps her mom's legacy alive
Kyle Richards has publicly honored her late mother, Kathleen Richards, several times over the years. Her relationship with Kathleen was so strong that it served as a source of inspiration for Kyle to create the series "American Woman." Although the show was not entirely based on real-life occurrences, Kyle has shared that memories of Kathleen played a part in creating the TV program, which aired for one season in 2018. "I was inspired by my mom growing up. She was my biggest inspiration," Kyle said to Cheddar News in 2018. She also called the show a "love letter" to her mom.
There have been numerous occasions for which Kyle has remembered her mother's impactful legacy. This includes this past Mother's Day, when Kyle posted throwback photos of herself and her mother and wrote, "Happy Mother's Day ... Miss you Mom." Kyle shared a rare photo via social media in 2020 of her niece, Paris Hilton, as an infant being held by Kathleen, who was Hilton's grandmother. "My Mom Kathy was so excited when her first grandchild @parishilton was born," Kyle wrote. "She was just 42 years old. ... she was obsessed with her first grandchild....as we all were." In April 2021, Kyle also took to social media to remember Kathleen on her birthday with family photos and the Instagram message, "Today is my Mom's birthday ... Thinking of her & missing her." This mother-daughter duo certainly had a special and unbreakable bond.