The Truth About Kyle Richards And Kathy Hilton's Mom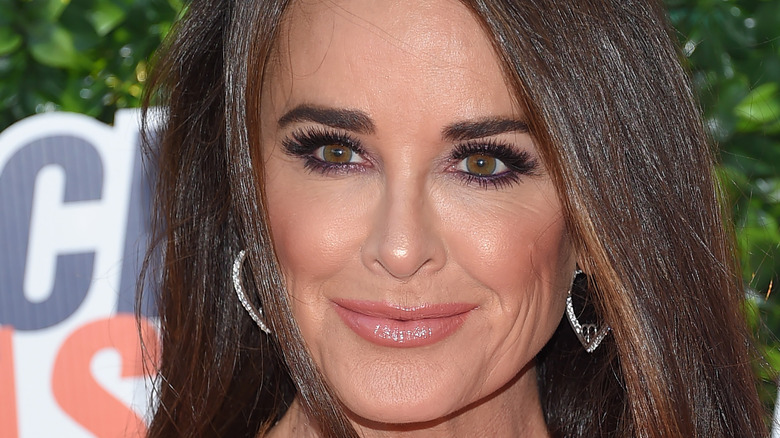 DFree/Shutterstock
Kyle Richards is one of the most well-known and beloved cast members of "The Real Housewives of Beverly Hills." The mother of four has been with the ladies of Beverly Hills since the show first began in 2010. As fans know, her sister, Kim Richards (who was also a child actor), also appeared on the series, but her time on the show was a lot more short-lived.
In 2020, fans were delighted that the third and final Richards sister, Kathy Hilton — yes, the same woman who gave birth to Paris Hilton — would finally be joining the cast. It turns out reality television is a family affair for the Richards girls. Many fans were surprised when Kathy opted to be part of the cast since she tends to keep her life away from the spotlight. During a teaser for her iHeart radio podcast, "This is Paris" (via Screen Rant) Paris shared a few thoughts on her mom teaming up with her aunt on the show, admitting she was a little skeptical. "I don't know what to think," Paris admitted ahead of Kathy's freshman season. "My mom is so hilarious and so beautiful and so much fun. But I haven't watched that show actually in a while. I used to watch it in the beginning. But then it's so much drama."
While there's no doubt that we know a lot of the nitty-gritty details about Kyle, Kathy, and Kim, fans don't know much about one member of the family — their mom, Kathleen Richards.
Kathleen Richards was a strong woman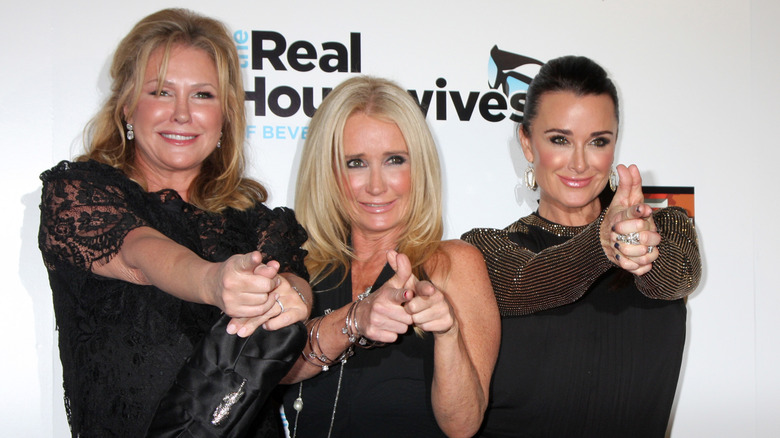 Kathy Hutchins/Shutterstock
Kyle Richards has never been shy about talking about her mom, Kathleen Richards, on "The Real Housewives of Beverly Hills." Most of the time, when the mother of four talks about her own mother, she gets teary-eyed, and we're not going to lie... it makes our eyes well-up too. According to People, Kathleen died in 2002 of breast cancer. Kyle paid homage to her mother on her short-lived television series "American Woman," loosely based on Kathleen's life. "My mom was a very strong, outspoken woman and in that time, women weren't supposed to be like that. Now it's like, 'boss lady' — that's a term now," Kyle fondly recalled of her mother. "But in the '70s, if you were strong and opinionated and outspoken, it was looked down upon. And my mom was that woman — very strong."
Kyle has also remembered her mother on several occasions on social media, expressing how much Kathleen meant to her and how much she misses her. "I lost my Mom 18 years ago today," she wrote on Instagram in March 2020. "Not a day goes by that I don't think about her. I wonder what she's thinking looking down upon our family. Wish she was here to be a part of it all in person." Kyle accompanied the post with a collage of photos of her mother, who shares a striking resemblance to her daughters. Ugh, we only wish that we would have gotten to know her because she seems amazing.
Inside Kathleen Richards' cancer battle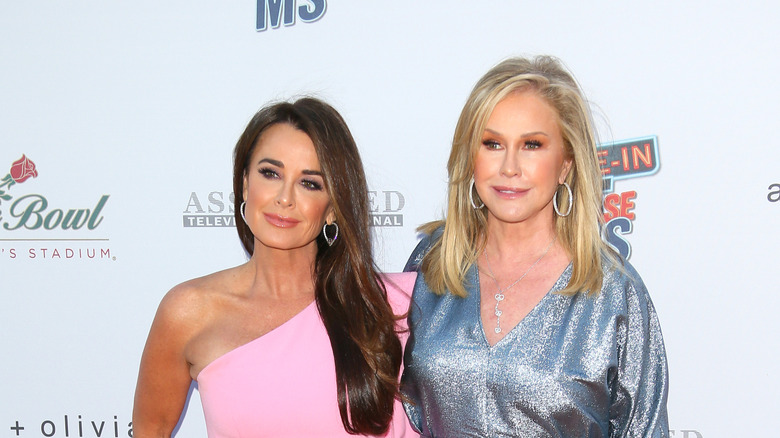 Jean Baptiste Lacroix/Getty Images
As we mentioned before, Kathleen Richards died after a battle with breast cancer, which affects so many women. During a few episodes of "The Real Housewives of Beverly Hills," Kyle has talked about her mother's death and how important it is to check for lumps in your breasts and get yearly mammograms after a certain age. "I lost my mom to breast cancer 18 years ago. So, it's really important to me to use my platform and my voice and get out there and remind women to get their mammograms and do a self-exam every single month, because you really can save your life," Kyle told Us Weekly in October 2020. She elaborated further, sharing how her mother was scared to get checked by mammograms, which have the stigma of being very painful.
"When I think about the fact that my mom did not have a mammogram for five years because she was afraid, it tortures me, you know?" Kyle added. "So, I don't want other women to suffer like that or their loved ones to suffer too." The same month, Kyle took to Instagram to share with fans that she teamed up with the Bedford Breast Center to launch the annual "Kyle Richards Mammogram Day" to give less fortunate women a free mammogram and screening.
Though Kathleen is no longer here, it's certain that her memory will always live on through her daughters, and it's clear that she especially had a profound impact on Kyle.