The One Actress Hugh Jackman's Wife Won't Let Him Work With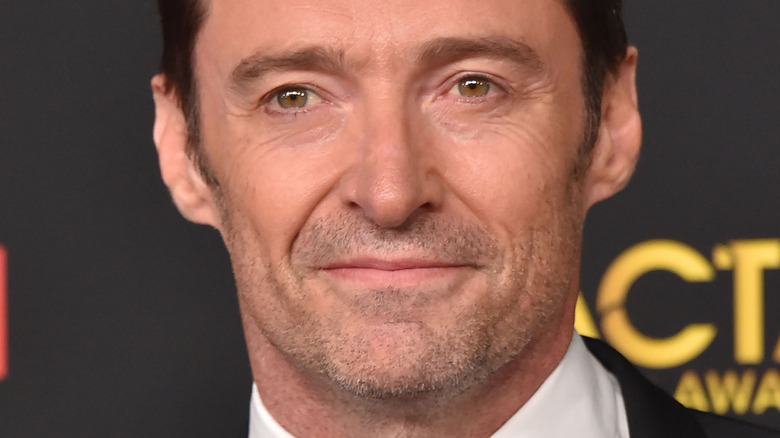 DFree/Shutterstock
Hugh Jackman is one lucky man. Not only has he enjoyed a fruitful, decades-long career in Hollywood, but he also found true love with his wife, Australian actor Deborra-Lee Furness. The two have been happily married for more than 26 years (an eternity by Hollywood standards) and are the proud parents of two children, Oscar and Ava. On their wedding anniversary in April, Jackman took to Instagram to dedicate the sweetest message to the love of his life. "Today I celebrate 26 years of marriage to my extraordinary wife. Every single day is filled with so much laughter, joy and backgammon!!!!" he exclaimed. "Deb you light up my life. I love you with all my heart!" 
Besides being his wife and the mother of his kids, Furness is also Jackman's biggest fan. The Aussie star and producer — who worked with Jackman on the '90s television series "Correlli," where they first met — has always supported her husband, and is remarkably unfazed by his fame and the nature of his work as a Hollywood leading man. Furness once said in a televised interview (via People), "If you get it right, if you pick the right partner, then you traverse all those travails and challenges." But, while Jackman's wife seems mostly cool with him working with the industry's hottest stars, like Scarlett Johansson and Ashley Judd, there's one female actor whom she would hate for him to share the screen with...
Hugh Jackman's wife won't let him work with Angelina Jolie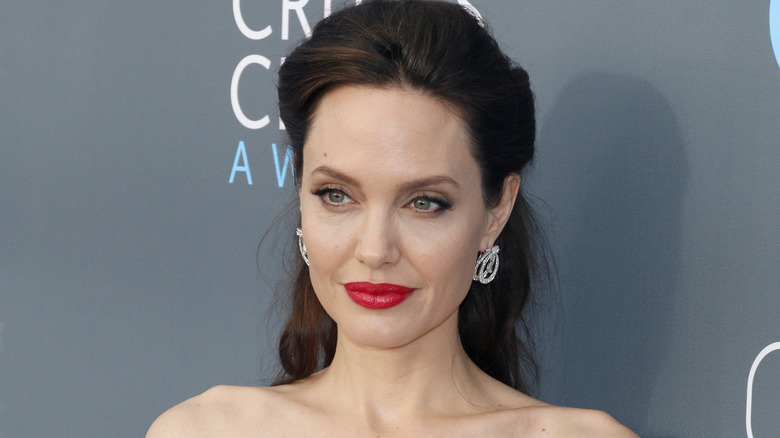 Tinseltown/Shutterstock
Hugh Jackman has worked with many gorgeous actors throughout his career, but there's one female superstar whom he has not yet had the chance to share the screen with: Angelina Jolie. And it might be because of a "rule" his wife of 26 years, Deborra-Lee Furness, has when it comes to his leading ladies. Appearing on Australia's "Today Show" with Jackman in 2015, Furness joked about refusing to allow her husband to work with the "Maleficent" star for, well, obvious reasons. (She's the Angelina Jolie, after all!) "I've told his agent he's not allowed to work with Angelina, I'm sure she's lovely," said Lee-Furness (via People), adding, "I'm just kidding."
But, in truth, Furness is a huge fan of Jolie, and during the interview, she praised the movie star for her advocacy work on world aid and adoption. "I love what she's doing — shining a light on awareness for adoption," said Furness (via the Daily Mail). Jolie, as you may already know, has six children with her former husband, Brad Pitt, three of whom are adopted: son Maddox, whom she adopted from an orphanage in Cambodia in 2002; daughter Zahara, who was born in Ethiopia in 2005; and son Pax, who is originally from Vietnam.
But, what does Jackman have to say about his wife's "rule"? "Deb and I have been married for 20 years. We have a lot of rules. We've very balanced," the "Wolverine" actor said in an interview with Entertainment Tonight weeks later. "So she said that — as long as she doesn't work with Brad Pitt, we're cool."
What Angelina Jolie and Deborra-Lee Furness have in common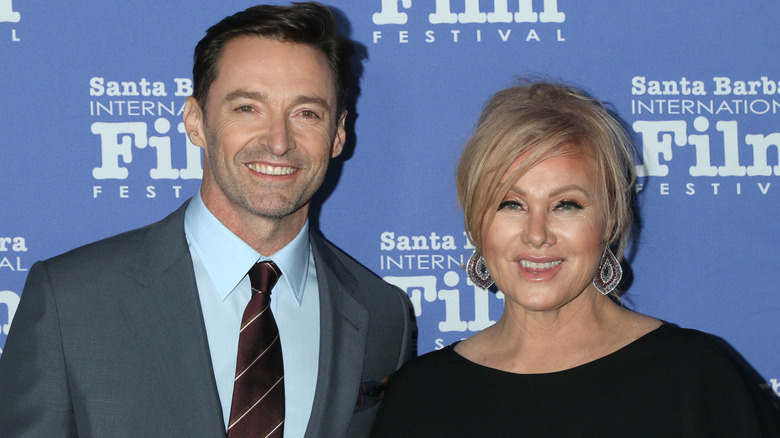 Kathy Hutchins/Shutterstock
Aside from their love of acting, one thing Deborra-Lee Furness and Angelina Jolie have in common is their commitment to championing children's rights and promoting adoption. Like Jolie, Furness is also an adoptive mother (that's right — Oscar and Ava, her children with her husband Hugh Jackman, are both adopted) and an outspoken advocate for orphaned kids. She's one of the founders of Adopt Change and Hopeland and a co-creator of National Adoption Awareness Week in Australia, per Vogue. As she told the outlet, she wants to "make the process work for everyone," thereby making adoptions more accessible and quicker for all parties involved.
She's also a World Vision ambassador and serves on the Advisory Committee of the non-profit organization Film Aid International to help refugees, per The Sun. For her work as a child advocate and adoption campaigner, Furness was honored the New South Wales Australian of the Year award in 2014, according to ABC Radio Sydney. 
"We're trying to get kids out of orphanages; they do not thrive [there]," said Furness in a chat with People in 2020. "Every minute that a child is not in a safe, nurturing environment with a permanent family, damage is being done to them emotionally, physically and psychologically." She added, "That to me is just unacceptable. And society is measured by the way we treat our most vulnerable. So we, as a country, need to really step up."