How Armie Hammer Really Felt About Kissing Leonardo DiCaprio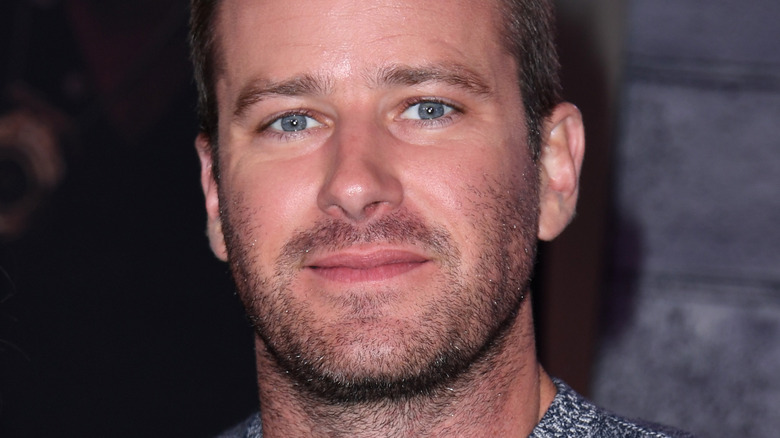 Jon Kopaloff/Getty Images
As one of Hollywood's most sought-after leading men, Leonardo DiCaprio has kissed his fair share of fellow actors in his career. And, as mere spectators, we can only assume that he's a fantastic kisser. But Maggie Smith, who was captured on a kiss cam with DiCaprio at the 2016 BAFTA Film Awards, told NPR that being on the receiving end of a kiss from the "Titanic" star was "a thrill for me. A real thrill."
Meanwhile, Margot Robbie, who once starred with DiCaprio in "The Wolf of Wall Street," admitted that exchanging smooches with him wasn't as sexy as people assumed it would be. "All of my girlfriends interrogated me and asked, 'Is he an amazing kisser?' I'd sit them down and say, 'All I know is his screen kissing is great,'" she told People. "Then they'd get upset and say, 'Tell me it was romantic and there were fireworks.' There weren't any. You do the takes in 17 hours, and it's just hot and sweaty." Still, she said DiCaprio had been nothing but nice to her during filming and she felt grateful that he took her under his wing.
DiCaprio has a long list of actors he's snogged during his decades-long career, but did you know that his first on-screen kiss was shared with a man? It was with none other than David Thewlis in the 1995 film "Total Eclipse." Then, in 2012, DiCaprio shared a passionate on-screen smooch with another male actor — Armie Hammer.
Armie Hammer always hoped to kiss Leonardo DiCaprio
Armie Hammer starred alongside Leonardo DiCaprio in "J. Edgar." He played the role of Clyde Tolson, J. Edgar Hoover's colleague and rumored longtime partner. The film required them to exchange kisses, and according to Hammer, it was a dream he didn't know he had!
"Yeah, jealous?" Hammer joked, when asked if he would indeed kiss DiCaprio in the movie (via E! News). He added that never did he think he would get the opportunity to kiss DiCaprio and quipped that he probably always yearned for it. "No, but I always hoped!" he said. "Somewhere, deep down inside it was something I always hoped for."
As per the actual filming of the kissing scene, he dished some intimate details about what went down in a "Watch What Happens Live" guest appearance. Andy Cohen asked him if he had liked punching or kissing DiCaprio more, to which Hammer replied: "See, that is hard because I usually like to do both!" He also said that there was no tongue involved, although he admitted that DiCaprio had soft lips. And funnily enough, when asked if he was turned on during filming, he confessed that he was, indeed.
Leonardo DiCaprio thinks it's 'hard' to kiss men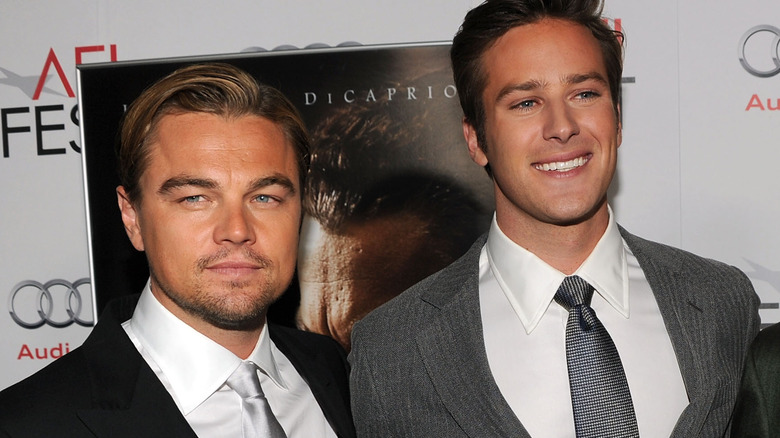 Kevin Winter/Getty Images
Leonardo DiCaprio makes it seem that he's a pro at kissing fellow actors regardless of gender, but he once revealed that he found smooching men particularly tough. "I don't have a problem with doing a film about a relationship of love with another man," he said in a 1995 Movieline interview. "That's just acting, you know what I mean? But as far as the kissing stuff, that's really hard for me, I'm not kidding. But I've faced the fact that I'm gonna have to do it, and I'm gonna do it because I supposedly loved the guy."
And when he had to do it again years later, it seemed he'd gotten over his qualms because he said that it was just a part of the job. "These are the things we do as actors — I was in character," he told The Mirror in 2012. "Clint was very clear, saying, 'I want you guys to beat each other up first, I want as much blood as possible, and I want you to grab each other as if you want to kill each other — and then it will happen.'"
As for his favorite kissing partner? It's probably who you'd hope it would be. "I'm going to go with Kate Winslet," he said in a 2004 interview with Oprah Winfrey (via Far Out Magazine). "Good old, classic."