Why Charlie Sheen And Jon Cryer Aren't Close Anymore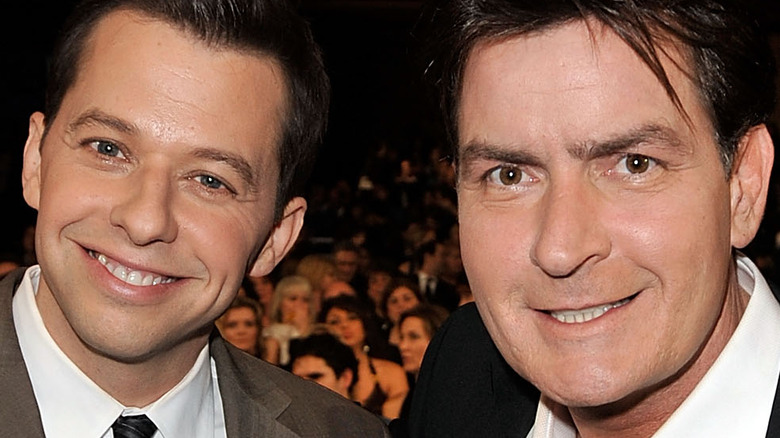 Kevin Winter/Getty Images
"Two and a Half Men" became one of CBS' biggest hit sitcoms after it first aired in 2003. Much like Charlie Sheen's real persona, his character Charlie Harper was a bachelor who loved to party. Jon Cryer played his straightlaced brother Alan Harper, who was a divorceé with a son named Jake. During Sheen's time on the show, he married Denise Richards and the two welcomed their first child, daughter Sam, together in 2004 (via People). Richards became pregnant with their second child but filed for divorce before she gave birth.
Sheen and Richards' tumultuous relationship would go on for years, with the two engaging in a custody battle over their two children and speaking negatively about each other in the media, per ABC News. Sheen claimed Richards asked for his sperm, while she accused him of texting her, "Get cancer" and "Rot in hell." After reports of engaging in heavy drug use, Deadline reported that Sheen voluntarily checked himself into a rehab facility in 2010, halting the production of "Two and a Half Men." He was eventually fired from the show and since his downward spiral, his relationship with Cryer has never been the same.
Jon Cryer and Charlie Sheen once had a great relationship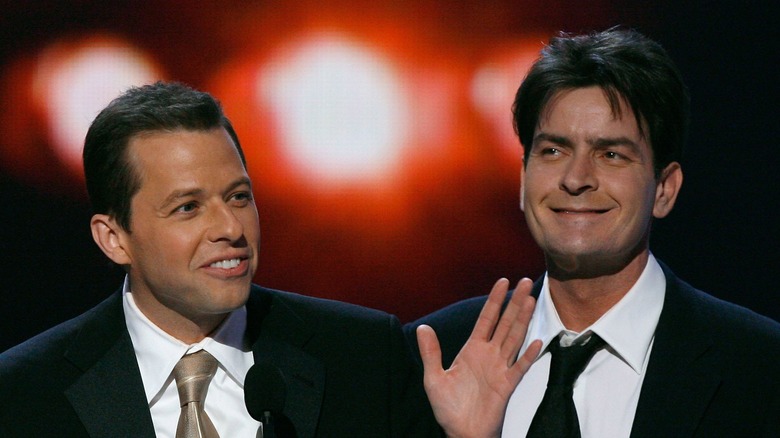 Kevin Winter/Getty Images
In 2020, Jon Cryer spoke out about how he and Charlie Sheen were initially good friends. "Charlie and I hit it off," he told Entertainment Weekly. "We had a great first few years on that show. It was incredibly smooth, we had a lovely time, it was working really well." However, Cryer felt Sheen's divorce from Denise Richards was the catalyst for his downfall. Cryer believed that Sheen, who had been sober when he first starred in "Two and a Half Men," began using drugs again after his split with Richards. "At first he could handle it, and he was still incredibly professional ... but you could see that stuff was wearing on him," Cyber described of Sheen.
According to Cryer, Sheen started acting erratically on-set and having trouble with the script. "He started to have issues with the writing and sometimes issues with the writing that I didn't understand," Cryer told Entertainment Tonight. Cryer also recalled wondering why Sheen was having issues with something he had no trouble with a year prior. "It was very subtle. It took a while before it started really going off the rails." Soon, Sheen was not only having trouble with the script, but also with the creator of "Two and a Half Men," Chuck Lorre.
Charlie Sheen called Jon Cryer a 'troll'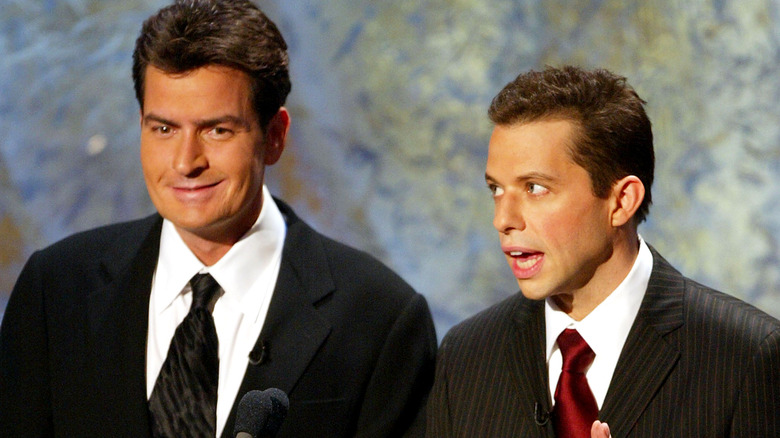 Kevin Winter/Getty Images
Charlie Sheen entered rehab again in 2011 and "Two and a Half Men" was supposed to resume filming when he got out. However, Sheen went on a radio show, "The Alex Jones Show," rant about Chuck Lorre, calling him a "clown" and a "charlatan" (via TV Insider). Sheen also rambled incoherently about "Vatica assassin warlocks" and called Alcoholics Anonymous a "bootleg cult." Following the rant, Sheen was fired by Warner Brothers, per TMZ.
Sheen expected support from his longtime co-star Jon Cryer, but he was allegedly met with silence. "Jon has not called me. He's a turncoat, a traitor, a troll," Sheen told E! News. "Clearly he's a troll. He issued a statement. Is it going to take me calling him a 'traitor, juvenile and scared' for him to get it?" Cryer responded by joking, "The fact it, I am a troll. It's not something I like to talk about. My parents don't even know" (via Today). Although Sheen and Cryer's friendship took a hit, it appears there's no bad blood, at least on Cryer's part. According to CinemaBlend, Cryer said he's glad that Sheen's health has "rebounded" and wants "nothing but success for the guy." There may also be an on-screen reunion, as Cryer tweeted in June, "Just Saw Top Gun: Maverick. Think it's time to reunite with Sheen for Hot Shots: Part Tres." Let's see if Sheen is willing.