Why Keanu Reeves Once Got Booed Offstage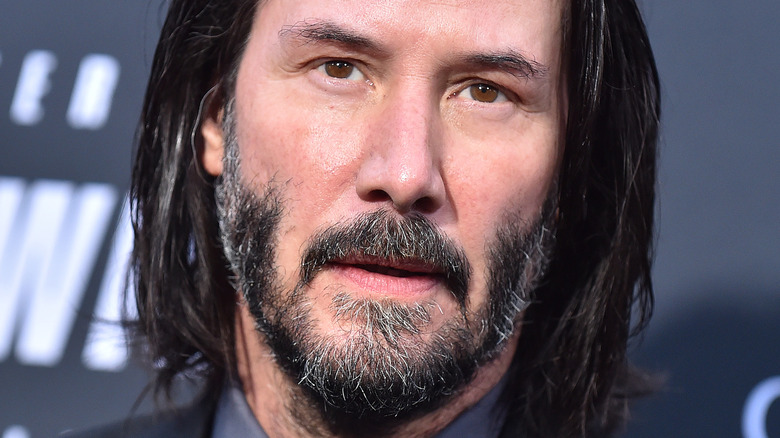 DFree/Shutterstock
Hollywood has seen various actors branch out from the big-screen and take on other artistic endeavors. From Johnny Depp's painting ventures to Maya Hawke's music career, it's not uncommon for celebrities to have multiple talents and passions. Another actor who hasn't limited themselves to acting? Keanu Reeves. Yup, in 1991 "The Matrix" star formed a band called Dogstar, which featured Reeves as the bass player. It all started with a supermarket encounter between Reeves and actor Robert Mailhouse, who became Dogstar's drummer, per GQ. As Reeves once explained, they played "like, folk music," or "folk thrash," per Mental Floss.
However, there was one key difference that set Reeves apart from other popular musician-actors. To say that his band didn't garner acclaim would be an understatement. But thanks to Reeve's involvement in the group, Dogstar was still the talk of the town. And although the band was ripped apart by critics and crowds, Reeves maintained an optimistic outlook on his music career. Back in the 1990s, Dogstar took a hit — literally.
Dogstar's crowd didn't hold back at Milwaukee Metal Fest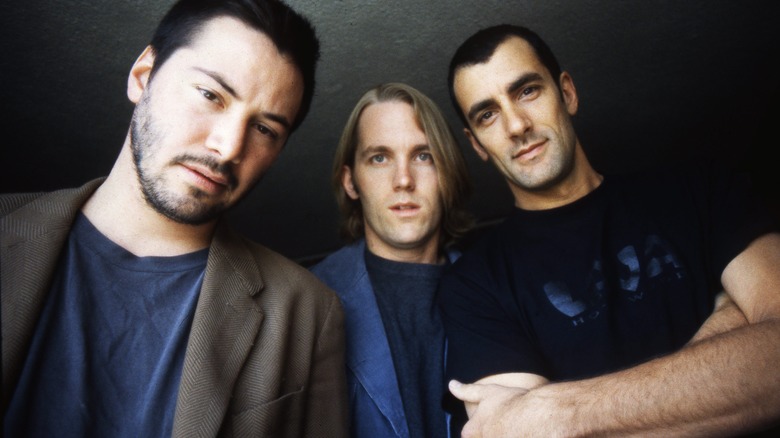 Martyn Goodacre/Getty Images
Although Keanu Reeves is best known for his acting roles, he once drew in fans with his short-lived stint in the music industry. In the 1990s, Reeves went on tour with his band Dogstar, per Mental Floss. At Milwaukee Metal Fest, the band didn't exactly fit in with the other acts. And the audience wasn't shy about showing the group how they really felt about the quality of the music. You guessed it — Dogstar got booed. Reeves revealed that the concertgoers actually threw beer at them. Reflecting on his band, Reeves admitted to GQ, "I guess it would have helped if our band was better."
Elaborating on the memorable experience, Reeves told GQ, "I think we played close to [belligerent New York hardcore-punk legends] Murphy's Law. Imagine. So we played a Grateful Dead cover, at Milwaukee Metal Fest." He further described the audience's negative reaction, recalling, "We were like, 'They hate us. What are we doing here? What can we do? Let's do the Grateful Dead cover. They were just like, F*** you, you suck. I had the biggest grin on my face, man."
Dogstar was slammed on more than one occasion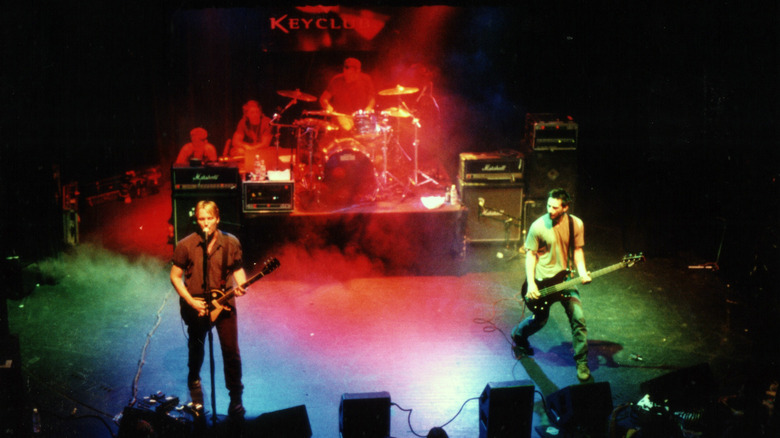 Jim Steinfeldt/Getty Images
Since Dogstar was unequivocally panned by critics and concertgoers, why did people rush to see the band perform? Well, Keanu Reeves' was a hot commodity at the time. After all, Dogstar's appearance at the 1999 Glastonbury Festival occurred just months after "The Matrix" came out — an iconic movie that elevated Reeves' fame, per Far Out.
However, Reeves' name wasn't enough to secure the band's success. According to Far Out, the audience at Glastonbury was underwhelmed by the band's performance, to say the least. The crowd was reportedly unhappy, as Reeves didn't engage in much dialogue with them. Eventually, concertgoers hurled fruit at the musician and his bandmates. Needless to say, the set didn't exactly go smoothly. But Reeves was not oblivious to his band's notoriety. In 1993, he proudly said, "We're terrible. We've played about ten times now and though we're getting better, we play better in a garage. But I say, better to regret something that you have done than regret something you haven't done," per GQ. Reeve's experiences playing with Dogstar literally sounds bananas.