The Athlete Donald Trump Wanted Ivanka To Date Instead Of Jared Kushner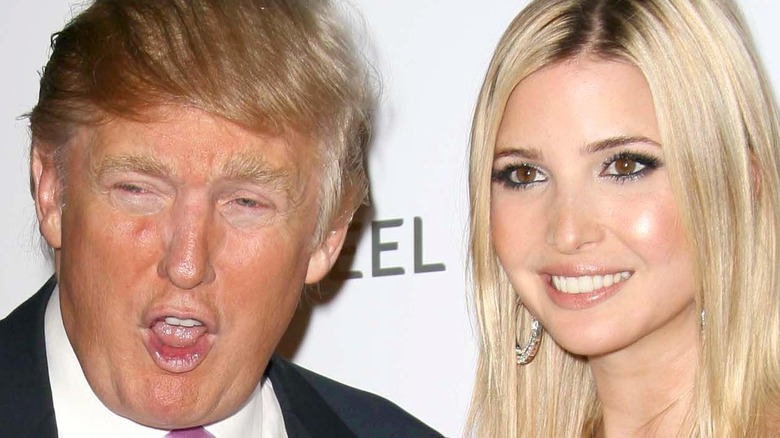 s_bukley/Shutterstock
Almost every follower of the former first family is aware of the marriage between former President Donald Trump's eldest daughter, Ivanka Trump, and her husband Jared Kushner. The two met in 2005 through mutual friends, and married in a Jewish ceremony in 2009. Now, the couple — sometimes known as Javanka — has three children together, and became among the most influential voices in the Donald Trump administration, in no small part due to the undue impact Ivanka has on her father, largely as a result of her all but certainly being his favorite child. 
However, what many followers may not have known is that although Donald soon warmed up to Kushner — even offering him a prominent position in the White House during his administration — "The Apprentice" host actually hoped for his eldest daughter to marry someone else in the beginning. And surely, those who know Donald will be unsurprised to hear who it was.
Donald Trump originally wanted Ivanka to date Tom Brady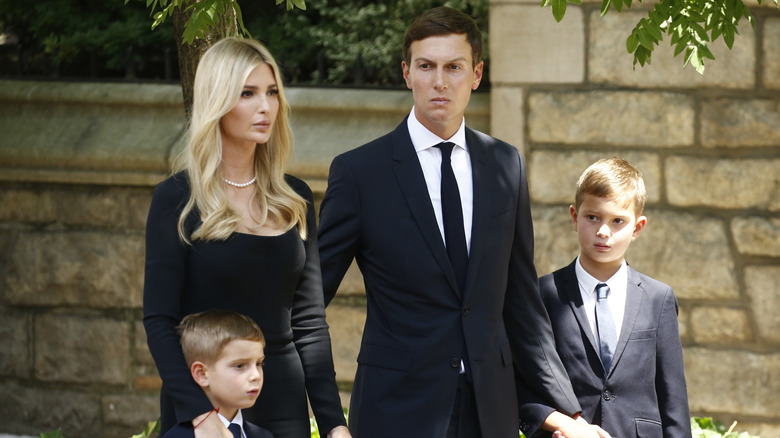 John Lamparski/Getty Images
As Jared Kushner revealed in his memoir, "Breaking History: A White House Memoir," his now-wife, Ivanka Trump, was perhaps not always destined to be his lifelong partner — at least if her father had anything to say about it. 
In the memoir, Kushner recalls how Donald Trump had approached him shortly before he proposed to Ivanka, and reminded him that Tom Brady – the famous quarterback of the New England Patriots and the Tampa Bay Buccaneers – apparently had an interest in Ivanka. Kushner was left with the impression that he better prove himself to the family, especially in light of his then-upcoming proposal. 
This is not the first time the former president has thrown out the possibility of an Ivanka-Brady relationship. Back in 2004, a year before Kushner and Ivanka even met, he said in an interview with Howard Stern that he would like to see Brady date his daughter. After Stern asked if Donald would accept Brady dating Ivanka, he replied, "I think he's great. He's 25 years old. He's Mr. All-American." At the time, Ivanka was 22. When it came to the possibility of the two actually dating, Trump replied, "Well, it could happen. I mean, he'd like to, and we'll see." 
Tom Brady became a supporter of Trump's political campaigns
In the end, it appears as though the hypothetical relationship between Ivanka Trump and Tom Brady only existed in Donald Trump's mind, surely as a fantasy. When radio host Howard Stern asked Brady about the potential matchmaking in 2020, noting that Trump "always dreamed of you marrying Ivanka," Brady laughed it off, noting that he was happy with his current wife, model Gisele Bündchen. 
"It all worked out for me anyway," he said. "I think I married the most amazing woman, so I have no regrets." Brady and Bündchen began dating in December 2006, and got married in February 2009. This likely means that Donald's warning to Kushner that Brady apparently still had an interest in his daughter and could steal her away from him at any moment was almost certainly fabricated (Kushner and Ivanka got engaged in July 2009). 
Nonetheless, Donald's hopeless insistence on a romance between Brady and Ivanka did not stop the football star from becoming a big fan of his during his presidential campaigns, though he did his best to refrain from any hardcore activism. In 2016, Trump announced that Brady had called him and said, "Donald, I support you, you're my friend, and I voted for you." A signature red MAGA hat was later photographed in Brady's locker, causing his wife to advise him to stay out of politics. Brady himself added, "I think that's a good decision for our family."