Selena Gomez's Run-In With Hailey Bieber Has Fans Totally Melting Down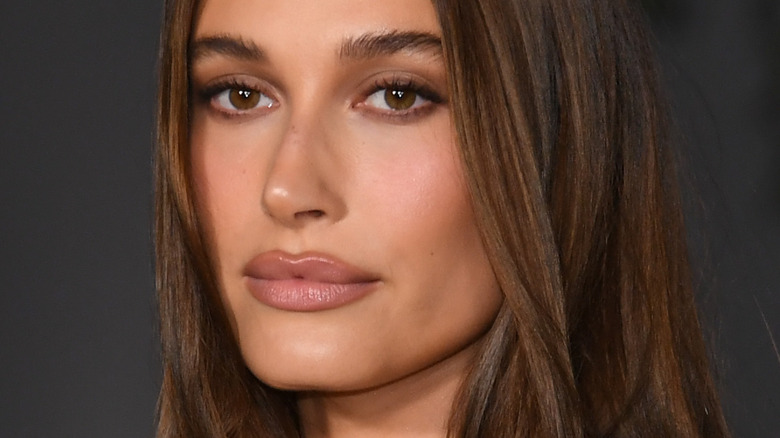 Jon Kopaloff/Getty Images
Believe it or not, Hailey Bieber and Selena Gomez aren't enemies. Though Gomez famously dated Hailey's husband, Justin Bieber, Hailey was once a fan of her beau's relationship with Gomez. In a recent interview on the "Call Her Daddy" podcast (via People), Hailey shared that there's "no drama" between her and Gomez, saying, "It's all respect, it's all love." She also revealed that she has talked to Gomez since her wedding.
So, why have fans assumed that there's drama between Justin's wife and former girlfriend? Well, Hailey and Justin Bieber got married in September 2018. Gomez and Justin verified they were dating in 2011, and continued an on-and-off again relationship until March 2018, according to Us Weekly. On "Call Her Daddy," Hailey knocked down fan gossip that her relationship with Justin overlapped with Gomez's, revealing, "I can say, period, point blank, I was never with him when he was in a relationship with anybody — that's the end of it." 
Now, Hailey has further squashed rumors that she and Gomez are feuding and fans are totally melting down ... in a good way.
Hailey Bieber and Selena Gomez posed for photos together
On October 15, Selena Gomez and Hailey Bieber both attended the Academy Museum of Motion Pictures' 2nd annual gala in Los Angeles, per People. The appearance occurred just weeks after Hailey appeared on the "Call Her Daddy" podcast and shut down rumors that she "stole" her husband from Gomez, Justin Bieber's ex-girlfriend. Gomez and Hailey looked friendly posing for photos together, which isn't exactly surprising considering the two have adamantly denied that they have beef. Yet fans are still in awe of this defining moment. 
Photographer Tyrell Hampton posted a photo of the pair on Instagram and fans excitedly shared their strong reactions to the iconic capture. One fan commented, "you would so casually break the internet on a sunday morning," while one verified account wrote, "love watching the reverse of global warming and everybody's skin clearing from this pic." Fans were clearly losing it as one person remarked, "my brain just reset," and another user said, "I want to print this and put it on my wall." We could be witnessing history in the making, folks.