Who Is Hilary Swank's Husband, Philip Schneider?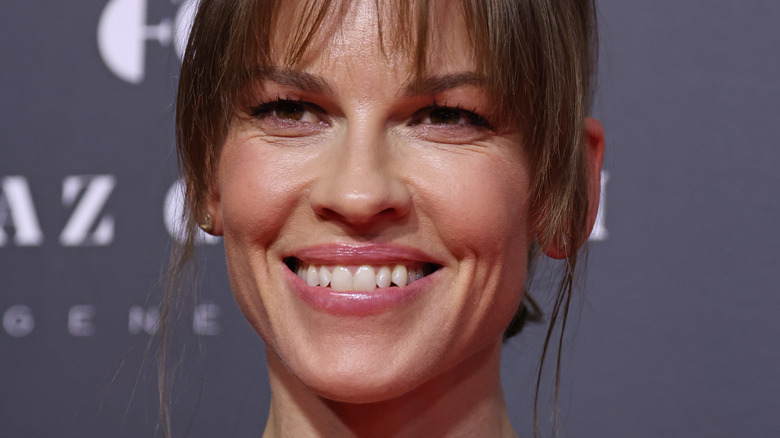 Tim P. Whitby/Getty Images
Hilary Swank lived a real-life Cinderella story when it came to her early career. Per the Independent, she grew up in a trailer park in Washington, and her mom played the role of her fairy godmother by whisking her away to Hollywood to help her pursue her dream of becoming an actor. While Swank went to auditions, they called their car home.
Soon, Swank was landing roles on TV, and she won her first Oscar in 2000 for the drama "Boys Don't Cry." But she wasn't quite as lucky when it came to her love life. While talking to People Now (via Martha Stewart Weddings) about her relationship history, Cinderella's Prince Charming was not the fairytale character she referenced. "It took a long time to get the right guy. I kissed a lot of frogs before getting here," she said. The suitor who turned out to be no lily pad loafer was her second husband, Philip Schneider.
Swank was previously married to actor Chad Lowe. After their 8-year marriage ended in 2006, Swank told Vanity Fair that Lowe had hid his struggle with substance use from her, but said that this wasn't the only reason for their split. She then dated agent John Campisi for five years, per People, and she was briefly engaged to tennis player Ruben Torres in 2016, according to ET. But it would take some help from a fellow actor's spouse to get her to the altar again.
Hilary Swank and Philip Schneider had a woodland wedding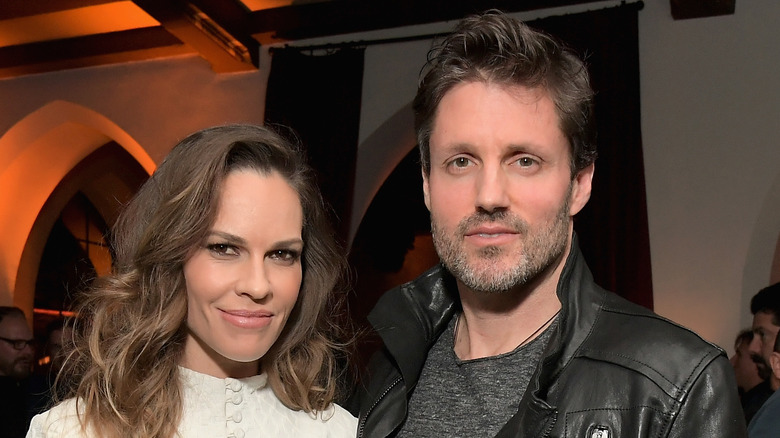 Charley Gallay/Getty Images
Hilary Swank and Philip Schneider were set up by two pals, one of whom was the wife of "Supernatural" star Misha Collins. (In an interview with Hello!, Swank revealed that Collins and Schneider are BFFs.) "We met at 10:00 a.m. and parted ways at 11:00 p.m.," Swank told Vogue of their first date. "We clearly enjoyed our time!" After a two-year engagement, the couple tied the knot in a setting straight out of fairytale: the Santa Lucia Preserve in California. They were surrounded by centuries-old Redwood trees, which were the perfect décor for the couple's secret wedding. "Both Philip and I are nature lovers and whenever we get the opportunity to be outdoors, that's where we like to spend it," Swank told Hello!. They were also soaking in Mother Nature's beauty when Schneider popped the question near a waterfall in Colorado, according to Vogue.
Schneider is a social venture entrepreneur, a career that provides him with the opportunity to give back to nature. According to Investopedia, social entrepreneurs create businesses that make money while also providing solutions for environmental and social issues.
Schneider also works hard to keep Swank happy. The actor told The Guardian that it had been a longtime dream of hers to take tap-dancing lessons, and Schneider agreed to learn a tap-dance routine for their wedding reception. "We still love tap dancing," Swank revealed on "Live with Kelly and Ryan" months later.
The couple learned they were expecting twins
In addition to being outdoorsy types, Hilary Swank and Philip Schneider are animal lovers. While recounting how Schneider popped the question, Swank recalled to Vogue, "He sweetly made sure my dogs were nearby so they could bear witness!" The couple also had their menagerie of pets in mind when they decided to put roots down in Colorado. In a 2021 interview with The Wall Street Journal, Swank revealed that she and Schneider care for five canines, a pair of parrots, and a horse. She also said that they were hoping to take advantage of gaining more space by adopting additional rescues. "We have a nice ranch now that we can bring 'em all," she stated.
In 2022, Swank and Schneider learned that their pets were about to get some playmates of the human variety. During an appearance on "Good Morning America," Swank made a big announcement: The "Million Dollar Baby" star was pregnant with not one, but two babies at age 48. "This is something that I've been wanting for a long time," she said. While Schneider is the more private of the two, maybe he'll feel inclined to share an update about parenting once the twins arrive.