Which Celebrity Has The Best Smile? - Exclusive Survey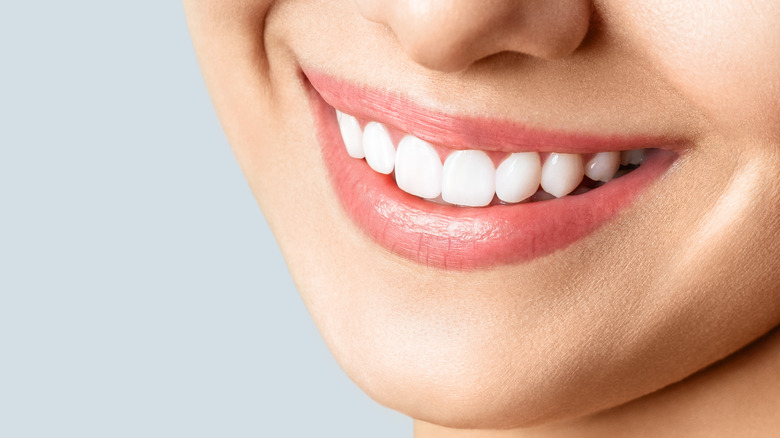 Aleksandr Rybalko/Shutterstock
We remember celebrities for the most iconic roles and biggest scandals. With so much of their careers being fueled by red carpet shoots and paparazzi ambushes, however, we also recall our favorite faces by one distinct feature — their smile.
The pearly whites of our most-admired people are often so coveted that sites like Marie Claire have dedicated themselves to documenting celebrity smile transformations. Celebs who began as child stars have stayed in the spotlight long enough for us to witness their brace face and their gradual whitening. Many fans often aspire to the glowing smiles they see in magazines, with some taking it too far. In 2020, BuzzFeed reported on a dangerous new TikTok trend which saw young people filing down their teeth and getting a mouthful of crowns, hoping to mimic the look of Hollywood's veneers. 
Whether they're the product of dedicated dentistry or simply lucky genetics, some celebrities' smiles have become iconic and essential parts of their personal brand. We surveyed Nicki Swift readers to gauge their favorite famous grin, and one actor rose decisively to the top.
Nicki Swift readers love Julia Roberts' smile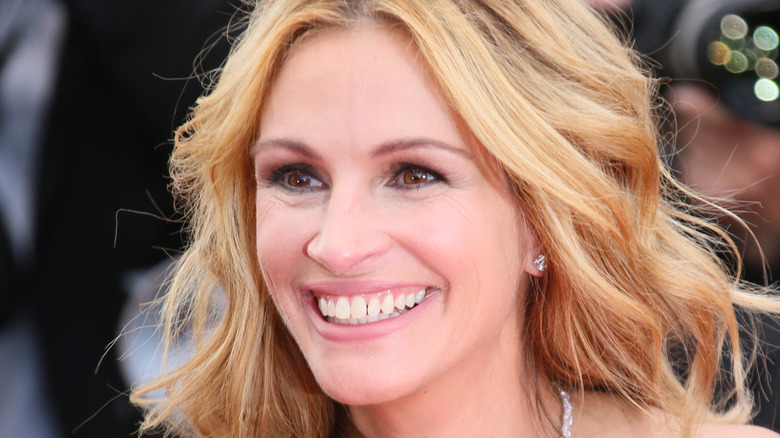 Denis Makarenko/Shutterstock
Nicki Swift readers are giving Julia Roberts something to smile about ... but they might have ulterior motives. Nearly 600 people responded to our poll, and over a quarter of them cast their vote for the "Pretty Women" actor. The outpouring of support should really come as no surprise, as her pearly whites have long been the focus of media attention. At one point, rumors even began swirling that Roberts' teeth were insured for $30 million. Roberts shut them down in conversation with The New York Times: "I mean, if my smile was insured, there would be someone at my house on a nightly basis saying, 'You need to floss longer.'"
Although Roberts was a runaway favorite, there were a few other notable names near the top. Beyoncé took second place with 18% of the vote. Indeed, her contagious smile is often shared by fans on Twitter.
And don't worry — it wasn't just ladies getting the love. George Clooney was close behind the "Single Ladies" singer, with his smile capturing 17.49% of the vote. Clooney is set to star alongside Roberts in "Ticket to Paradise," according to Variety — so get ready for some big smiles on the big screen!