How Tiger Woods' Son Charlie Really Got His Name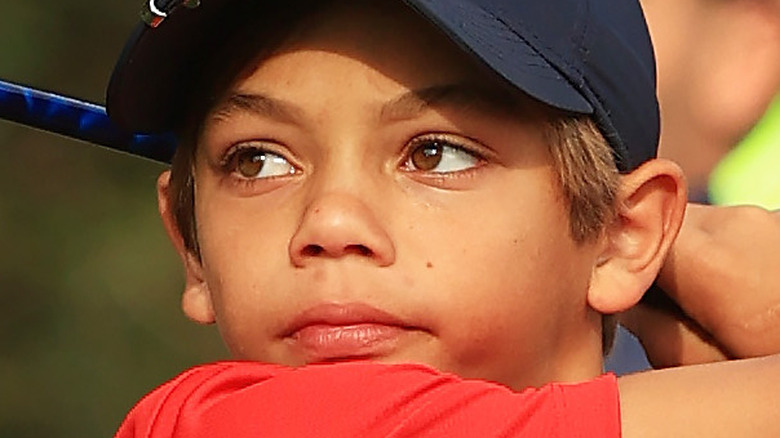 Mike Ehrmann/Getty Images
There is a meaningful reason as to why legendary golfer Tiger Woods chose the name of his son, Charlie Woods. The celebrity kid was born to Tiger and Elin Nordegren in February 2009, as reported by People. Charlie was the second child in the family, as the ex-couple had previously welcomed a daughter, Sam, in 2007. Tiger spoke of the family's joy in bringing Charlie into the world.
 "We want to thank everyone for their sincere best wishes and kind thoughts," Tiger said via a statement. "Sam is very excited to be a big sister and we feel truly blessed to have such a wonderful family ... We look forward to introducing Charlie to you at the appropriate time." As Sportskeeda reported, Tiger and Elin's first child was named Sam because this was a nickname that Tiger's father used to call the pro athlete. "Sam, we wanted to have a name that would be meaningful to either side of the family, my side or Elin's side, because she was born basically an extension of Father's Day, it just happened to fit," Tiger stated. Like Sam, Charlie is also a title that carries personal meaning for Tiger.
Charlie Woods was named after a golfer who made a big impact on Tiger Woods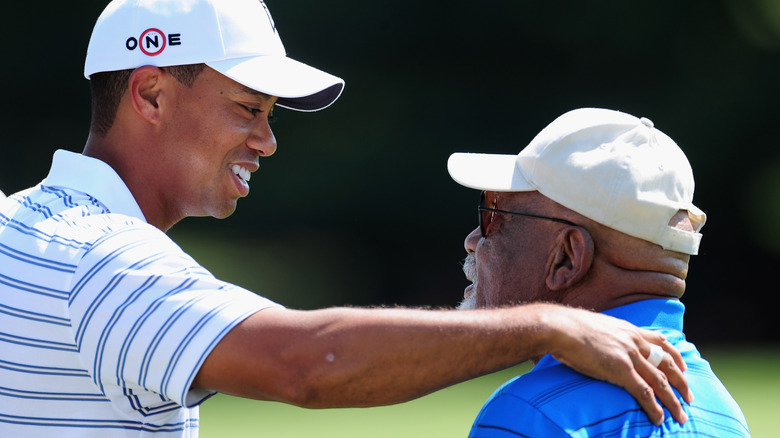 Stuart Franklin/Getty Images
Tiger Woods' son, Charlie Woods, has a name that references an important figure in his father's life, as well as his love for the game of golf. Per Essentially Sports, Charlie's name is an homage to Charlie Sifford, an iconic golfer who paved the way for Tiger and many others. Sifford was the very first African American golfer to compete on the PGA Tour, as the Los Angeles Times previously wrote. 
When Sifford passed away in 2015, Tiger opened up to the Times about Sifford's impact on his life. The athlete stated that he "probably wouldn't be here" without Sifford, who played professionally after fighting a PGA Caucasian-only clause. "My dad would have never have picked up the game," Tiger said. "Who knows if the clause would still exist or not? But he broke it down." Tiger also stated that Charlie simply felt like the right name for his and Elin Nordegren's son. "We had a couple names and Charlie just fit," Tiger said after Charlie's birth, via People. 
In addition, Essentially Sports reported that Charlie's middle name, Axel, was inspired by one of Charlie's uncles whose first name is Axel. The middle name is also a spin on Charlie's big sister's middle name, which is Alexis. Just like his famous father and true to the origin of his name, Charlie appears to be developing a passion for golf at a young age.
Charlie Woods is following in his father's footsteps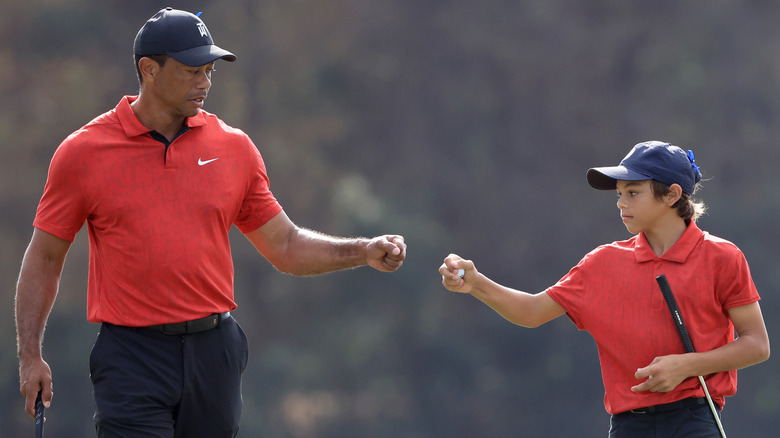 Sam Greenwood/Getty Images
It looks like Charlie Woods is prepared to follow a career path just like his namesake and famous father. The 13-year-old son of Tiger Woods, who was named after trailblazing golfer Charlie Sifford, has recently been showing off his impressive golfing skills. As Golf Monthly reported on Sept. 26, Charlie competed in the Notah Begay III Junior National Golf Championship and shot a 68, which is the best score he's ever achieved in a competition. The outlet also noted that Tiger served as Charlie's caddy during the competition. Charlie was interviewed after earning the impressive score and spoke of advice his father gave him. "Dad told me to stay patient and just ... play steady golf," Charlie said. "Focus on each shot, don't look too far ahead, and just stay in the game."
Previously, Charlie and Tiger competed side by side at the PNC Championship in 2021. Tiger discussed what it was like to partner with his son, per the Golf Channel. "I don't think words can describe it," Tiger said. "Just the fact that we were able to have this experience together ... It's memories for a lifetime." While addressing how he and his son played, Tiger stated he's "just so, so proud of what [Charlie has] done and what [they] did as a team." With his exceptional skills and guidance from his father, it looks like Charlie's name will keep earning respect in the golf world!