Why Rick Ross And 50 Cent Don't Get Along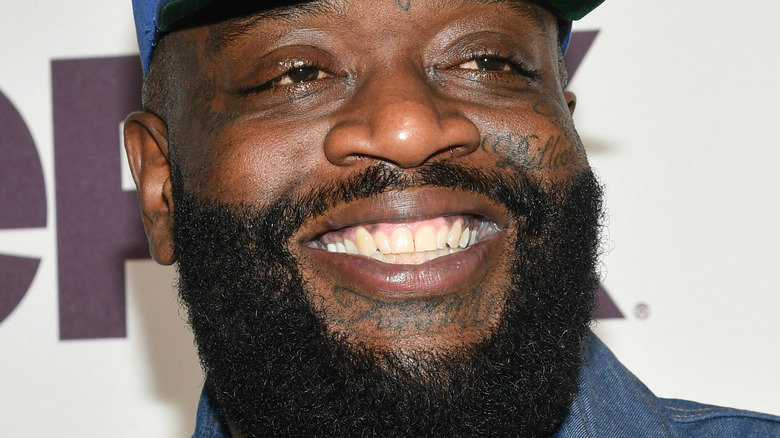 Mike Coppola/Getty Images
50 Cent has been known to engage in public feuds with other celebrities. From coming for Madonna on Instagram to his recent quarrel with his own son, the rapper is seemingly never afraid to share his unfiltered opinions. However, one of 50 Cent's most iconic feuds is his ongoing beef with rapper Rick Ross.
The origin of the rappers' beef is pretty murky, but according to Highsnobiety, the two had an unpleasant interaction at a BET event in the late 2000s that was never resolved. In 2009, Ross took aim at 50 Cent on the track, "Mafia Music." "I love to pay ya bills, can't wait to pay ya rent / Curtis Jackson baby mama, I ain't askin' for a cent. Burn the house down n**** you gotta buy another / Don't forget the gas can, jealous stupid motherf*****," Ross raps in the song. The lyrics seemed to allude to a domestic violence incident involving 50 Cent in 2008, per the New York Post. 50 Cent responded with a song called, "Officer Ricky (Go Head, Try Me)," which poked fun at Ross' former career as a correctional officer. Thus, their decades-long beef began.
Rick Ross and 50 Cent's feud took a nasty legal turn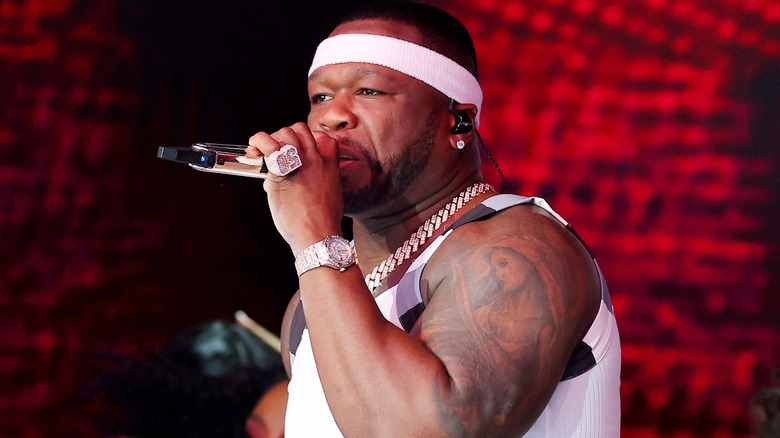 Kevin C. Cox/Getty Images
Shortly after their feud became public, Rick Ross provided Billboard with a brief explanation for how the drama began. "My name was mentioned before I ever did anything," Ross said in 2009. He continued, "When someone mentions my name because they're attacking someone that I'm close with, it's my problem now." The two would go on to take shots at each other on social media throughout the years (via E!), but their feud came to an explosive boil in 2015. That year, 50 Cent was ordered to pay Lastonia Leviston -– Ross' ex-girlfriend and the mother of his child — $7 million after leaking her sex tape online.
Per Billboard, 50 Cent sued his own legal team following the court verdict for failing to depose Ross, who he accused of playing a role in the release of the sex tape. In an affidavit submitted in response to 50 Cent's request, Ross declared his innocence and also extended an olive branch to the New York native. "Although I have no ill will towards Curtis personally, I believe he truly dislikes me," Ross wrote via AllHipHop. "It is obvious that Curtis and I have had our beef over the years, but enough is enough."
50 Cent is still not over his feud with Rick Ross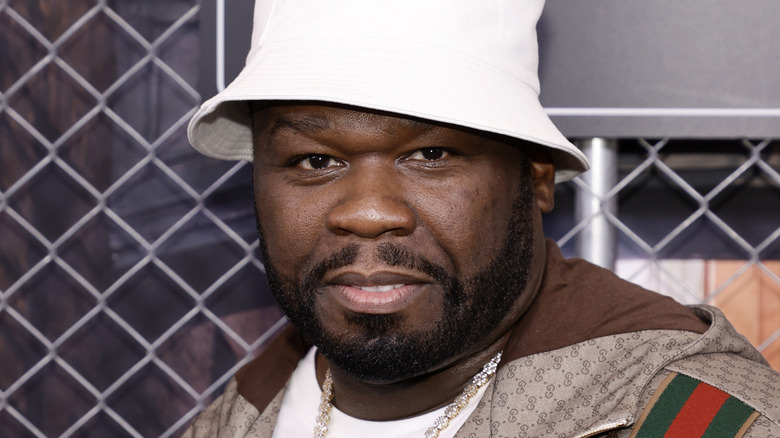 Jamie Mccarthy/Getty Images
The beef between 50 Cent and Rick Ross appears as if it will last forever. Ross reignited their feud in 2019 after suggesting he would not collaborate with 50 Cent because the "Candy Shop" rapper lacked "value." Of course, 50 Cent had an equally shady response to his music nemesis. "I don't know what his value is to music culture at this moment," he told Complex. He continued, "I never made music with him. I don't have interest in making music with him."
Despite their long and troubled past, Rick Ross appears to be slowing getting over his feud with 50 Cent. In a 2021 interview with GQ, the "Aston Martin Music" rapper was asked if he would be open to doing a Verzuz Battle with 50 Cent, and his answer was surprising. "You got to ask yourself would he come and do a Verzuz with Rozay. I mean, you got to ask yourself honestly, would he come and stand next to Rozay in the arena or wherever it would be?" Ross questioned. "That's really your question. I don't even think it's a question of if I would do it. That s*** light."