Why Fans Think Candace Owens Is Pursuing A Controversial Connection To Kanye West
Kevin Mazur/Getty Images
The relationship between Kanye "Ye" West and Candace Owens dates back long before the pair made incendiary headlines. West had hinted at embracing right-wing politics in the past and officially declared his support for the political pundit in 2018. "I love the way Candace Owens thinks," he tweeted at the time. Later that year, Owens used a logo designed by the Yeezy honcho for her controversial "Blexit" shirts. She described West as her "dear friend and fellow superhero" when describing the process, per Page Six.
Four years later, the duo's bond appeared to have strengthened when they sported matching "White Lives Matter" shirts. Following that public appearance together, West showed his support for Owens when he attended the premiere of her documentary "The Greatest Lie Ever Sold: George Floyd and the Rise of BLM" on October 12, 2022. This coincided with West's explosive comments about George Floyd's death, per Page Six.
A day later, reports surfaced that Owens was exploiting her relationship with West. "Anyone taking money from him is taking advantage of him," a source told TMZ on October 13. According to the article, Owens has been directly involved in the day-to-day life of the rapper. However, Owens quickly denied those claims. "Also patently false is the idea that I am working for Ye as an advisor or that I have made any calls on his behalf," she told the outlet. Shortly after, West and Owens's relationship became further intertwined with a massive deal.
Parler's CEO is Candace Owens's husband
On October 17, social media platform Parler — which is mostly associated with a right-wing user base — announced that Kanye "Ye" West would be purchasing the company. "In a world where conservative opinions are considered to be controversial, we have to make sure we have the right to freely express ourselves," the "Flashing Lights" rapper said in a statement, via PR Newswire. The acquisition came on the heels of West getting barred from other social media networks. "When I got kicked off of Instagram and Twitter at the time, I knew it was time to acquire my own platform," he told Bloomberg on October 17.
Although the purchase of Parler did not directly involve Candace Owens, it did involve her husband, George Farmer, who is the CEO of the company. Farmer believed West acquiring the social media network was a groundbreaking venture. "This deal will change the world, and change the way the world thinks about free speech," he said while appearing on "Fox Business," via the Daily Mail. Owens' husband heralded the hip-hop producer as a champion of the First Amendment. "He's obviously willing to have conversations that plenty of people want to have, and I think that he's trying to engage in the free speech environment," Farmer said about West.
Even though West — whose net worth is estimated at $1.8 billion — could afford the deal, some outlets were puzzled by the acquisition, per Slate. This led multiple fans to share a theory about how Owens was involved.
Did Kanye West buy Parler because of Candace Owens?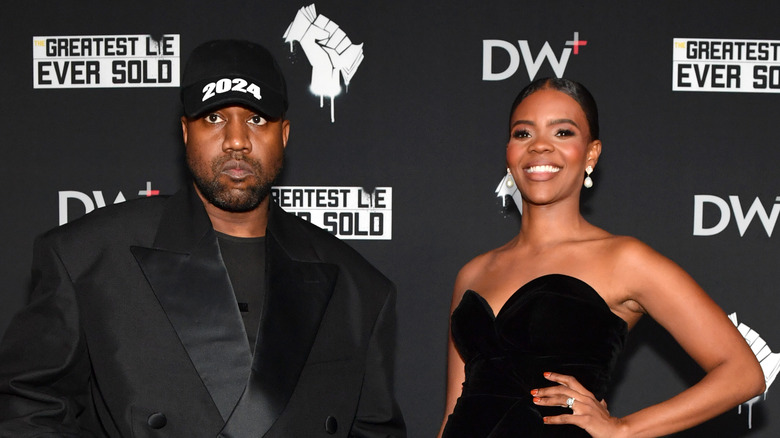 Jason Davis/Getty Images
After the announcement of Kanye "Ye" West's acquisition of Parler, many called the economic viability of the purchase into question. In a piece published on The Root titled "Is Parler, Kanye's Next Business Venture, Even Worth Anything?" the outlet did not mince worse when evaluating the purchase, as they described the deal as "not a great investment" for the "Gold Digger" artist. Amid the purchase, many wondered what inspired West to commit so much money to a seemingly unprofitable venture.
Multiple people across social media shared the theory that Candace Owens had used her influence over West to persuade him to purchase the company where her husband was the CEO. "The headline is that Owens used her friendship with Kanye to offload a dying platform," The Daily Beast writer, Jared Holt, tweeted.
A chorus of Twitter users shared the sentiment and blasted Owens for leveraging her relationship with West to facilitate the deal. "Candace Owens with elite level grift," one person tweeted. Others reevaluated the dynamic between the "Blackout" author and West. "I thought Candace Owens was using Kanye as her own personal hand puppet, turns out it was a direct route to his wallet. #Parler," another user tweeted. Yet another Twitter user commented, "They really worked him using Candace Owens, offloading a dying platform to someone blinded by ego."