What's The Real Meaning Of Karma By Taylor Swift? Here's What We Think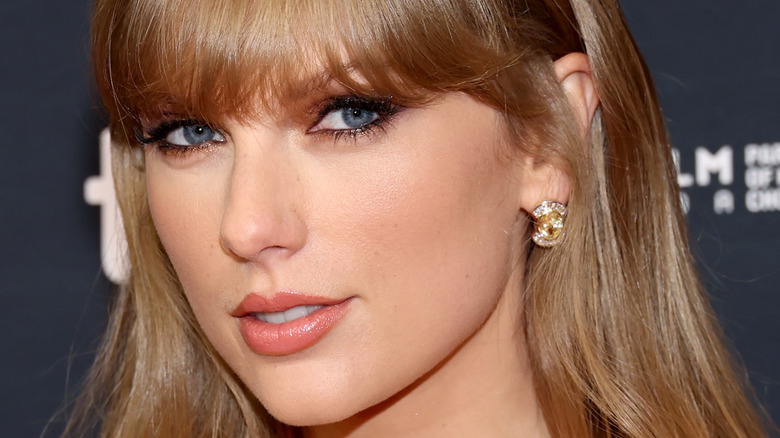 Amy Sussman/Getty Images
Taylor Swift's "Karma" is finally here, and we're not referring to the "lost" album Swifties claim she was supposed to release. We're talking about the 11th track of her latest record, "Midnights."
For years, many Swift fans held on to the theory that she was supposed to drop an album called "Karma" in 2016. The "All Too Well" singer used to release albums like clockwork, and 2016 was allegedly going to be the year when she graced us all with the follow-up to "1989." But Kim Kardashian and Kanye "Ye" West may have indirectly thrown a wrench in her plans, with Swifties claiming that the release of the singer-songwriter's edited phone call with Ye caused her to retreat from the spotlight for a while.
It's not like fans were grasping at straws. Swift has been referencing the concept of "karma" in her interviews and content. "Karma is real," she said in her 73 Questions Vogue interview when asked what her biggest life lesson has been. The word "karma" was also present in her "The Man" music video, as well as in the lyrics of "Look What You Made Me Do," the lead single off her first post-"1989" album. "The world moves on, another day, another drama drama," she sings. "But not for me, not for me, all I think about is karma."
While Swift didn't end up releasing the supposed "Karma" album, she did have a song with that exact title, and it may have something to do with her years-long beef with Ye.
Is Taylor Swift's 'Karma' about Kanye West?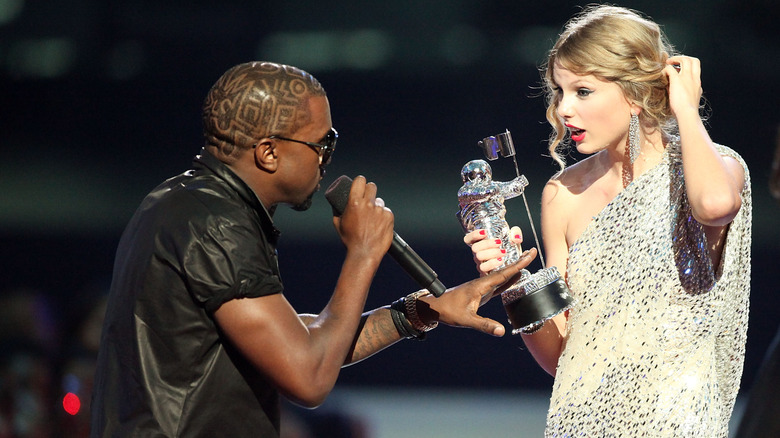 Christopher Polk/Getty Images
Taylor Swift is not known for inflicting direct retaliation against her enemies, but she always gets the last laugh with her smart antics. Her new song "Karma," may or may not allude to her feud with Kanye "Ye" West, and fans think that the track might refer to Ye's downfall.
"You're talking s** for the hell of it / Addicted to betrayal, but you're relevant /You're terrified to look down / 'Cause if you dare, you'll see the glare / Of everyone you burned just to get there," the first verse reads (per AZ Lyrics). This may hint at Ye's penchant to burn bridges with everyone. "Karma is my boyfriend / Karma is a God / Karma is the breeze in my hair on the weekend / Karma's a relaxing thought / But for you, it's not sweet like honey / Karma is a cat purring in my lap 'cause it loves me," the chorus says. These lyrics may have something to do with how Swift believes in karma and how she always emerges victorious in the end.
But according to the singer herself, the track is all about feeling "happy" and "proud." In an interview with Apple Music, she revealed that the song encapsulates the "feeling like this must be a reward for doing stuff right," (via Just Jared). And she did stuff "right" indeed. All she had to do for his karma was sit down, relax, and wait!