Taylor Swift's New Album Promises To Be Her Most Personal Yet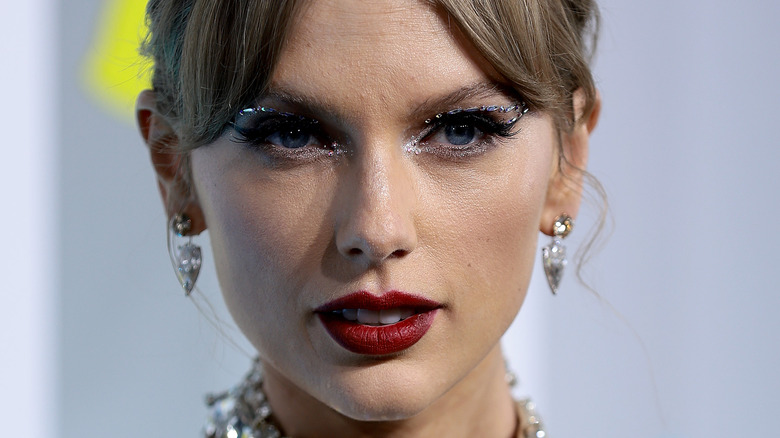 Dimitrios Kambouris/Getty Images
Taylor Swift is not leaving fans with a "Blank Space" any longer. At the 2022 MTV Video Music Awards, just after winning Video of the Year, the singer-songwriter surprised everyone by announcing that she would release her new album soon.
"I had sort of made up my mind that if you were going to be this generous and give us this, I thought it might be a fun moment to tell you that my brand-new album comes out Oct. 21," Swift said in her acceptance speech (via People) for her work in the 10-minute "All Too Well (Taylor's Version)" short film. And in true Swift fashion, she kept everyone on their toes by saying she would release more details a few hours later. "I will tell you more at midnight."
Swift, of course, did not disappoint. Right when the clock struck midnight, she shared across all her social media channels the scoop on her upcoming album. And surprisingly, it's not a re-recorded release this time around.
Taylor Swift will release a brand new album in October
Taylor Swift fans, rejoice! The "Lover" singer just announced that she will be releasing a brand new album composed of 13 songs, and unlike her recent releases, it's not a re-recording of an old album.
At midnight on August 29, 2022, Swift revealed across her social media platforms, including Twitter, that she would drop the album "Midnights" on October 21. She said this particular record will include "stories of 13 sleepless nights scattered throughout my life," hence the title. She also accompanied the announcement with a letter like she always does. "This is a collection of music written in the middle of the night, a journey through terrors and sweet dreams," she wrote. 
It has been two years since Swift released brand new material, with her two recent major projects being the "Taylor's Version" of two older albums, "Fearless" and "Red." In summer 2022, she lent her voice and songwriting prowess to the "Where the Crawdads Sing" soundtrack, in which she released the track "Carolina." Swift was granted an honorary doctorate at New York University, too, so we guess you could say that Dr. Taylor Swift has kept herself preoccupied.
Reportedly, her new album will be quite different, too — so fans will be in for a treat. "Taylor is enjoying the process of tinkering with new sounds and is set to showcase a range of genres on her next album, which will surprise her fans," an insider told The Sun in August. "It'll also be her most collaborative album yet, and she is eager to work with up-and-coming female artists and producers." Get excited!