Here's Who Really Came Up With Anna Delvey's Famous Courtroom Looks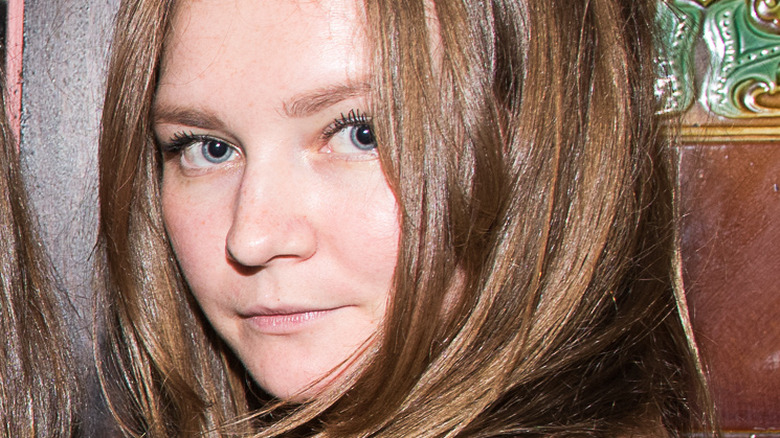 Dave Kotinsky/Getty Images
Con artist Anna Delvey became a household name thanks to the Netflix series "Inventing Anna," which aired in February. Per The Cut, the series was based on an investigative piece that exposed the Russian-born aspiring socialite as a fraudulent heiress that sought to ingratiate herself among New York City's elite. Delvey, who was convicted on eight counts (including second-degree grand larceny), was sentenced to four to 12 years in prison and released in February 2021 for good behavior. Following that, she was detained by U.S. immigration officers for overstaying her visa and faced deportation to Germany, per Rolling Stone.
In October 2022, E! News spotted "the Soho Grifter" out and about on the streets of NYC, rocking an outfit worthy of a disgraced wannabe heiress: a trench coat coupled with oversized sunglasses, scarf, and stylish heels. It was consistent with Delvey's taste for high fashion, which never faltered, even when she was behind bars in an orange jumpsuit. According to Prestige, Delvey favored luxury brands like Balenciaga, Celine, Gucci, Chanel, and Alaïa. Lyn Paolo, the costume designer for "Inventing Anna," took note of Delvey's love for the top fashion houses and dressed the show's titular actor Julia Garner accordingly. Paolo admitted to Time that the costumes for the series did stray slightly from reality. "Our Anna needed to look a little more elevated than the real Anna," she explained.
But because fashion was key to Delvey's disguise, she kept up her wardrobe — even in the courtroom.
Anastasia Walker styled Anna Delvey in court
Courtroom dressing is an art. From Lindsay Lohan's blue Givenchy suit to Lori Loughlin's camel trousers and matching blazer, celebrities have proven that there's more than one way to make a statement. Likewise, Anna Delvey's courtroom wardrobe screamed money and class, even if it didn't start out that way. When The New York Post reported that Delvey had a fashion emergency in court — resulting in her team scrambling to put together an outfit from H&M — it caught the attention of Anastasia Walker, a stylist who'd dressed A-listers like Sydney Sweeney and G-Eazy. Per Elle, the pair had a mutual friend in Neff Davis, and Davis connected Walker to Delvey's team to share the stylist's fashion expertise. Delvey's attorney, Todd Spodek, was also convinced of the need to hire a stylist. "Anna's style was a driving force in her business and life, and it is a part of who she is. I want the jury to see that side of her and enlisted a stylist to assist in selecting the appropriate outfits for trial," he wrote in an email, per GQ.
Though Walker had never dressed an inmate before, she rose to the occasion. "Anna and I talked on the phone about what she was interested in wearing," the stylist told Elle. "I selected some timeless pieces, given that everything is so public today and [trial] photographs can be saved, potentially forever."
Did Anna Delvey send a message with her wardrobe?
Turns out, Anastasia Walker was right. From her Michael Kors shift dress to her Saint Laurent top, Anna Delvey's courtroom looks were the talk of the press. They even inspired an Instagram account, @annadelveycourtlooks, which was still active as of October 2022. Of Delvey's now-iconic looks, Walker told Elle, "I really tried to focus on classic silhouettes and classic pieces in general." The stylist also dressed Delvey in a series of black monochrome outfits to send a message that the con artist took her case seriously. Meanwhile, Delvey's black choker was her own idea, while her signature Céline glasses were from her past, enabling her to hang onto "some part of her old self."
In addition to promoting her high-fashion image, Delvey's courtroom outfits pulled double duty by attempting to convince the court of her innocence. Per Vanity Fair, her final dress was a white, lace garment that pointed to "her youth and girlishness," and as Elle pointed out, women on trial have a history of dressing in traditionally youthful clothing. Perhaps Delvey's choice of attire was intended to convey the message that she was too young and naive to have willingly committed her crimes. Then again, Delvey also claimed that she wasn't sorry for her crimes, according to The New York Times. So is she a scheming con artist or truly innocent? It depends on who you ask. Fans will have to look at her fashion choices when it comes to decoding the real Delvey.