How Julia Garner Really Came Up With Her Anna Delvey Accent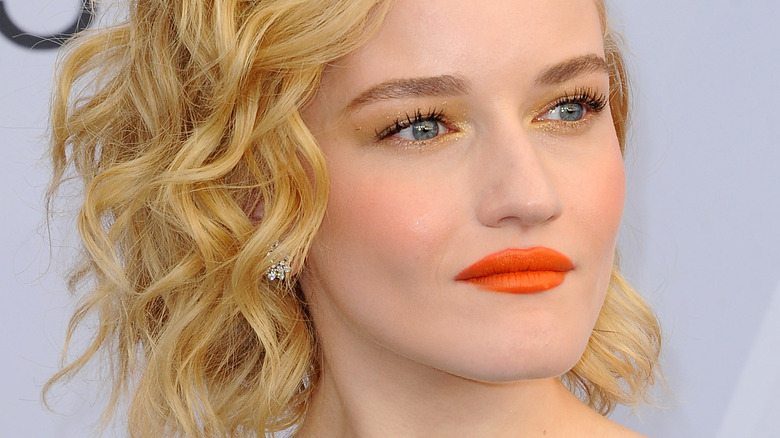 Tinseltown/Shutterstock
When Anna Delvey first arrived on the Manhattan social scene, she seemed like the newest It Girl, with tons of promise and even more money. But, all that seemingly endless wealth came crashing down when an ex-friend published a tell-all in Vanity Fair that described Delvey as a "a magician of Manhattan," who left her with bills she couldn't afford. The truth was that Delvey (legal name: Anna Sorokin) was just a fraud who had been ripping off her elite friends, hotels, and banks. Her con-artist schemes were further exposed in journalist Jessica Pressler's New York Magazine piece — and as of June, Delvey has been in ICE custody awaiting her appeal, per the New York Post.
Because the world loves a good scammer story, Shonda Rhimes got her hands on Delvey's real-life experiences and spun them into a Netflix docu-drama called "Inventing Anna." The limited series' synopsis reads on Netflix, "Audacious entrepreneur or con artist? A journalist chases down the story of Anna Delvey, who convinced New York's elite she was a German heiress." Starring Anna Chlumsky and Julia Garner, "Inventing Anna" dropped in February to praise from media and fans alike. Reviewer Nandini Balial called Garner "disturbingly flawless" in her role, noting her take on Delvey's "bizarre" accent may have an Emmy nod in its future. The accent also divided fans, with some praising Garner's dialect and others remaining confused over its inconsistencies. Whichever camp you fall into, there's no denying that the accent itself was a talking point.
Julia Garner adopted a blend of European accents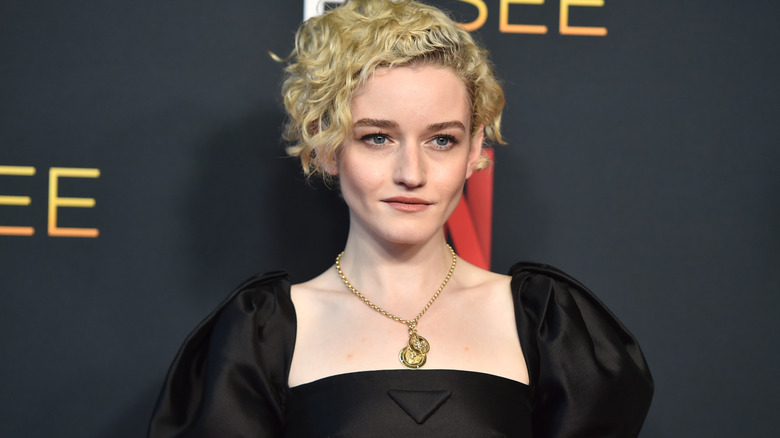 Alberto E. Rodriguez/Getty Images
In February, "Ozark" actor Julia Garner dropped by "The Tonight Show Starring Jimmy Fallon" to discuss the challenges of adopting Anna Delvey's accent. Calling it "the hardest accent I've ever done," Garner explained, "This is a girl who's saying that she's German, but she's really Russian, so she's not gonna have a Russian accent. So first I had to do like a European, like a German accent, right, you know? ...And then you know I had to add ... Russian for certain words. ...And then it gets Americanized." In a behind-the-scenes Netflix clip, Garner also shared how the complex mastery of Delvey's dialects was crucial for enabling her to get into character. "A big thing for me was the accent. If I didn't have the accent down, then I wouldn't have a lot of the character down," she said.
There was an additional challenge because, as something of a chameleon, the real-life Delvey altered her accent in order to fit in with whoever she happened to be hanging around in the moment. "If [Anna is] around a bunch of Europeans, she's going to make herself sound more European. But if she's around her American girlfriends, she'll try to maybe sound more like an American girl," she rationalized. In other words, this was not a passive undertaking. The actor — who self-identifies as "a perfectionist" — had to stay on her toes to capture Delvey's unique brand of speaking, but it was well worth the challenge.
What did Anna Delvey think of Julia Garner's accent?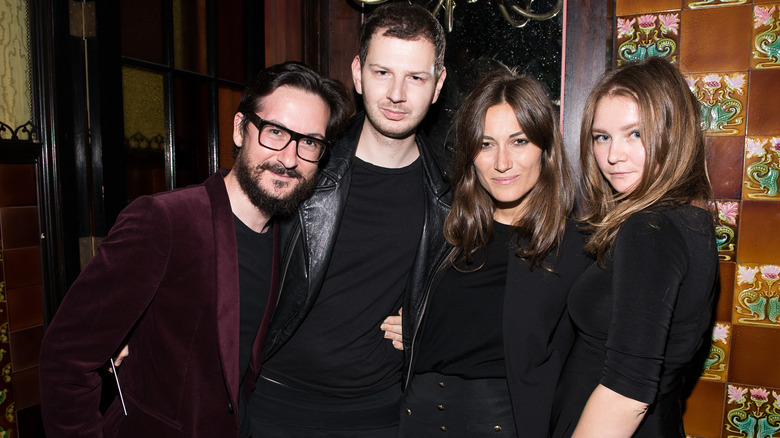 Dave Kotinsky/Getty Images
Julia Garner's Anna Delvey accent was so impressive that it garnered praise from both showrunner Shonda Rhimes and Delvey herself. "Julia spent a lot of time perfecting [Anna's accent]," Rhimes told The Hollywood Reporter. "Ultimately, I think it was one of the biggest pieces in helping embody this character." In a Netflix interview, Rhimes described the accent as "very specific, and very real, and very Anna. There was no way we could do the show without incorporating it because it also lent itself to the idea that you had no idea where [Anna] was from. It lent to her mystique."
To immerse herself, Garner met with the real-life Delvey in Albion Correctional Facility in Buffalo, New York, per "Today." She also studied footage of Delvey. And for what it's worth, Delvey believes that her fictional counterpart nailed her accent (sort of). "It's really hard to tell where she would be from. She got it right in a way," Delvey told The New York Times.
Garner explained that Delvey was eager to hear her take on the accent when the actor visited the scammer in prison. "She's like, 'Please, let me hear it,'" Garner mimicked, calling the whole experience "very meta," per Town & Country. On Julia Fox and Niki Takesh's podcast, "Forbidden Fruits," Delvey said something similar. "It's just so weird, because the way you hear yourself — your voice is just completely different [on TV]," she explained.