Who Is Christina Hall's Younger Sister, Carly Haack?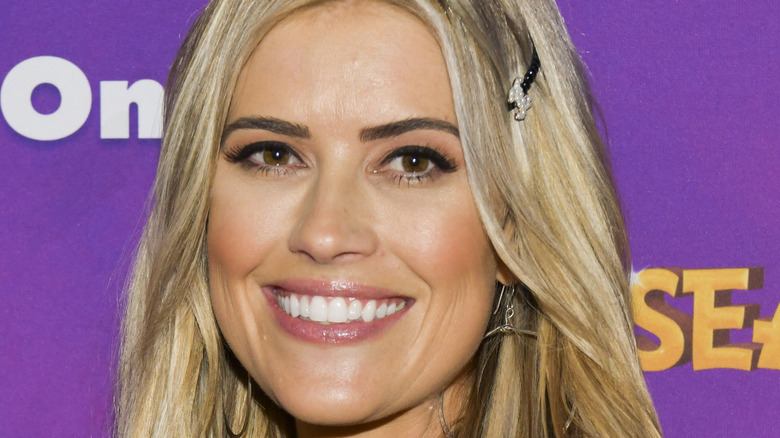 Rodin Eckenroth/Getty Images
Over the years, fans of Christina Hall have gotten to know her and her family through her HGTV reality shows and social media. She was married to her "Flip or Flop" co-star, Tarek El Moussa, for seven years before they went their separate ways in 2018, per Us Weekly. The exes share two children together, a daughter named Taylor and a son named Brayden.
Hall would later have another son, Hudson, with her second husband, Ant Anstead. However, the house-flipper's marriage to the "Celebrity IOU: Joyride" host also flopped, and Anstead has since moved on with actor Renée Zellweger (via Page Six). As for Hall, she decided to see if the third time would be the charm with successful real estate agent Joshua Hall.
Christina has found it a struggle to keep her love life private. According to Access, in a since-deleted 2021 Instagram post, she explained that she tried to keep her relationship with Joshua under wraps at first because she didn't want him to suddenly be thrust under the media microscope she lives under. The "Christina on the Coast" star also rarely talks about family members other than her children, although she did confess to Good Housekeeping that her parents took her split from El Moussa pretty hard. Because she might be similarly trying to protect her fam from unwanted attention, some fans are likely unaware that Christina has a much younger sister.
Carly Haack studied jellyfish
Christina Hall's sibling, Carly Haack, rarely appears with her on social media, but in a now-deleted Instagram post, Hall revealed that there's a significant age difference between her sis and herself. "Sisters who are 10 years apart but friends for eternity," she wrote (via Pinterest). The Orange County natives were also pictured together in a throwback photo on social media, and Hall's followers couldn't get over the resemblance between her cherub-cheeked baby sister and Hall's youngest son. "Boy, Hudson favors your sister," read one fan's remark.
Haack attended the University of California, Santa Barbara, where she graduated with a B.S. in aquatic biology/limnology, per LinkedIn, and in 2017, she obtained her master's degree in marine biology and ecology from James Cook University. For the latter, she attempted to develop a method for determining the age of box jellyfish, according to her profile on the Reef & Ocean Ecology Lab website. The marine biologist returned to UC Santa Barbra in October 2022 to work as a boat safety officer, per her LinkedIn page. She's also an experienced scuba diver and instructor who is involved with the school's San Onofre Nuclear Generating Station (SONGS) mitigation monitoring program. Her duties include monitoring an artificial reef.
Like her sister, Haack enjoys spending time outdoors, with the Reef & Ocean Ecology Lab website listing one of her favorite hobbies as stand-up paddle boarding. On Instagram, a photo of Haack paddling with a canine companion on board earned a "So cute" comment from her sibling.
Carly Haack wrote a children's book with Christina Hall's kids as characters
Some of Carly Haack's other favorite activities are hiking and camping, and in a January 2022 Instagram post, she revealed that her parents joined her on a ski trip in celebration of her and her partner's one-and-a-half-year anniversary of their first date. 
According to a LinkedIn post, the nature lover also started a pen pal program for young students to help spark their interest in STEM careers. She also devised a fun way to introduce more kids to marine biology: She made her niece and nephews the stars of their own children's book titled "Taylor, Brayden, and Hudson's Search for the Magic Pearl." The book follows the three kids as they attempt to find a special pearl to present to their mom as a birthday gift, and along the way, they learn about different varieties of marine life. On Instagram, Haack revealed that she illustrated the book herself, and both she and Hall make appearances as characters, too. "It is definitely imperfect, but it was so much fun to make and to share with my family!" she wrote.
Per TMZ, Ant Anstead complained about Hall using photographs of their son Hudson in paid promotional posts on social media, and Hall promised to stop doing this in a lengthy Instagram post. However, Hall gave her sister's book with Hudson's name and likeness in it her blessing, writing, "We Love this book and you."