Meghan Markle Had A Personal Connection To Her Jewelry On 'Suits'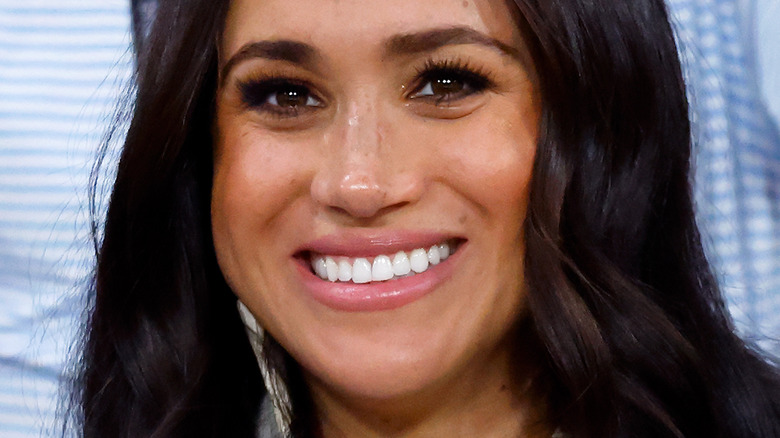 Max Mumby/indigo/Getty Images
We may receive a commission on purchases made from links.
The Windsors often pay tribute to other members of the royal family, whether it's through a strategic clothing choice or family heirloom. From Kate Middleton's nod to the late Queen Elizabeth II, to Prince Harry's decision to name his daughter Lilibet "Lili" Diana, after both his grandmother and the Princess of Wales, this family knows how to make a statement — often without saying a word. And while Meghan Markle might no longer be a working royal, she too has leveraged her accessories to make a point. Before tying the knot with the Duke of Sussex, Meghan rocked a delicate gold necklace sporting both their initials, according to Entertainment Tonight. In 2019, she again honored her family at the U.S. Open, this time with a luxe chain sporting a tiny "A" for baby Archie and an "H" for Prince Harry.
When she's not honoring loved ones, Meghan is supporting causes she believes in. People noted that the podcast host previously wore gold rings by Canadian jeweler Vargas Goteo, a brand that supports endangered animals around the world. She also supported Planned Parenthood following the Supreme Court's landmark decision to overturn Roe v. Wade, according to Page Six. Given her preference for pieces of personal significance, it makes sense that Meghan sourced her own jewelry during her seven-season run on "Suits." Not only did she relate to her character, Rachel Zane, whom she described to Marie Claire as "ambitious [and] driven," but she made the role her own through her choice of accessories.
Meghan Markle's jewelry has important sentimental value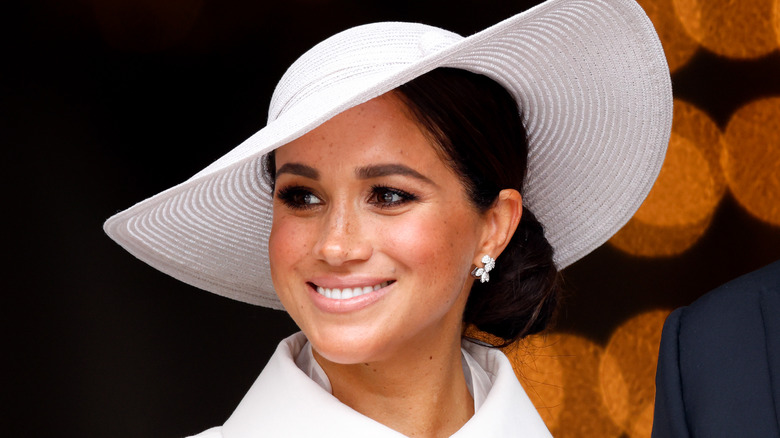 Max Mumby/indigo/Getty Images
Meghan Markle almost seemed fated to play Rachel Zane on "Suits." For one thing, they share the same name, as the duchess' first name is Rachel, and her middle name is Meghan. Additionally, during her time on the show, Meghan was able to infuse her character with elements of her own personal life. Instead of relying on the "Suits" costume department for items in Rachel's wardrobe, Meghan wore her own jewelry onscreen. "All the jewelry that I wear on the show is my own personal jewelry and family heirlooms, like my grandma's charm bracelet and my signet ring," she told Marie Claire in 2013. The ring she mentioned features an "R" for Rachel, making it an especially appropriate way to add a personal touch to her wardrobe.
Most of Meghan's jewelry comes with a hefty price tag attached, but it's the sentimental value of the pieces that speaks to her. "That's what makes pieces special, the connection you have to them," the duchess shared with Hello! Unsurprisingly, of all the jewelry she owns, it's her engagement ring that carries the most personal significance. Per the biography "Finding Freedom," its central stone came from Botswana, a country where Prince Harry spent time both personally and professionally, and where he and Meghan connected during their courtship. Flanking the middle stone are diamonds from Princess Diana's personal collection to "make sure that she's with us on this crazy journey together," Prince Harry told the BBC.
Meghan Markle sends a message with her jewelry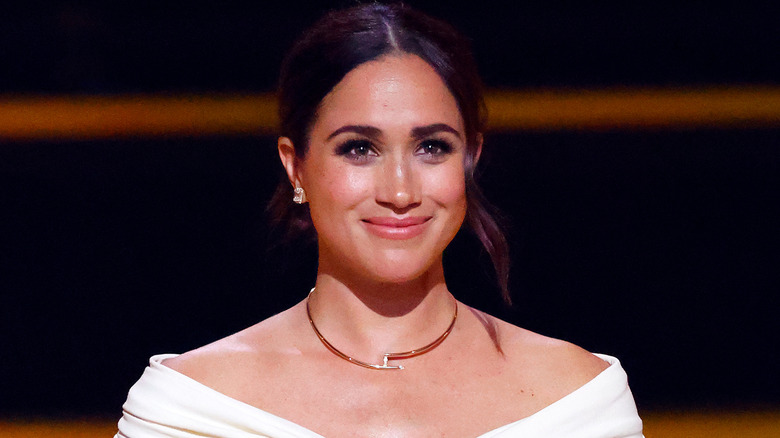 Max Mumby/indigo/Getty Images
Meghan Markle has plenty of designers on-call, but in addition to making a fashion statement, the duchess curates her jewelry to send an intentional message. For example, she often favors sustainable jewelry, like the chic stackable rings by Ecksand that she wore on her royal tour of Australia. "Just seeing [Meghan] wear our pieces really reiterates to us that she must already be aligned with our values," co-founder and designer Erica Bianchini told the outlet. "And the way she brought them all together is so fun, she always puts things together so naturally."
"Natural" is a good word to describe Meghan's taste, because she isn't afraid to re-wear her favorite pieces — something the royals typically don't do! — as well as show off some handmade accessories. In 2018, she even wore a gold-painted pasta necklace made by a 6-year-old fan. "I did the pasta with gold paint. Mum helped me thread through the necklace," the boy told Fairfax Media (via People). This heartfelt approach to jewelry has won Meghan fans, according to ethical L.A.-based designer Adina Reyter. "Everything [the Duchess] has worn ... is very wearable, it's not fussy and that's her entire appeal. Customers want the personal message of the meaning behind the design and the brand," Reyter told People. From selecting jewelry that honors everyone from her late mother-in-law to her littlest fans, it's less about the crown jewels for Meghan, and more about pieces that come from the heart.