Anna Camp Had A Good Reason For Leaving The Mindy Project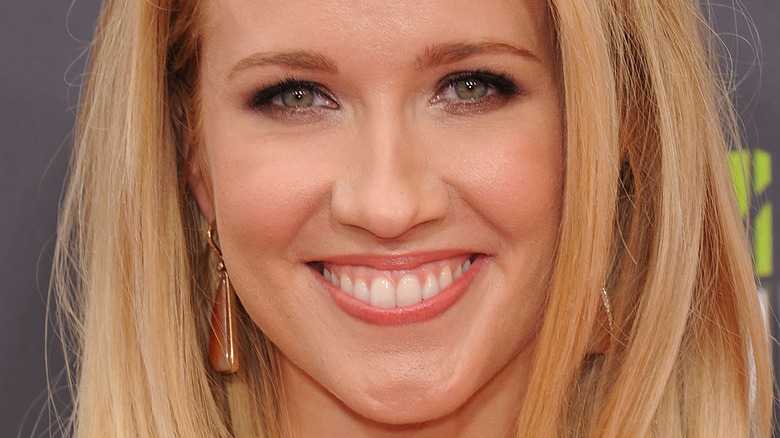 DFree/Shutterstock
"The Mindy Project" first burst on the scene in 2012, hitting screens via Fox (and later Hulu) as we got to see "The Office" star Mindy Kaling show off her incredible writing and acting skills as creator and star. The star took on the role of Dr. Mindy Lahiri, a top gynecologist living in the big apple, dealing with her not so successful dating life, the demands of her career, and, later, all the struggles of life as a single mom.
But it seemed like it took the comedy a little while to get settled. Those who watched the show from the start might remember that Lahiri's original office of misfit coworkers originally looked a little different. Though the likes of Chris Messina, Ike Barinholtz, Beth Grant, Xosha Roquemore, and Ed Weeks all proved to be staple actors on the show (though Messina said goodbye to this main role after Season 4 and became a recurring character, per TVLine), you may just remember that the first season had a few faces who were mysteriously never seen again.
Amanda Setton originally played Shauna Dicanio in Season 1 and appeared in 12 episodes, per IMDb, while Stephen Tobolowsky popped up in those early episodes as Dr. Marc Shulman. Then there was "Pitch Perfect" star Anna Camp, who played Kaling's bestie Gwen Grandy in Season 1, before downgrading to a guest star for Season 2. Then, really, never even being mentioned again. So, what happened here?
Anna Camp reportedly asked to have her The Mindy Project role downgraded
Part way through the airing of the first season of "The Mindy Project" back in November 2012, TVLine's Michael Ausiello confirmed that Anna Camp would be appearing as Gwen Gandy in fewer episodes while her co-star, Amanda Setton, would be leaving the show entirely, with Shauna Dicanio no longer be on the show. As for why? Well, it's thought Setton left for reasons of a creative nature, while Camp had supposedly asked to be given a reduced role because she also wanted to also pursue other acting avenues.
Creator Mindy Kaling doubled down on those reports a few months later during the Television Critics Association winter press tour in January 2013, claiming Camp requested the change because she wanted more time to be able to audition for other projects. That seemed to be because it was never the plan for "The Mindy Project" to have her character be a particularly big part of the show. "Her part on the show hasn't changed storywise. It's a workplace show so we weren't using her as much," Kaling explained (via Vulture). Notably though, the two had actually worked together before, as Camp appeared alongside her in two episodes of "The Office" as Penny Beasley, the sister of Jenna Fischer's Pam Beasley, per IMDb.
Anna Camp seemed excited about appearing on The Mindy Project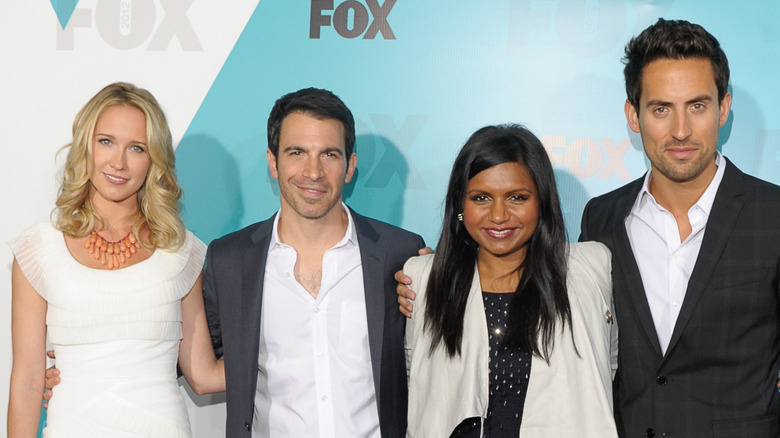 Dave Kotinsky/Getty Images
Prior to asking for her "The Mindy Project" role to be reduced, Anna Camp seemed pretty excited about joining the show and was hopeful her character would make quite an impact with viewers. She told Backstage in October 2012, around a month before the announcement was made, that she wasn't offered the role sight unseen, and instead had to audition like everybody else. "I just auditioned, and they liked me and I got the job," she explained. "Every time I get a script I'm just laughing out loud. It's hysterical, and I just hope that America responds and loves it. I have my fingers crossed. I think the best friend dynamic between the two of us is really cool."
It seemed like things worked out for the best for Camp, though. Of course, "Pitch Perfect" took off in a pretty major way after 2012, while she also popped up in a few other projects after leaving Mindy Kaling's comedy behind. Per IMDb, Camp continued with her series regular role in "True Blood" as Sarah Newlin, as well as popping up in "The Good Wife" as Caitlin D'arcy. From 2015 until 2016, she appeared in "Good Girls Revolt," as well as acting in the likes of "Perfect Harmony" and "Unbreakable Kimmy Schmidt." All's well that ends well, right?