The Stage Name Lenny Kravitz Used Before He Made It Big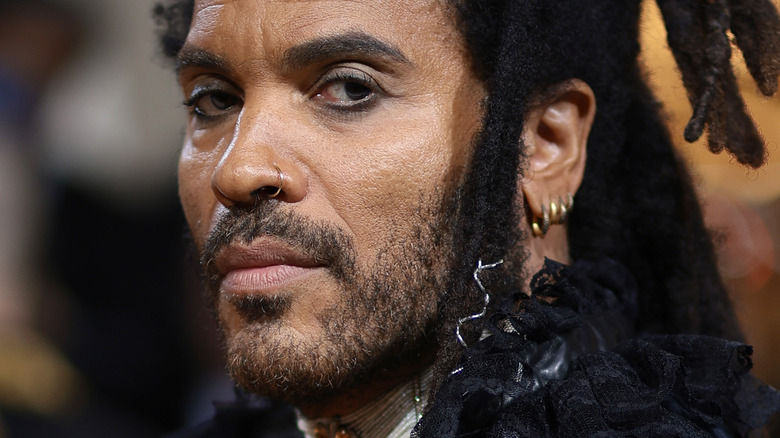 Dimitrios Kambouris/Getty Images
Lenny Kravitz is one of the most interesting rock stars out there. He has such a cool, laid back vibe, which comes through in his hit music. From "Fly Away" to "Are You Gonna Go My Way," Kravitz is known for his songs as much as he is by his entertaining and impressive stage presence. Kravitz can wail on a guitar, like he did with H.E.R. at 2022's Grammy Awards. Outside of his music, Kravitz is also known for his role in the hit book-to-movie adaptation of "The Hunger Games." He played Cinna, Katniss' stylist and confidant.
Kravitz has a pretty famous family, too. His ex-wife, Lisa Bonet, starred in "The Cosby Show" and "A Different World," and their daughter, Zoë Kravitz, is a successful actor and musician in her own right. With such a famous family, Zoë wanted to try out her own stage name that would separate her from her well-known parents. She tried to go with just her middle name, Isabella, dropping the "Kravitz" entirely. But, of course, that didn't work for her. And she's not the first person in her family to try a totally different stage name.
Lenny Kravitz almost performed under a totally different name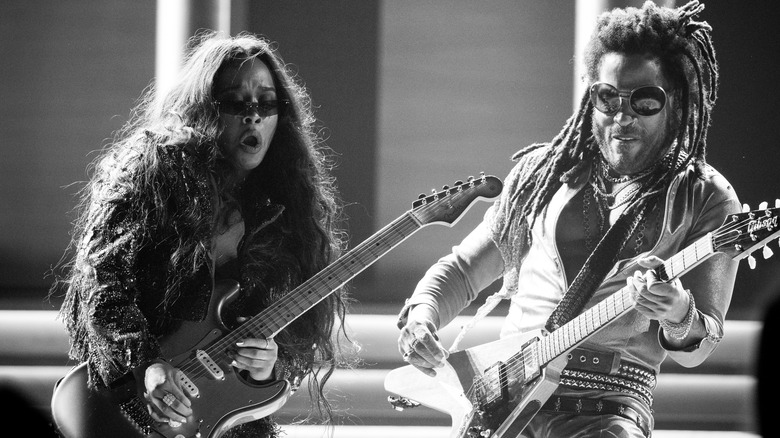 Emma Mcintyre/Getty Images
In an interview with CBS News' Sunday Morning profile series in 2020, Lenny Kravitz shared that he grew up with a white father and Black mother at a time when that was not the norm nor very accepted. And because he was "living the controversy," as he put it, he wasn't at-home in who he was yet. He told CBS that he tried to wear blue contacts and called himself "Romeo Blue." "I was not comfortable with myself at the time," Kravitz said. "There was David Bowie and Prince, and Lenny Kravitz just didn't fit in. But the exercise of going outside of yourself, changing your look, changing your name, led me right back to myself. So, it was a necessary part of the process. I was enough. And my name was correct."
Kravitz's birth name actually holds a lot of meaning. He was named after his uncle, Leonard M. Kravitz, an Army private first class who was killed at age 20 while in action during the Korean War. The Daily Beast reported that Kravitz's uncle was posthumously awarded a Medal of Honor in 2017. He and 24 other Jewish and Hispanic soldiers were given the honor decades later thanks to his childhood best friend Mitch Libman. Libman campaigned for Leonard to receive the highest honor the country could offer after realizing Leonard's heroic actions deserved recognition, but were originally overlooked due to racism.
Lenny Kravitz grew up with some pretty cool (and well-known) musicians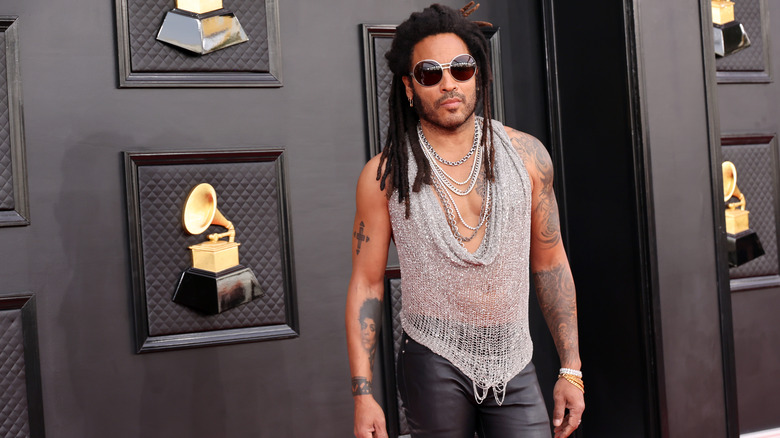 Amy Sussman/Getty Images
Along with Lenny Kravitz deciding to keep his birth name, Kravitz has been pretty open about the struggles he faced as a biracial, Jewish kid growing up. And while his father, Seymour Kravitz, was really tough, he told CBS News' Sunday Morning that his mother "was gentle and kind and fair. And she nurtured me." She even taught him a song he was supposed to sing to police if he ever got lost. It had his full name, Leonard Albert Kravitz, and his home address.
Kravitz's mother was Roxie Roker, the actor who played Helen Willis on "The Jeffersons." Just like in real life, Roker was in an interracial relationship on the show, which was the very first interracial relationship on primetime television, according to The New York Times. In addition to his mother, Kravitz also grew up around famous people like Cicely Tyson, his godmother, and Diahann Carroll, his "honorary aunt" (via CBS News). "I'd go see this guy play the piano with his orchestra," Kravitz told Sunday Morning. "I used to sit on his lap while he played. It's, like, OK this is Duke Ellington. But you don't realize like that until you get older!" And, of course, those influences, which also included the Jackson 5, influenced his love for music and performing. "Absolutely. I had no choice," he said about their impact. "It was via osmosis."