The Unexpected Music Icon Who Inspired Erika Girardi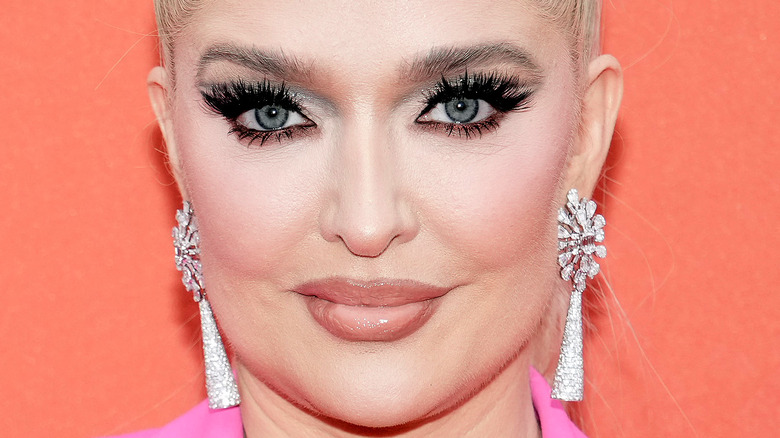 Jeff Kravitz/Getty Images
Erika Girardi might be one of the most controversial stars on "The Real Housewives of Beverly Hills," but before adding "reality star" to her resume, this housewife had embarked on an entirely different career path. For those who didn't know, the 51-year-old Bravo star has a dance-pop alter ego called Erika Jayne, who is known for performing wild stage shows that feature songs with eyebrow-raising titles such as "How Many F—s?", "PAINKILLR," and "Xxpen$ive," as seen on her YouTube page.
Erika, who calls herself "The Pretty Mess" when she's in Erika Jayne mode, has been a little busy lately with legal woes that keep getting worse stemming from her divorce from her ex-husband, former power attorney Tom Girardi. Luckily, she's still finding time to make music. The singer recently told E! News that she's been spending some time at the recording studio, working on a few new songs. The "RHOBH" star described the mood of the music as "sassy," then dished on her current inspo: "I think the last two years have been the inspiration. If you can't get inspired by that disaster, you should probably quit," she said regarding her ex-husband's embezzlement scandal, which she has found herself entangled in.
Erika Jayne was inspired by Prince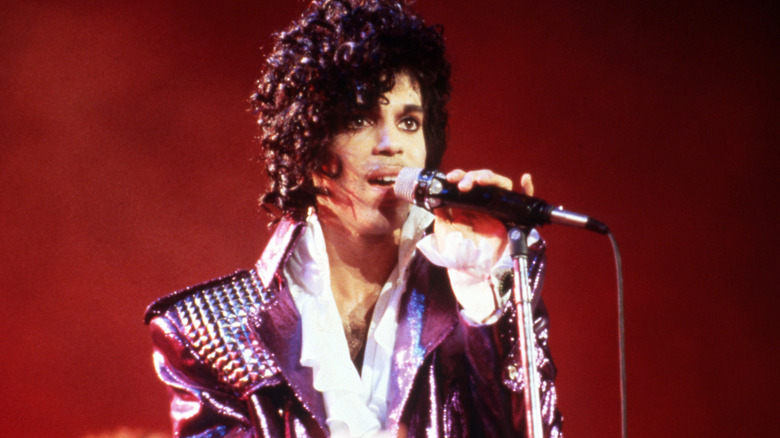 Icon And Image/Getty Images
While she's inspired by "disaster" these days, Erika Girardi's initial foray into music garnered inspiration from a music legend the singer has followed since she was a young teen. "I've always loved the erotic quality of Prince," she once told AceShowbiz (via BravoTV), adding that "I just think he's a musical genius and I've always admired everything that he's done."
Erika told The Daily Dish that she "fell in love" with Prince after she watched his 1984 movie "Purple Rain" and quickly became a superfan. "I had to have the soundtrack," she said of her instant fandom. "I know every lyric to every song on 'Purple Rain.' And I have never stopped being influenced or inspired by Prince." She added that her inspiration came from how "free" the Grammy Award-winning musician appeared while onstage and how that inspired the singer to be herself while performing as well — lingerie and all.
Erika Girardi was 'shaking' when she met Prince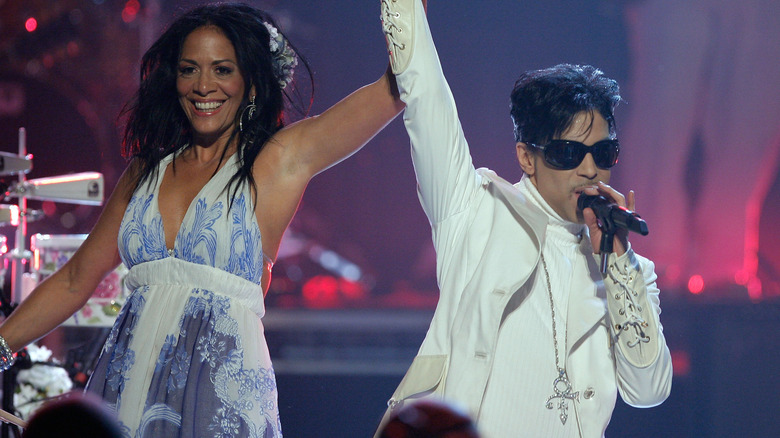 Vince Bucci/Getty Images
Twenty-five years after falling in love with Prince, Erika Girardi went on to work with one of the musician's most famous muses, drummer Sheila E., whom she tapped to play on her 2009 single, "Time to Realize," per BravoTV.com. It was through the musician that the singer got to meet her idol. "I was fortunate enough to attend a show in Vegas where [Sheila E.] was playing with Prince and I got to meet Prince through her," Erika told The Daily Dish. "My knees shook. I mean I was shaking, to be honest," she added. "I met him backstage before he went on and very briefly and it was a great experience. "
Prince died on April 21, 2016, at age 57, and on that day, Erika told Bravo that the late singer was on her playlist, on repeat. "I'm always out listening and being inspired, but today it's definitely a Prince day," she said on the day her idol died.