What All Of Kelly Ripa's Tattoos Really Mean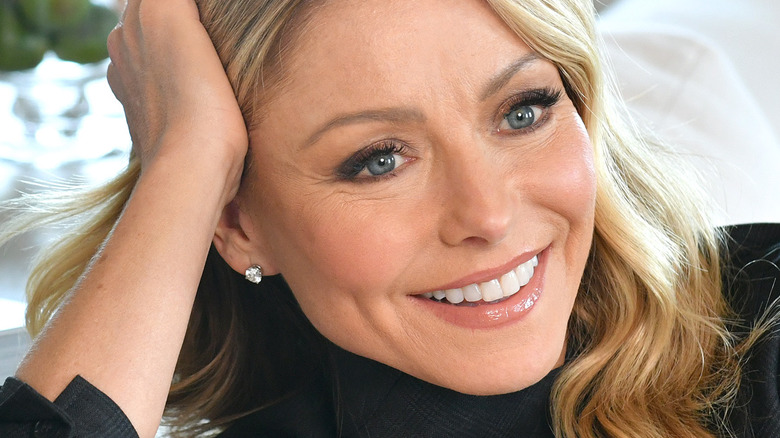 Craig Barritt/Getty Images
The topic of tattoos comes up fairly often on "Live with Kelly and Ryan," so you might think that co-host Kelly Ripa is a fan of ink because she's always asking her guests about their body art. While chatting with actor Jeremy Renner about the matching tattoos that the cast of "The Avengers" got, she revealed that the "Live" team had discussed doing something similar. And after actor Billy Bob Thornton reminisced about the first time he went under the needle, Ripa told co-host Ryan Seacrest that she would accompany him to the tattoo parlor, if he ever decided to lose his own body art virginity, even vowing that she would get a twin piece.
Ripa also encouraged close pal Anderson Cooper to fulfill his longtime dream of getting inked during one of his appearances on the show, but concluded, "It's not going to happen, but we do enjoy talking about it." Ripa's husband, Mark Consuelos, is another man in her life who's a fan of tattoos. When she shared a photo of the dark artwork on Consuelos' right shoulder on Instagram, one of her followers was able to identify the profile of a Mexican eagle, even though it's difficult to make out. Tattoo artist Kaiju also had the honor of inking a sombrero-wearing skeleton holding a gun on Consuelos' inner bicep.
Ripa has a few tattoos, as well, but she regrets more than one of them — including a tribute to her husband.
Why Kelly Ripa removed her wrist tattoo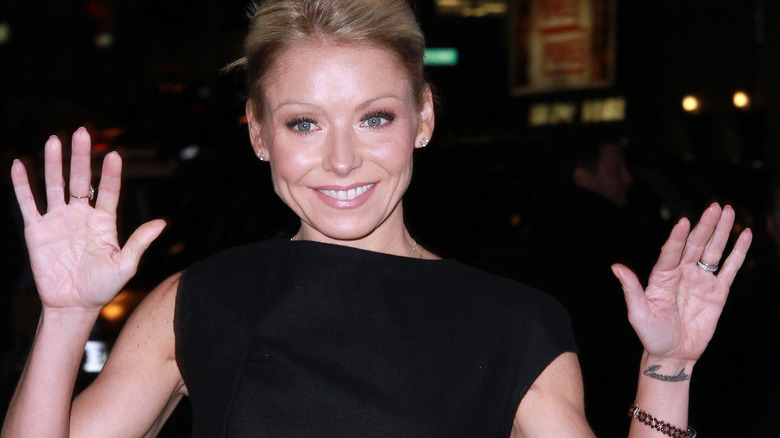 Donna Ward/Getty Images
While Kelly Ripa might be down with other people's ink, on "Live with Kelly and Ryan," she made a confession about her own body art collection. "I think it's a terrible idea immediately after I get [a tattoo]," she said. "It is putting your favorite sweater in the moment on your body for the rest of your life." One example on her own bod is a tattoo with a pretty straightforward meaning: In a show of her devotion to Mark Consuelos, she got her hubby's last name inked on her left wrist for his 30th birthday. Unfortunately, the cursive lettering eventually became difficult to read. "When people started asking me if it was saying inappropriate words, even by my standards — and that's saying something — I was like, 'This is irresponsible. I have to have this removed.'" And so she began the laser removal process.
But the experience didn't make Ripa swear off tattoos. She took a second shot at having a lasting reminder of her love for Consuelos etched onto her skin in 2021, and this time around, she opted for numbers instead of letters. She got their wedding date, "5.1.96," tattooed on her inner arm to mark 25 years of marriage to her man and he was a fan of the tiny tribute. "I love her tattoo. I think it's adorable," Consuelos told People. "I think it's beautiful."
Kelly Ripa's other tattoo regrets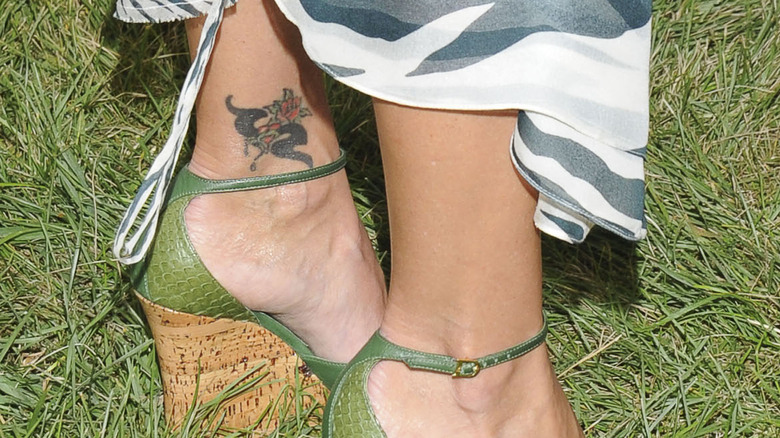 Eugene Gologursky/Getty Images
Kelly Ripa's hit anniversary ink came after a few misses. In addition to the regrettable wrist tattoo, she got a flower design on her inner left ankle that never did grow on her. Ripa told the Los Angeles Times that she got said tattoo at age 19 at the suggestion of a limo driver who was trying to be helpful. She was in San Antonio for an "All My Children" event and was simply looking for a way to keep herself occupied during a short span of free time. "It's a symbol of my youthful stupidity," she said. "The flower? I told the [tattoo artist] to do whatever he had. That was it." But someone did eventually appreciate Ripa's uninspired body art. According to Entertainment Weekly, "NCIS" star Mark Harmon admired the ink (and the legs it was attached to) when he appeared on "Live with Regis & Kelly" in 2001.
However, Ripa has another more mysterious tattoo that she hasn't let her fans see. She fessed up to getting a "tramp stamp" the night she got married, and she refused to even tell Elle what it was during a 2013 interview. Luckily, she can always rely on her good friend Dr. Geronemus to erase her mistakes and make her feel better about them. "I've shown him a lot," she said of the laser removal pro on "Live with Kelly and Ryan." But she revealed that the good doc always assures her, "I've seen worse."