What We Know About Machine Gun Kelly And Mod Sun's Relationship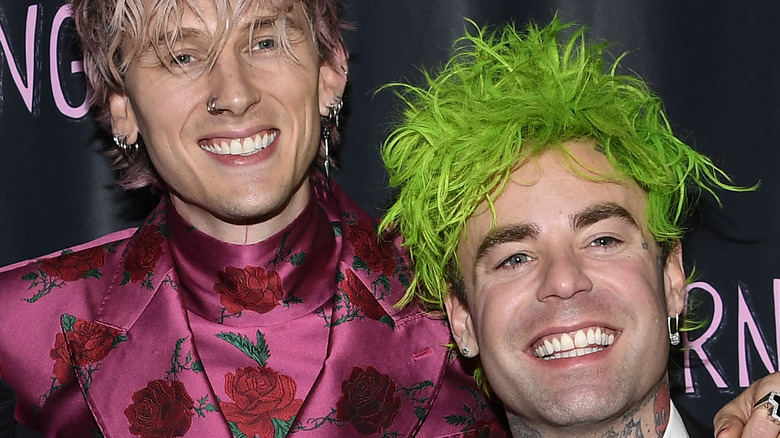 Kevork Djansezian/Getty Images
There's a lot more to making good music than a killer melodic hook. Often, an artist's individuality and stage presence is a big part of what cements them in pop culture. Just look at Elvis' iconic hip shake, or Miley Cyrus' enthusiastic performance with a foam finger at the 2013 VMAs — sometimes, creating controversy is the name of the game. And if there's one thing that musicians like Mod Sun and Machine Gun Kelly are known for creating, it's controversy.
While MGK was already known in the alt-rock world, his high-profile relationship with actor Megan Fox made mainstream headlines in 2020. Since coupling up, the currently engaged pair have shocked fans with their unusual displays of PDA, NSFW texts, and comments about drinking each other's blood. But even before Fox, the "Bloody Valentine" singer was making waves by publicly feuding with Eminem and exhibiting predatory behavior. As for Mod Sun, his quirky tattoos, polyamarous relationship, and preference for serenading ex-girlfriend Bella Thorne's vagina onstage had fans divided. Things ended messily between Thorne and Sun, with Sun taking to Twitter to bash Thorne post-breakup (via E! News). As of this writing, however, the hippie star has cooled off and found love with Avril Lavigne.
Whether it's their shared interest in music, or their penchant for making headlines, both Sun and MGK have grown close since meeting in 2012. They have even parlayed this friendship into a successful working relationship that's transcended the music space.
Mod Sun and Machine Gun Kelly collaborate on creative projects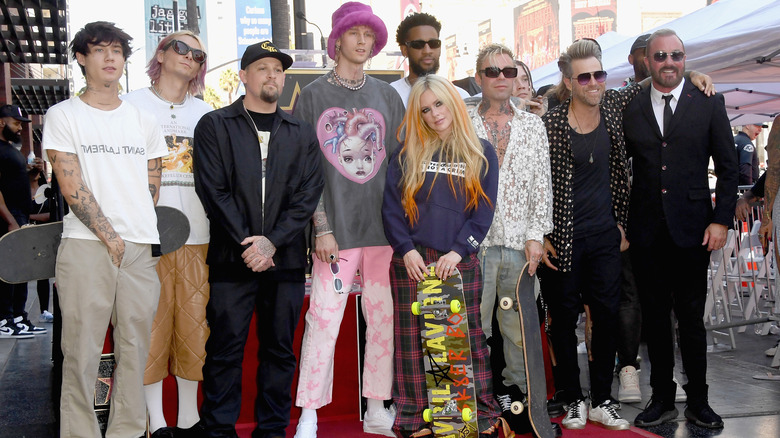 Albert L. Ortega/Getty Images
Mod Sun told Billboard that he met Machine Gun Kelly while on Warped Tour 2012, and it was kismet from the start. "[Kelly] wasn't surrounded by a bunch of people, he wasn't making friends, but me and him? Best friends, right there. Spent every second together from there on out," he explained. Sun ended up directing Kelly's music video for "Sail" and his breakout track, "Bloody Valentine," which was a turning point in their relationship. Telling Billboard that the song "[came] out like vomit," Sun spoke of how he and Kelly had screamed the lyrics as they wrote them. "It was the truest moment of like, me and Kels are forever going to be kids — and even his daughter is acting like our f**king parents at this point," he added.
But making sweet music isn't all that MGK and Sun do together. Per Variety, they co-directed the stoner comedy "Good Mourning," which dropped in May and starred their significant others, Avril Lavigne and Megan Fox. Though the film garnered lackluster reviews from critics, it did a lot in terms of strengthening Sun and Kelly's professional rapport. Both musicians gushed over one another in a Collider interview, with Sun praising Kelly's reputation for "standing his ground" when making creative decisions on-set. Kelly even likened Sun to Quentin Tarantino, praising him as "the most brilliant [human being]." Seems like a match made in movie heaven!
Mod Sun and Machine Gun Kelly bring out the best in each other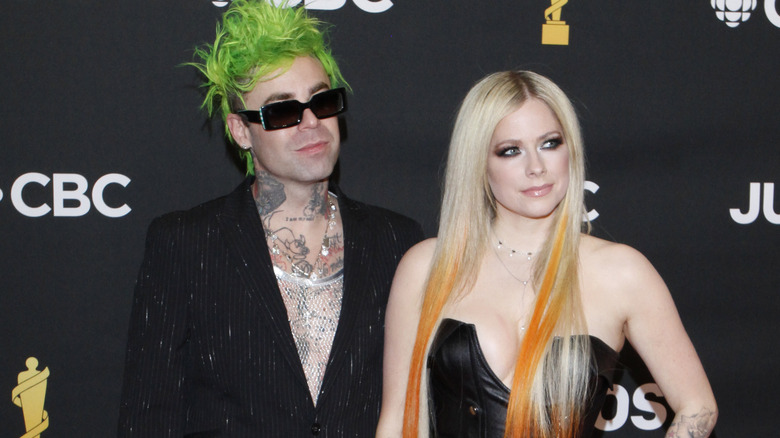 Jeremy Chan/Getty Images
Like best friends often do, Mod Sun and Machine Gun Kelly tend to bring out the best in each other. For example, MGK had a big hand in Sun's engagement to Avril Lavigne. Not only did MGK introduce the two, per Metro, but his relationship with Megan Fox inspired Sun to believe in love in a post-Bella Thorne era. "Mod had spoken with his friends, including Travis [Barker] and Colson [MGK] who were so supportive from the jump," a source shared with HollywoodLife. And despite the fact that he'd suffered following his breakup with Thorne, "seeing how happy Travis and Colson are in their engagements only helped confirm what Mod already knew and that he was doing the right thing."
And Sun has turned another corner following his split from Thorne, in that he's now sober, according to HollywoodLife. To champion this new way of life, Sun dropped the single "Karma" in 2020. The track is meant to give addicts hope, and Sun naturally turned to MGK to direct the music video. "I really wanted to figure out how to show the truest me, the one that [Kelly] enjoys every day, the one that he's like, 'Bro, I see you and you are walking, living, breathing art, and I need the world to see you through my eyes," Sun told HollywoodLife, speaking of the video's creative direction. The sweet message encapsulates how, sometimes, it takes a best friend tp see you for who you truly are.