What Jason Momoa Really Thinks About His Baywatch Days
Featureflash Photo Agency/Shutterstock
Jason Momoa is one of the most popular actors in Hollywood thanks to his roles in hits like "Game of Thrones" and, of course, the "Aquaman" franchise, but it has not always been an easy road for him. After Momoa landed the role of Khal Drogo in the hit HBO series, the star confessed that it was hard for him to find steady work. In a 2020 interview with InStyle, Momoa confessed that he struggled to keep up with the bills for his family. "I mean, we were starving after 'Game of Thrones,'" he revealed. "I couldn't get work. It's very challenging when you have babies, and you're completely in debt."
But things have obviously changed for the star, as he is easily one of the most recognizable faces in the industry. In the same interview with InStyle, the actor said that he was booked with gigs for the next four years, which is pretty impressive if you ask us. Still, Momoa gets starstruck in roles from time to time, including in the movie "Dune," where he appeared opposite a star-studded cast. "It was 'Josh Brolin, Jason Momoa, Javier Bardem,' and I'm just like, 'Oh my god. I can't believe my name was with those names.' I feel like I'm still a kid, freaking out," he gushed over the movie.
But, he is not as proud of some of his roles as he is of "Dune."
Jason Momoa didn't love his Baywatch role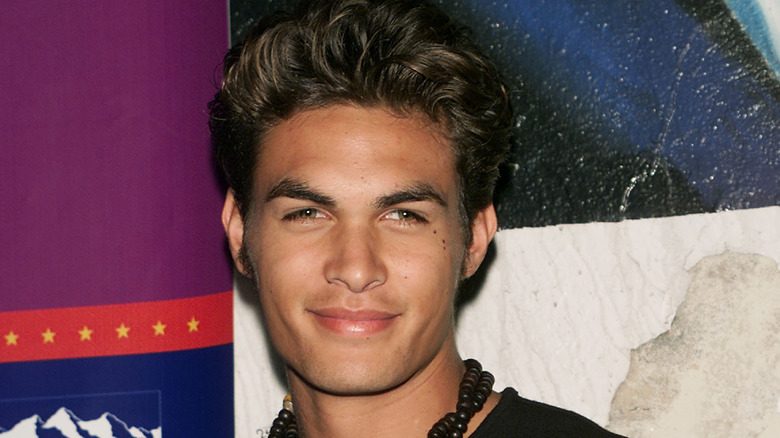 Evan Agostini/Getty Images
Jason Momoa was not a huge fan of his stint on "Baywatch," even though it put him on the map. The actor starred in the Hawaiian spin-off of the hit show from 1999 through 2001: at the time, he was just 19 years old. Everyone had to get their start somewhere, right? But while the actor appeared in a popular show, that doesn't mean he's going to go around bragging about it.
When speaking on the Australian radio show "Fitzy and Wippa" in 2021, the "Aquaman" star admitted that "Baywatch" isn't a regular topic of conversation among his two kids, whom he shares with his now-ex, Lisa Bonet. "We don't say the B-word at home. We hide all of that, mate!" he said of the show. "Never happened, mate! We don't talk about those words. The B-word didn't happen." Momoa also shared that he doesn't let his children see the "earlier things" in his career, but he's allowing them to watch his more recent works that involve superheroes rather than films like "Conan the Barbarian."
In another interview with The Daily Beast, Momoa talked about the irony of landing the role of "Aquaman," all those years later, which has a similar shirtless vibe as the role that he once played on the lifeguard series. "It's a trip," he told the outlet. "I spent 15 years trying to dig myself out of the 'Baywatch' hole, and now I'm Aquaman. Life is very good."
Jason Momoa told a fib to land his Baywatch role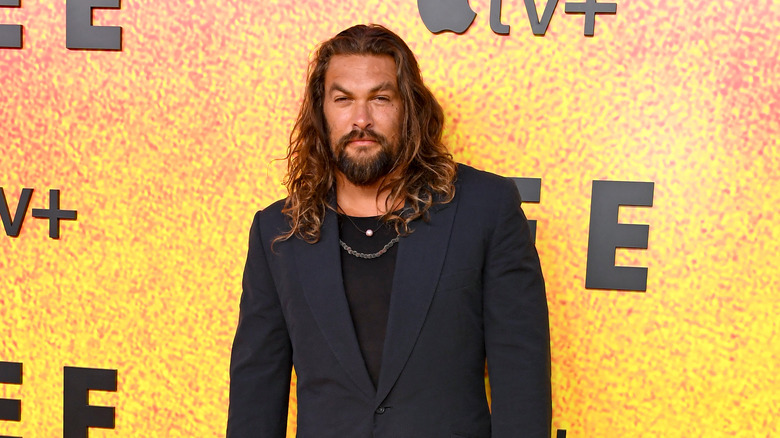 Jon Kopaloff/Getty Images
As he's since moved leaps and bounds ahead in his career, it's still hard to believe that Jason Momoa got his start on "Baywatch" at the age of 19. In a 2011 interview with Reuters, the star revealed that he got his "Baywatch" big break when he went to a casting call in Hawaii. "I was 19 and folding t-shirts in a surf shop," he told the outlet. "And I got chosen out of 1,300 people to play a lead role on 'Baywatch Hawaii.' I didn't even know how to act." It's kind of a wild story, right? 
In a different interview with Square Mile, Momoa explained how he landed the lead role above all the other 1,300 other people by telling a white lie. After he waited in line for seven hours for his turn to audition, the casting folks asked Momoa if he had a resume or any acting experience and Momoa admitted that he had neither. But, when they asked if he modeled at all, he spiced things up a bit. "I was like, 'Yeah, yeah, I'm a big model. I do Gucci and Louis Vuitton,' and I'm looking at my friend, and I'm like, 'You did Prada, right?' And he's like 'Yeah, yeah, we did that in Japan,'" Momoa confessed. "So we were just kind of making it up on the spot." Well, it worked and just look where he is now!