The Tragic Death That Changed Ellen DeGeneres Forever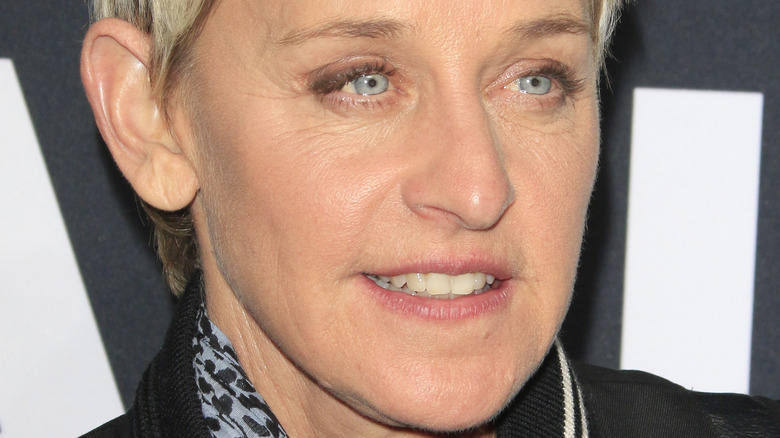 Kathy Hutchins/Shutterstock
Ellen DeGeneres always aimed to bring a little happiness into people's lives for an hour a day via her now defunct daytime talk show "The Ellen DeGeneres Show," spreading her message of kindness and tolerance until the series came to a close in 2022 — around a year after rumors swirled things behind the scenes maybe weren't as they seemed. But that didn't mean DeGeneres' positive outlook was any less effective to many. "I grew up in a pretty religious family, and the one thing I heard every Sunday was 'Do unto others as you'd have them do unto you,'" she told Good Housekeeping in 2017. "To me, still, that's the golden rule to live by, and it's not something to work at, either. It's just the way we should live. If we don't, it's chaos."
She shared a similar sentiment while accepting the Choice Humanitarian award at the People's Choice Awards in 2016, admitting, "Awards are great, but really what makes me happy is making other people happy." DeGeneres then added, "We all really, really love one another. Deep down, we all love one another, and we need to get back to that. We need more of that right now in the world. That is what most of us feel."
But while she's spoken so openly about trying to bring happiness to the world, the comedian, actor, and TV host has weathered her fair share of tragedy, including one horrific accident involving a girlfriend that changed her life forever.
Ellen DeGeneres' girlfriend died in a car accident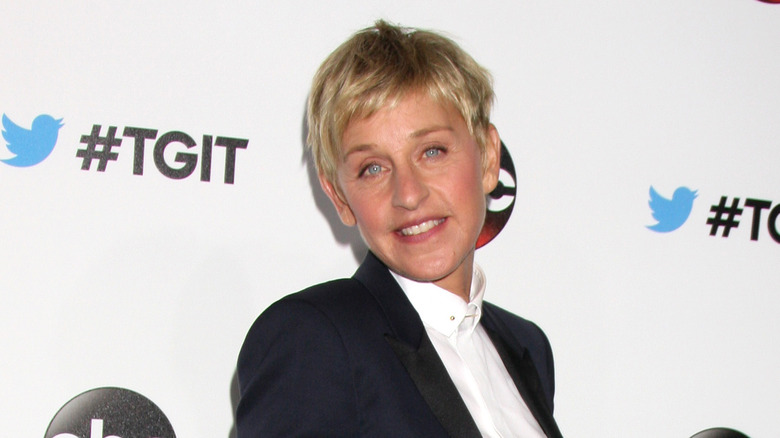 Kathy Hutchins/Shutterstock
Before finding fame, Ellen DeGeneres experienced an unimaginable tragedy when her girlfriend died in a tragic car accident. The star recalled the incident in 2015 on "Oprah's Master Class," explaining she was living with her partner, who she did not reveal the name of, but they broke up temporarily and DeGeneres went to stay with friends for a while to make a point. 
Shortly after that, they both attended a gig where her girlfriend was desperately trying to get her to move back into their home. DeGeneres pretended she couldn't hear her, intent on teaching her a lesson. The girlfriend then left the gig after admitting defeat, with DeGeneres and her friends leaving shortly after. Making their way home, DeGeneres passed a horrific car accident, but didn't stop to check if the victims were okay. "It was split in two, and we heard sirens behind us, so it had just happened," she shared. In a horrific twist of fate, DeGeneres' girlfriend had died in the mangled car. "That, of course, made me feel like I should have gone home with her that night," DeGeneres said, admitting she also wished she'd stopped at the scene of the accident that night. "[I felt] a lot of guilt," she added.
In a horrific coincidence, several years later in 2022, DeGeneres' former girlfriend Anne Heche (who she split with in 2000 after three years of dating) passed away following a fiery car crash.
How the death of Ellen DeGeneres' girlfriend changed her life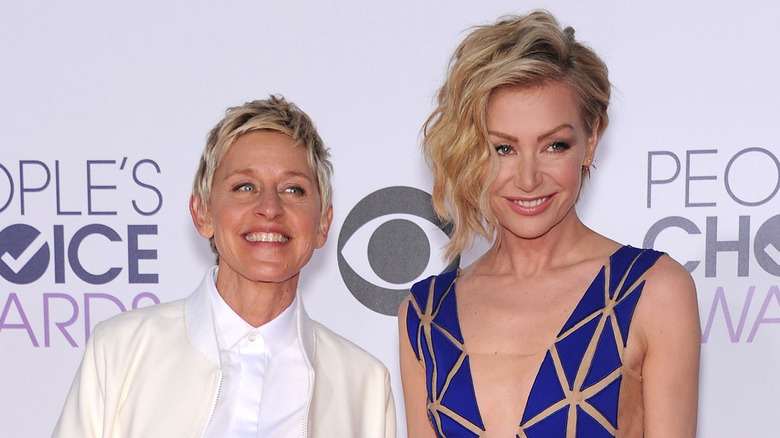 DFree/Shutterstock
That sad and sudden loss of Ellen DeGeneres' girlfriend had a profound effect on the comedian turned host, while also leading her to the life she leads today. "In an instant, she just was gone. It shifted my entire focus," she admitted on "Oprah's Master Class," revealing her girlfriend's sudden death inspired her famous 'Phone Call to God' comedy routine. She performed that on "The Tonight Show Starring Johnny Carson" in 1986, a performance she's largely credited with kick-starting her career as Carson invited her over to chat following the gig. 
It seems like the profound loss also had an effect on DeGeneres' personal life, as she told Good Housekeeping in 2017 that one of her secrets to a happy life is always making time for the people she loves. She explained that she and her wife, Portia De Rossi, always have dinner together every night and then often sit and watch TV together as she gushed about their love. "Portia understands me completely. In our vows, she recited a quote — 'It is good to be loved. It is profound to be understood' — and to me, that's everything. What 'I love you' really means is 'I understand you,' and she loves me for everything that I am," she shared. "She supports me and makes me happy."