Brittney Griner Faces Devastating Ruling On Her Russian Prison Sentence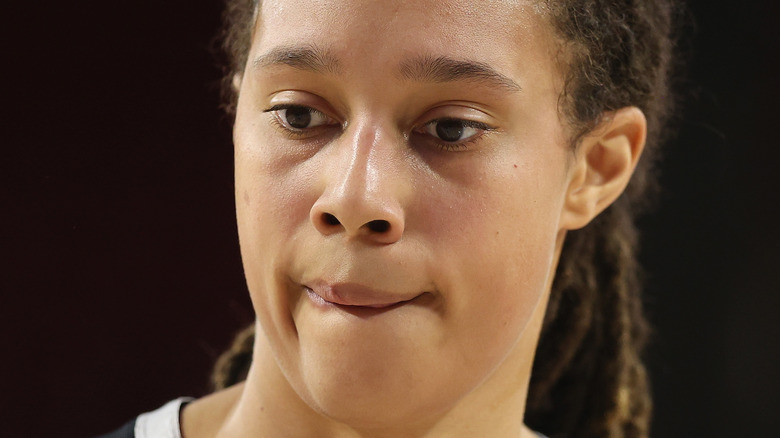 Christian Petersen/Getty Images
Brittney Griner's story is one that fans both far and near have been following closely since she was arrested at a Russian airport for possession of cannabis oil in February and right before Russia's invasion of neighboring Ukraine, according to People. Griner's testimony about her Russian detention is heartbreaking to hear as she wasn't given the chance to hire an attorney. And Griner says that she had no idea how the cannabis ended up in her luggage to begin with. To make matters worse, a lot of what she said was lost in translation. "I remember one time him receiving stacks of paper that he was supposed to translate to me, and he looked at them for a brief moment and [said], 'Basically you are guilty,'" she explained, as detailed by CNN. In other words, Griner could not say anything in a country where she already didn't have a voice.
And because the sun doesn't seem to be shining anywhere in Moscow these days, Griner's prison sentence has also sent shockwaves through Twitter. The WNBA star was sentenced to nine years in prison and slapped with a 9 million ruble fine ($16,000), according to the New York Times. And while there was a little glimmer of hope that Griner's appeal of her 9-year prison sentence would help ease some of the pain she's faced behind bars in Russia, there are new reports that suggest there are more cloudy days ahead for this American professional athlete abroad.
Russian court denies Brittney Griner's appeal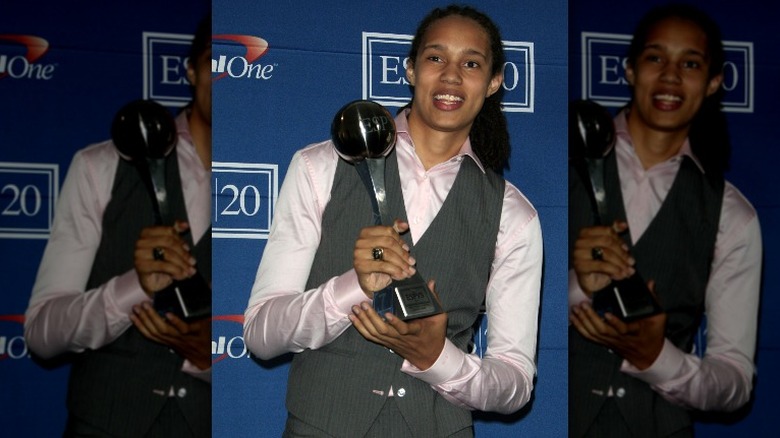 Kathy Hutchins/Shutterstock
According to E! Online, Brittney Griner's appeal of her 9-year prison sentence has been denied by a Russian court.  As expected, the Twitterverse left no crumb behind while expressing both outrage and disappointment in Griner's appeal getting denied. A lot of people believe there are political motives behind Griner's sentence on Russia's side. Some comments included,"Why would they release her when her own country is involved in an escalating proxy war against them? They look at her as a bargaining chip down the road. We already know that Russia doesn't play fair," along with, "This is an important lesson for people. Do not travel to autocratic nations like Russia or China. This is obviously political now. President Biden going to have to do something huge to get Putin to release Griner."
There were also a lot of people who reached out to the President of the United States in the hope that he could flex some of that international diplomacy skills that would help bring Griner back home. One critic wrote, "C'mon @JoeBiden, you're the most powerful politician in the world, let's make 'em an offer they can't refuse."
Even though this is not the news that Griner's fans were hoping for, a lot of people can't help but wonder how her days and nights are going to look like for the next nine years that she is expected to spend in a Russian penal colony. All hope is not lost just yet.
Griner might be able to coach basketball in Russia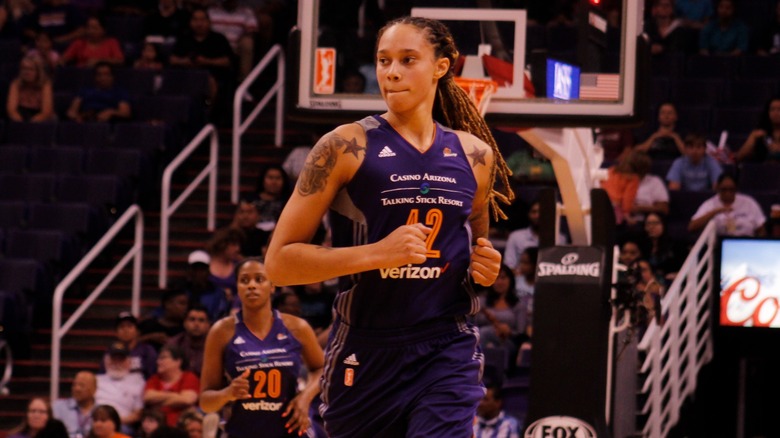 Keeton Gale/Shutterstock
Fortunately, there is both good news and bad with some optimists hoping that Brittney Griner can still play the sport she loves before she's handed back her freedom. However, she is going to have to spend almost a decade in a Russian penal colony, which both prisoners and human rights activists have denounced because of poor living conditions, says Deutsche Welle. 
Nadezhda Tolokonnikova of the Russian punk band Pussy Riot was sentenced to a Russian penal colony for hooliganism charges, per CNN. Back in 2013, Tolokonnikova wrote an open letter detailing her experience behind Russian bars. She said, "Everyday life in the colony is set up in such a way that prisoners who head a brigade and take orders from prison managers break a person's will, bully them, and turn them into silent slaves."
While it's also been reported that the Biden administration is looking to do a prisoner exchange to help bring Griner home from Russia, per the Washington Post, there is a little glimmer of hope for the basketball star. Russian soccer player Pavel Mamayev told People that Griner might become a coach. He said, "I hope that she will be sent to a colony with a lenient governor who allows her to coach basketball in the daytime rather than being a seamstress. Prisoners are encouraged to play sports or do yoga and so on, and basketball is popular. I think that would be the best thing for her."