RHONJ Cast Chimes In On Jennifer Aydin's BravoCon Showdown With Joe And Melissa Gorga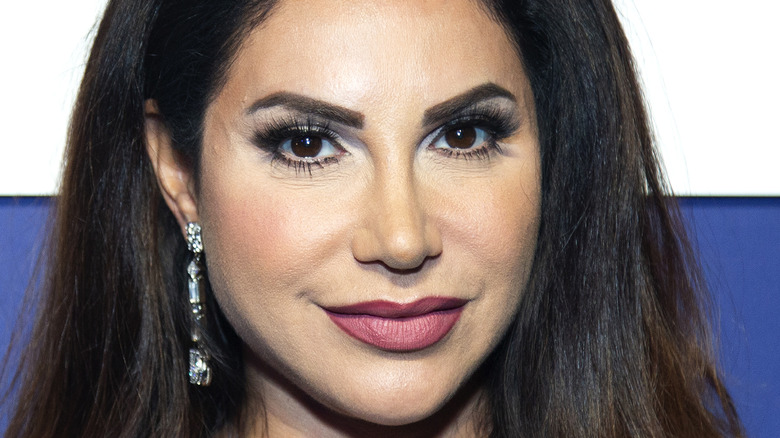 Santiago Felipe/Getty Images
The cast of Bravo's reality television series "The Real Housewives of New Jersey" is speaking out, and it's about one of the more dramatic moments from behind the scenes at BravoCon 2022. During BravoCon 2022, "RHONJ" stars Joe and Melissa Gorga were caught on video in a fight with their own costar, Jennifer Aydin, in a hotel lobby. A source reportedly told People at the time that Melissa had insulted Aydin and that this exchange of words was what prompted the altercation. As additionally noted by People, the Gorgas and costar Teresa Giudice were featured in separate BravoCon panels, one of the many messy moments to come out of the convention.
Us Weekly adds that Aydin has been supportive of Giudice amid her tensions with the Gorgas, which was one of the catalysts of the hotel fight. Complicating the situation even more than the standard reality TV drama is the fact that Joe is Giudice's brother (via People). Now, it seems like fellow cast members are chiming in with how they really feel about what went down.
Other cast members appear to be taking the Gorgas' side
Presley Ann/Getty Images
Following the fight with Jennifer Aydin on one side and Joe and Melissa Gorga on the other, additional cast members from "The Real Housewives of New Jersey" have chosen their sides in the conflict. Make that "side" in the singular, perhaps, because Us Weekly reports that both Jackie Goldschneider and Margaret Josephs feel that Aydin was in the wrong.
As Goldschneider said to Us Weekly, "I'm not shocked that Jennifer Aydin threw a drink. I was shocked that it happened at BravoCon because I feel like that should be about the fans." She added that she thought it was "unfortunate" that the fight happened as it did because it wasn't for the show. Goldschneider said, "I wish it didn't happen because I think it reflects poorly on the New Jersey cast, but I would hope that the rest of the time everybody just had fun." Josephs expressed a similar sentiment, saying of Aydin, "That she let it get to that level was a disappointment. And I think the words that she threw around that she was a victim, she was alone, it was a very crowded lobby — that's a dangerous rhetoric to put out there, so I don't agree with it."
Per a separate report from Us Weekly, Bravo was apparently displeased with what had gone down and found fault with all three stars. It isn't clear, however, if any action has been taken by the network against Aydin or the Gorgas.