The One Star Megan Fox Absolutely Hates Being Compared To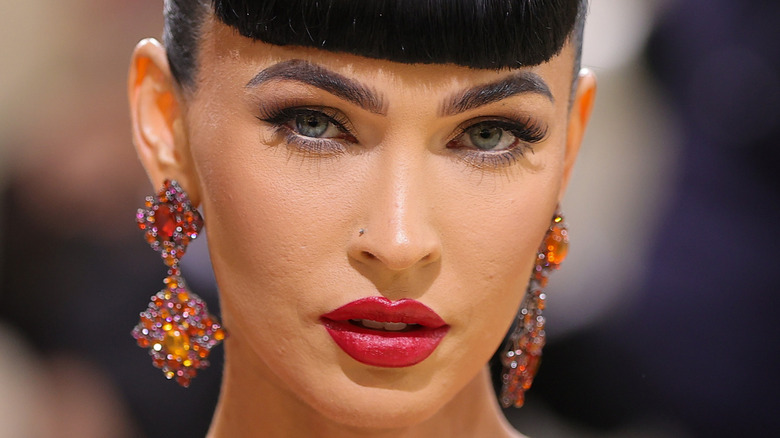 Theo Wargo/Getty Images
Megan Fox and Machine Gun Kelly have a love story that's as unique as they are. Kelly complied with a very specific requirement Fox has for her boyfriends: they need at least one tattoo of her name or face. And while there have been rumors about relationship issues, which celebrity couple hasn't had to ride that wave once or twice? They've also created some buzz for their more unusual courtship rituals, like drinking each other's blood.
Of course, this has sparked comparisons between the two lovebirds and one of our favorite Hollywood couples from the early aughts, Angelina Jolie and Billy Bob Thornton. While the notoriously edgy couple wasn't known for drinking each other's blood, Jolie famously wore a vial of it around her neck. Billy Bob's son, Harry James Thornton, later accused Kelly and Fox of being "copycats" for their blood-love antics, which leads us to the one celebrity the "Transformers" actor absolutely hates being compared to.
Megan Fox hates being compared to Angelina Jolie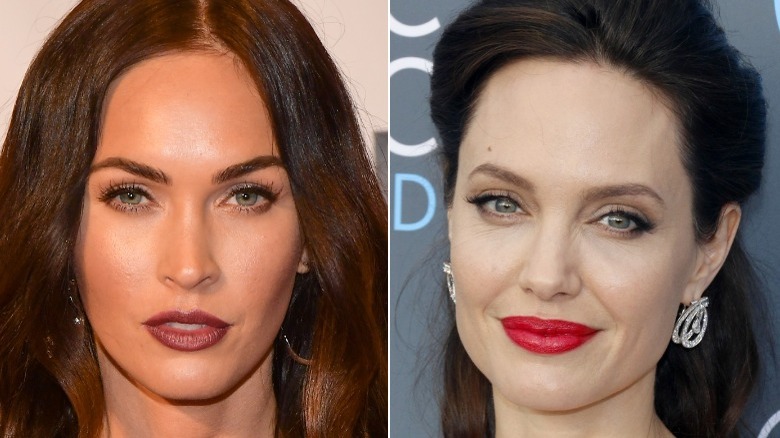 Tinseltown/Shutterstock & Matt Winkelmeyer/Getty
At the start of her career, Megan Fox was continuously compared to Angelina Jolie. According to The New York Times, when Fox initially auditioned for the role of Mikaela Banes in "Transformers," the character was pitched as a "16-year-old Angelina Jolie." After her agent read the character's description, he knew she would land the role.
Fox found the comparisons limiting. "It's a lack of creativity on the media's part," she told Entertainment Weekly in 2009 (via Us Weekly). "Because I have tattoos and dark hair and I was in an action movie? That's as far as the similarities extend." She added, "I'm not the next anyone."
It was because of this comparison that Fox said she would be reluctant to meet Jolie. "She always seems otherworldly in her power and her confidence," Fox said of the "Maleficent" star, adding that she figured Jolie had no clue who she was. "But if I were her, I'd be like, 'Who the f**k is this little bulls**t brat who was in 'Transformers' that's going to be the next me?' I don't want to meet her. I'd be embarrassed." That seems like a fair assessment after the awkward media correlation.
But Megan Fox still has a crush on Angelina Jolie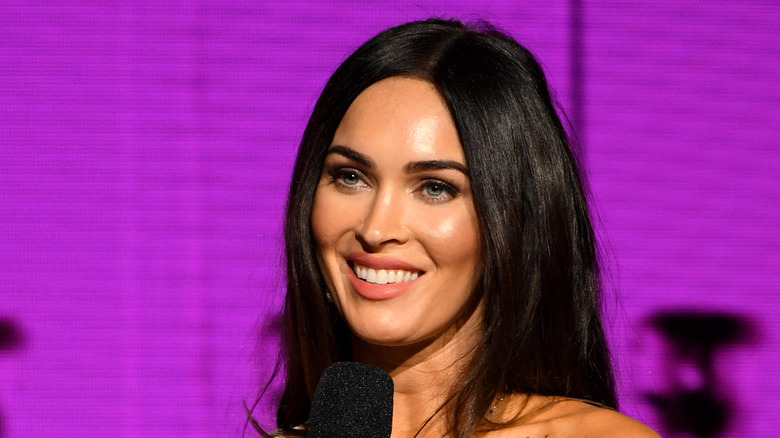 Kevin Mazur/ama2020/Getty Images
Per The New York Times, Megan Fox and Angelina Jolie have both come out as bisexual, and Fox has revealed some surprising feelings about Jolie. "I don't even consider her human," she told the outlet. "She's like a superhuman goddess." Fox also told Heat magazine (via Contact Music) that she had an eye for Jolie. "Every time a relationship ends, I say, 'If I could just be Angelina's girlfriend, I would be so happy,'" Fox explained.
While speaking to Fox5 in 2021, Fox echoed that same sentiment. The host asked Fox about her wish to date Jolie and how her partner, Machine Gun Kelly, would feel about it. "I think I said that years ago. I can't imagine he would have a problem with it," Fox said. "I think he would survive. I think he can hang in there for that one." And over a decade later, Fox still hasn't changed her tune. "I do think I said that a decade ago, but I stand by it; I stick with it," she said.