Katy Perry's Unexplainable Onstage Glitch Has Conspiracies Running Wild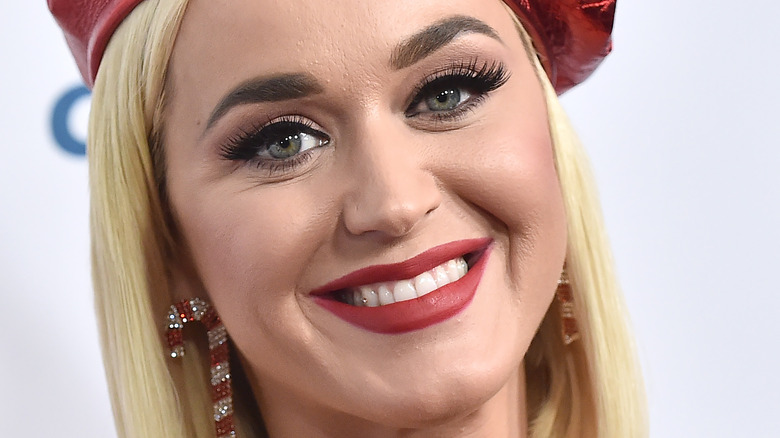 DFree/Shutterstock
Katy Perry has always given phenomenal performances. Fans still remember the epic 2015 Super Bowl Halftime show where she entered the stage on a giant mechanical lion and had dancing sharks in the background midway through her performance. Of course, Perry's performances on "American Idol" can't be overlooked, and she has proven that she is a powerhouse vocalist, having sung alongside music icons such as Lionel Richie and Luke Bryan.
It's no surprise that Perry was offered a residency at Resorts World in Las Vegas. "Play" has not disappointed fans, as her concert offers visually stunning sets, with Perry making several over-the-top costume changes (via Access). Perry's concert separated into five acts, and her set list includes her hit songs, "I Kissed a Girl," "Teenage Dream," and "Roar," per USA Today. Perry has prepared for the highly physical performances with a strict wellness routine. "(The set) is like a giant kid's jungle gym and I'm a 37-year-old adult. So I have to train like an athlete, and do physical therapy, and use the sauna, and let go of my Taco Bell," she revealed.
As fit as Perry may be, perhaps her latest concert has left her exhausted. While onstage, one of her body parts seemed to want to give out — leaving fans confused and concerned.
Katy Perry's right eye seemed unable to open
During her October 24 concert, Katy Perry paused onstage and struck a pose. As she gazed out at her fans, her right eye kept closing, as captured by a TikTok user. Although she tried to nudge it open, it again closed on her. Fans thought that perhaps Perry had "glitched" while others wondered if it was a side effect of the COVID-19 vaccine. One Twitter user quipped, "Katy Perry: Eye of the Pfizer." Another tweeted, "Kerry Perry clone malfunction." Some had a reasonable explanation for Perry's glitchy eye. "Eyelash glue has done this to me before," one fan tweeted. Another Twitter user agreed, "I think her top eyelash got caught on the bottom and she doesn't want to rip it off by forcing her eye open."
Yet another Perry fan wrote, "It's called a lazy eye y'all. She spoke about this long ago. Like, I don't have a lazy eye, but SOMETIMES this even happens to me too, or twitching. It's normal. I'm a conspiracy theorist as well, but sometimes ppl are reaching too much."
Perry has indeed opened up about her "wonk eye" in the past. During an "American Idol" episode, she comforted a contestant who was self-conscious about his lazy eye, per Newsweek. "I have a wonk eye as well, and I used to be worried about it. Then a bunch of my fans created fandom over my wonk-eye," she shared. Perry revealed that it was her right eye that got wonky, so fans put their conspiracy theories to bed.