RHOC Alum Alexis Bellino Makes Her Thoughts On Son's Gender Identity Crystal Clear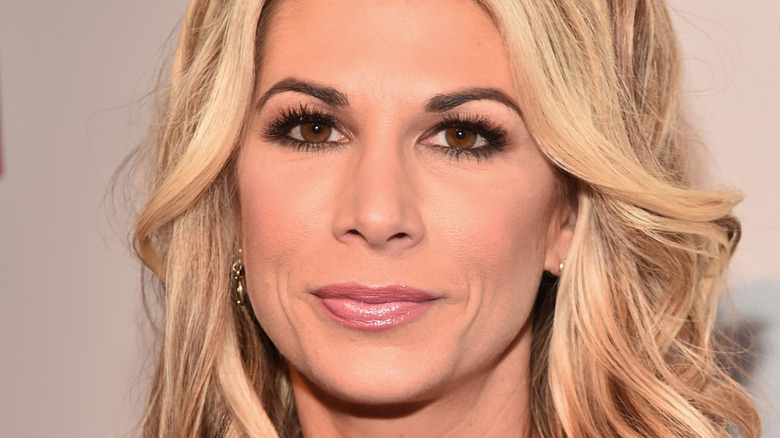 Alberto E. Rodriguez/Getty Images
"Real Housewives of Orange County" alum Alexis Bellino first burst onto to the Bravo scene in 2005 during Season 5 of the popular reality show. Right out of the gate, Bellino solidified her position as a devout Christian and attentive wife to businessman Jim Bellino on the show. "I was made from my husband's rib," Bellino once declared on camera about the couple's marriage dynamic, per Yahoo! Entertainment.
Sadly, however, the Bellino's union proved to be short-lived. "It is with heavy hearts that we inform the public of our mutual decision to end our marriage," Alexis and Jim released in a joint statement in June of 2018, according to People. "But it's important to us that you know we made this choice together, with love, and as the best decision for our children's future," they carefully added.
And now Alexis is speaking out once again — this time regarding her son's gender identity.
Alexis Bellino is one proud mama
Alexis Bellino is proud of her son Miles.
"Hey world, this is Miles. My transgender son," Bellino began in a revelatory Instagram post on October 25. "He's now a month shy of 15 yrs old, so he's seen the questions and comments made about him on my IG. Miles now has a voice and has asked me to do this post," she explained. According to Bellino, she initially refused Miles' requests but eventually acquiesced because she knows "Miles truly wants me to post this because he's tired of the misgendering and confusion people have." She added, "I cannot imagine the strength and courage it took for my baby to do this, but I'm extremely proud of him and I want everyone to understand that love doesn't change in these situations. It's unconditional love." But the proud mama bear also issued a clear warning. "FYI all hate on my social media will be immediately deleted and that user instantly blocked," she cautioned.
Shortly after Bellino hit send many flooded the comments section to extend their love and support — including some current and former Orange County Housewives. "So brave and amazing – we love you both," current "Real Housewives of Orange County" cast member Heather Dubrow penned along with four red heart emojis. Meanwhile, former "RHOC" star Meghan King Edmonds wrote, "Beautiful example of love!"