Antonio Brown Takes Sides In Kanye West Donda Sports Debacle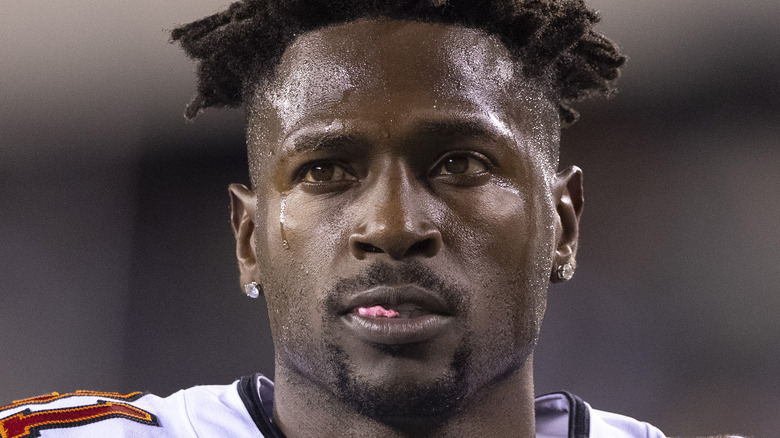 Mitchell Leff/Getty Images
Per SB Nation, Kanye "Ye" West's new sports agency Donda Sports signed Los Angeles Ram defensive tackle Aaron Donald and the Boston Celtics' Jaylen Brown in May. But in light of recent events, Ye's aspirations to become a sports mogul may be dashed already.
Ever since Ye began a media campaign of expressing antisemitic views earlier in October, the rapper has seen sponsorships and former business allies leave his side one by one. After Adidas, Gap, Balenciaga, and Vogue severed their relationships with him in late October, Donda Sports' two star athletes followed suit. Both Donald and Brown released statements via TMZ, announcing plans to leave the agency. "The recent comments and displays of hate and anti-Semitism are the exact opposite of how we choose to live our lives and raise our children," Donald's statement read in part. 
Now the spotlight turns to former NFL wide receiver Antonio Brown, who has been serving as Donda Sports' president to give an athlete's perspective. The ex-Tampa Bay Buccaneer appears to have chosen a side, one that may surprise you. 
Antonio Brown criticizes corporate partners for dropping Kanye West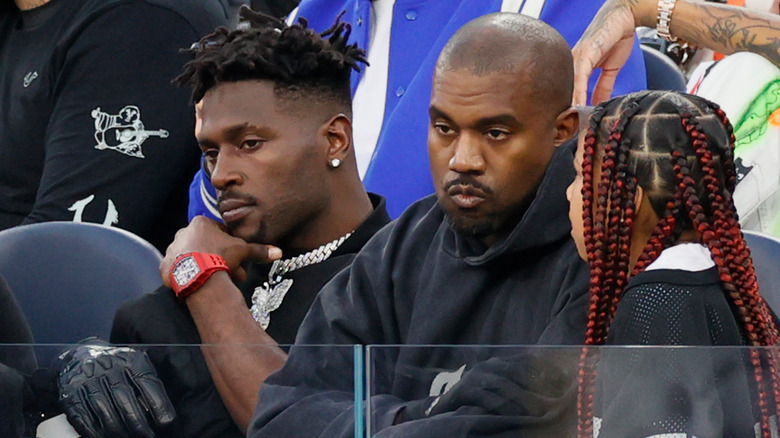 Steph Chambers/Getty Images
Proving himself ever unafraid of controversy, Antonio Brown is staying by Kanye "Ye" West's side. In an official statement tweeted on October 26, Brown dismissed the public outcry against Ye's antisemitism as "reactionary and selective outrage." Brown refers to the "Donda" rapper as "my brother, Ye," inviting others to take a more sympathetic view of him. "None of us in this world are free of judgment, yet we live in a time where scrutiny and pessimism have driven our dialogues on cultural issues toward diatribes," Brown seemingly offered as an explanation for Ye's recent, continuous outbursts about Jewish people. The NFL star further called out the corporate brands that have ditched Ye, arguing that their choice to drop him reveals a "prioritization of certain groups over others." 
Receiving over 3,000 retweets and 28,000 likes on Twitter, Brown's statement had its share of support in his tweet replies. "Telling the truth is not hate speech, but canceling someone for telling the truth is hate," one follower wrote in agreement. Others found Brown's declaration of support for Ye contradictory. "If you believe that discrimination of any kind is an injustice to all people then you should not support what Ye/Kanye said and speak out against his hate speech," another Twitter user replied.