Christina Hall Goes Nuclear On Ant Anstead's Parenting Criticisms Amid Custody Drama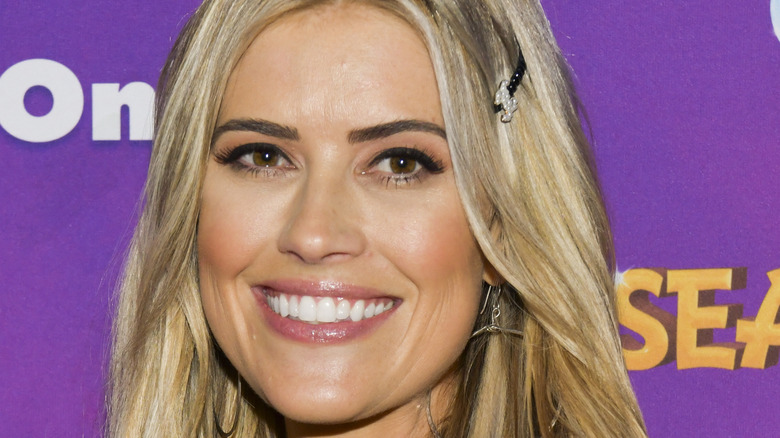 Rodin Eckenroth/Getty Images
The child custody battle between Christina Hall and Ant Anstead escalated from a court issue to a war of words on public platforms. In April, Anstead filed for full custody of their son Hudson and claimed in documents that Hall only saw their son "9 full days each month." He alleged that Hall was exploiting the youngster in social media posts, per TMZ. Later that month, the "Wheeler Dealers" star's request was denied, which prompted Hall to fire back. "I will not speculate as to his true motivations, but Hudson's best interest is not what is motivating his application to the Court," she wrote in a statement to Entertainment Tonight.
Unfortunately, tensions between the former couple only worsened in the ensuing months. On October 2, the "Christina on the Coast" star took to her Instagram page to announce that she would no longer feature Hudson in posts. "Hudson's father has made attempts to turn my family, friends and fans against me through manipulation tactics and false information," she wrote in the lengthy post. She added that Anstead used the platform to judge her parenting skills.
Shortly after, on October 13, Anstead featured his son in an Instagram post and used the comment section to take shots at his ex-wife. "Hudzo childhood is not for sale. As a dad I will continue to step up for him," the reality star replied to a fan (via Fox News). Less than two weeks later, Hall was once again sounding off against her ex online.
Christina Hall lashes out while defending her parenting
Christina Hall took exception with a Psychology Today article titled "The 'Reality' of Kids on Television" which called for increased protection of children who appear on reality TV. The portion of the article that upset Hall mentioned how Ant Anstead had pushed to have Hudson Anstead removed from the spotlight and not appear on any reality shows, against his ex-wife's wishes. "In court filings, he said he feared meme-able moments and deemed exposure to toxic comments on social media simply not worth the risk," the article claimed about Anstead's decision.
The "Flip or Flop" star posted a screenshot of the Psychology Today piece on Instagram on October 25 and sounded off in the comment section against both the author and her ex-husband. "Sloppy Journalism/ Click bait at its finest," Hall wrote. She mentioned how even when her son was part of filming, it was for limited hours, as her shows focused on the house-flipping aspect of her life. "Stop using me and my child for your narrative, it's trashy and disgusting," she added. Afterward, Hall had harsh words for Anstead when she realized he had shared the Psychology Today article on his own Instagram page. "This makes this even more bizarre and disturbing," she wrote.
In May, Anstead defended himself against a fan on Instagram who claimed he wanted to keep Hudson from seeing his mother. "[H]uh? who told you that? That's the LAST thing I want! (Don't believe the click bait press)," Anstead commented.