Insider Claims You Won't Hear What Khloé Kardashian Named Her Son Anytime Soon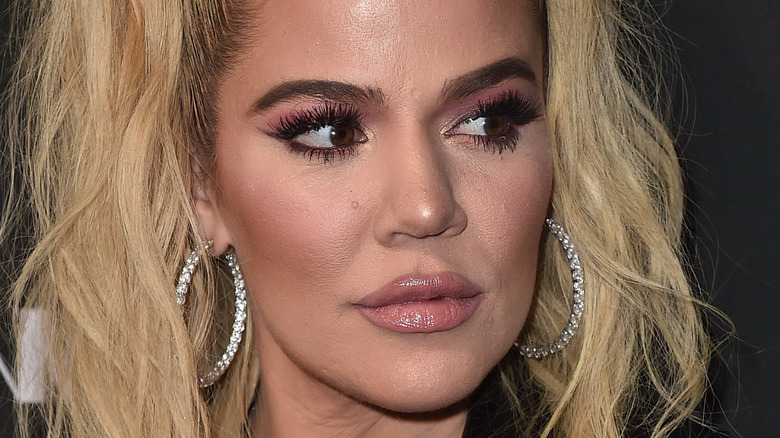 Alberto E. Rodriguez/Getty Images
Khloé Kardashian and Tristan Thompson welcomed their second child in August 2022 under rather, er, unusual circumstances. The couple had split up by then, with an insider telling People, "The baby was conceived via surrogate before it was revealed to Khloé and the public that Tristan was having a baby with someone else in December." The ex-couple learned that they were expecting in November 2021, and the following month, Maralee Nichols, the mother of Tristan's other child, gave birth.
On the Hulu series "The Kardashians," Kim Kardashian expressed her fury on behalf of her sister and pointed out that Nichols had a baby boy, which was Khloé's dream. "A f***ing random that he sleeps with one night? F*** him!" she said, as recapped by Page Six. Khloé's surrogate also gave birth to a baby boy, and viewers saw her meet the little guy for the first time on the show, per the Evening Standard. Khloé was conflicted about whether to invite Tristan to join her at the hospital, but ultimately decided to let him be there because he wished to.
Fans also learned that Khloé hadn't yet decided on a name. After she and Thompson welcomed their daughter, True Thompson, in 2018, Kris Jenner tweeted that one of her grandfathers was named True, and it was also her bio dad's middle name — but we don't know if picking a moniker for Khloé's son was also as easy as studying the family tree.
Khloé Kardashian hasn't even shared her son's name with her inner circle
An insider told Us Weekly that Khloé Kardashian's friends and family members aren't pressuring her to share her baby boy's name with the world, and the "Keeping Up With the Kardashians" star is keeping it close to the vest. "No one is sharing the name of the baby and a lot of acquaintances do not know," the source revealed. Another insider previously told People, "She is taking her time with the name. She wants it to be just right."
On "The Kardashians," Khloé did say that she was going to stick with an alliterative theme for her kids' names by only considering those that start with the letter T, prompting Kris Jenner to joke that she should create a trio of Travises in the fam, per E! (Kourtney Kardashian is married to Travis Barker, and Kylie Jenner is in a relationship with Travis Scott). We're just going to take a wild guess that Theo is not in the mix, since this is what Maralee Nichols named her son with Thompson, but some Redditors have theorized that Khloé has possibly decided to name her boy after his father, hence the secrecy; she would expect huge backlash if this were the case. 
Hopefully, whatever name Khloé chose will come to represent the opposite of the T-word that she used to describe everything she's been through, per the Evening Standard: "Trauma."