Kourtney Kardashian's Las Vegas Wedding Didn't End On A Good Note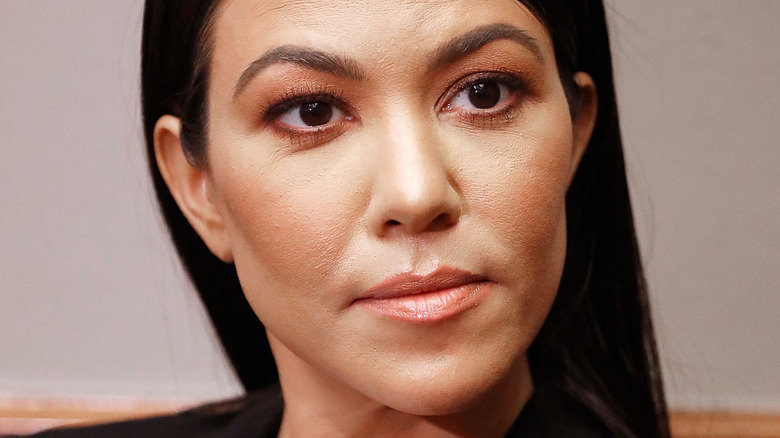 Paul Morigi/Getty Images
What happens in Vegas doesn't stay in Vegas... if you're a Kardashian. Eventually you'll discuss your Sin City escapades in an on-camera confessional, and on "The Kardashians," fans learned that Kourtney Kardashian and Travis Barker's quickie wedding at the One Love Wedding Chapel wasn't quite as fun as it looked.
In April, Kardashian and Barker surprised fans by sharing photos from their late-night nuptials on Instagram. Kardashian also revealed that she and Barker weren't officially married, writing, "Once upon a time in a land far, far away (Las Vegas) at 2am, after an epic night and a little tequila, a queen and her handsome king ventured out to the only open chapel with an Elvis and got married (with no license)." The pair opted for a rock 'n' roll theme for their wedding outfits, which was appropriate, as they were married in front of an officiant dressed like the King himself. They walked down the aisle in matching black leather jackets and dark shades, but Kardashian didn't remain on her feet the entire time — in one shot, she was pictured lying on her back on the floor with a small bouquet of roses in hand.
The owner of the chapel, Marty Frierson, told People that the pair appeared to be having the time of their lives. "There was a lot of that — kissing and hugging. They barely came up for air!" he revealed. However, on "The Kardashians," fans learned that Kravis didn't get hitched without a hitch.
Kourtney Kardashian blacked out and barfed
Remember when Kourtney Kardashian confessed to having "a little tequila" before her wedding? Well, she later admitted that she consumed enough to erase certain parts of the ceremony from her mind. "I blacked out. ... I didn't remember Elvis sang to me walking down the aisle," she said on the October 27 episode of "The Kardashians" (via TooFab). Kourtney also explained why she ended up on her back at the altar, saying that the Elvis Presley impersonator sent her into hysterics by calling her by Khloé Kardashian's first name. (Well, at least he made a valiant attempt at keeping up with the Kardashians before meeting one in person!)
Luckily, Kourtney made it through the ceremony before the tequila gave her a gross wedding gift. "I did throw up after though and took my top off and unbuttoned my pants and had to walk back through the hotel with a million people taking my photo," she recalled. "I was a hot slob kebab." Her disapproving momager, Kris Jenner, was baffled as to why Kourtney would want to be wed while "drunk as a skunk" and barfing, but Kourtney and Travis Barker did eventually get a wedding do-over when they jetted off to Portofino, Italy, with their loved ones in May, per People. While Kourt couldn't remember an Elvis impersonator serenading her, but hopefully she won't soon forget Andrea Bocelli performing the King's classic "Can't Help Falling in Love" at her wedding reception.