Kourtney Kardashian And Travis Barker Stun Fans With Surprise Vegas Wedding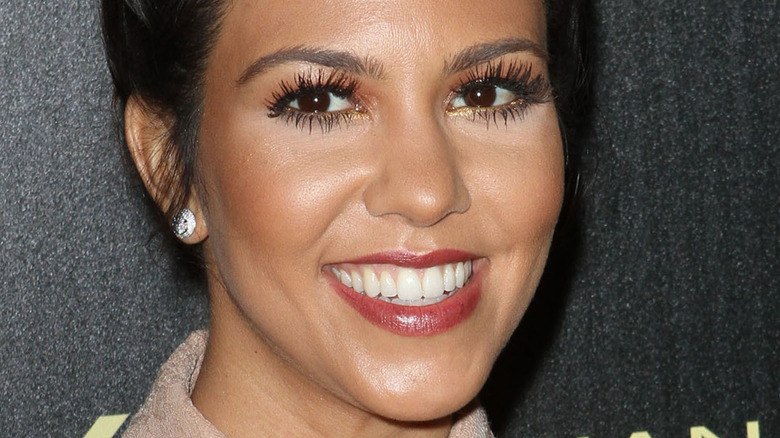 admedia/Shutterstock
Just married! Fans have been waiting for the day Kourtney Kardashian and Travis Barker tied the knot for a little while now, and it looks like the loved-up duo just gave fans everything they've been anticipating — just on the down low.
The reality star and the Blink-182 drummer got engaged back in October 2021 when the rocker surprised his love with roses and candles set out on the beach. Both shared snaps from the emotional moment on Instagram, with Kourtney admitting the following day, "I woke up all night thinking it was a dream." As for Barker? He shared a stunning photo of them embracing, writing, "forever." He then followed up with a series of snaps from the special day, including a black and white photo showing them kissing while she flashed her gorgeous engagement ring. And it seems like fans will get to see even more about how things really went down, as People reported the whole thing was filmed for the Kardashian clan's Hulu reality show "The Kardashians."
One thing we can't wait to see if the reality show cameras were also around for, though? Their wedding! Because these two lovebirds reportedly just tied the knot in a top secret Sin City affair, shocking people across the globe with the surprise move after it was initially reported in January that they were looking for a smaller affair with close family and friends in attendance.
Viva Las Vegas!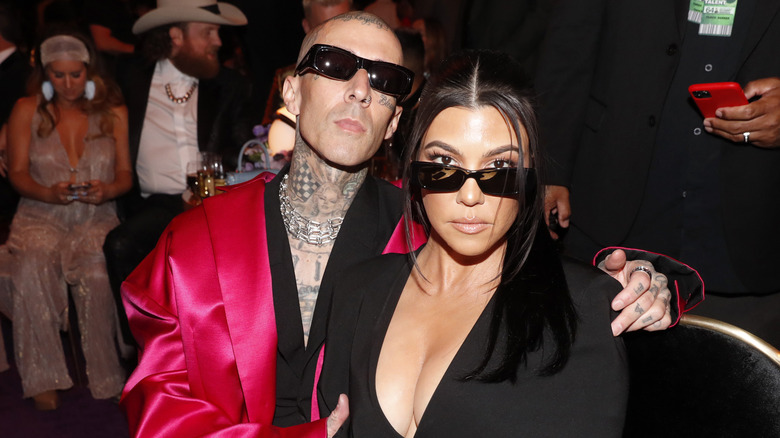 Jerod Harris/Getty Images
Congratulations are in order for Kourtney Kardashian and Travis Barker, as the couple reportedly wed in Las Vegas in the very early hours of April 4. A source revealed to TMZ they tied the knot in one of the city's famous wedding chapels and had a marriage license ready, though it's not clear how planned the ceremony actually was. In true Vegas style, they had an Elvis impersonator do the honors, while it's thought they will have more than one ceremony to prove their love for one another.
The reported wedding went down just hours after the two showed plenty of PDA on the red carpet at the Grammy Awards, and shortly after Kourtney's mom Kris Jenner joked "The Kardashians" will be mainly about Kourtney and Barker's penchant for making out in front of people. Speaking on "The Ellen DeGeneres Show" on April 4, Kris joked, "It is 98% of the new show. Is that wrong?"
As for how much we'll really see of the couple on the show? Kourtney told Variety in March, "There is a lot of us on there, and we've had such a good time doing it because we have such a good time when we're together, but I definitely want to protect it as much as I can." She added that Barker doesn't mind the cameras being around too much, but suggested they would live their lives the way they want and just let the cameras capture it if they want to.