One Of Anna Camp's Pitch Perfect Co-Stars Was A Bridesmaid In Her Wedding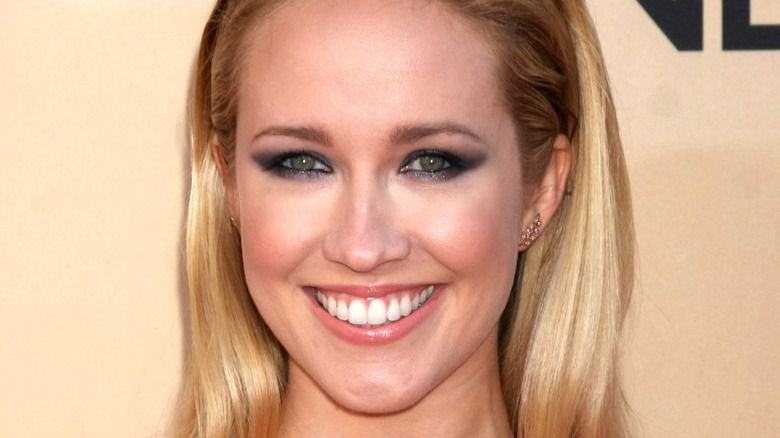 Kathy Hutchins/Shutterstock
The "Pitch Perfect" trilogy has undoubtedly tapped into the cultural zeitgeist in the 2010s with great success. Aside from teaching everyone how to sing a song using plastic cups as instruments, it spawned internet challenges, radio hits, and a great a cappella renaissance.
Just as the unforgettable ensemble formed a sisterhood on screen, the film's cast also created a formidable bond behind the cameras. In fact, Anna Kendrick previously said that they're more family than they are friends. "We spend every waking moment together," she said of her co-stars in a 2017 Entertainment Weekly interview. "We're shooting together constantly, we're in the hair and makeup trailer together and when we're not shooting, we're in a green room together. It starts to feel like 'Oh, my God if I see these girls for one more second...' and then every weekend it's just like, 'What you guys up to?'"
While the cast may have remained close during filming, Anna Camp and Skylar Astin even took it up a notch and struck up a romance. And when they got married, Camp asked one of her former co-stars to be part of her bride tribe!
Brittany Snow was part of Anna Camp and Skylar Astin's wedding party
Anna Camp and Skylar Astin's relationship was far from being pitch-perfect (they divorced in 2019), but Camp and Brittany Snow's friendship is. Snow has been supportive of Camp from the get-go and she was even picked to become one of the bridesmaids at Camp and Astin's wedding.
"I'm in the wedding," Snow told People at the time. "We're in all the midst of planning and bridal shower, and all things Anna and Skylar." She also added how thrilled she was to witness the two tie the knot since she watched how their romance blossomed. "It's funny since I've known them from the beginning of them meeting and dating, and to now see them get married is pretty surreal. It's our own little 'Pitch Perfect' family."
While Camp and Astin didn't work out, Snow remained on team Anna, so much so that she even showed public support when her co-star entered a new relationship with Michael Johnson post-divorce. According to Life & Style, after Camp first took to social media to share her new lover, Snow publicly supported her, commenting, "Love you guys!" We stan a supportive gal pal!
Are the cast of Pitch Perfect still friends?
Aside from Anna Camp and Brittany Snow, the rest of the "Pitch Perfect" cast are just as close. Just because they haven't worked together in a while doesn't mean they've drifted apart. 
Snow said that the bond she shares with Camp, Anna Kendrick, Rebel Wilson, Alexis Knapp, Ester Dean, and Hana Mae Lee is incredibly special. "I cannot believe it's been a decade [since the release of the first film]," she told People in March 2022. "Weirdly enough, it was my birthday recently and I saw a bunch of the girls because we're all so very close. The actor acknowledged that they were all "very like-minded" over the course of filming, underscoring how "very, very, kind" her co-stars are. "The friendship and kindness [lead] before ego, and I think that's really rare in a business where we think about ourselves sometimes a lot and that was really nice," Snow revealed.
Lee echoed this sentiment in an interview with Young Hollywood, saying that they're all good friends and genuinely enjoy each other's company beyond the cameras. "We all hang out, we go to parties," she dished. The actor also acknowledged that filming "Pitch Perfect" was a really special time for them. "We were all from a different place, yet we were altogether making this beautiful and fun movie together," Lee said.