Scott Baio Addresses Sexual Abuse Allegations In New Interview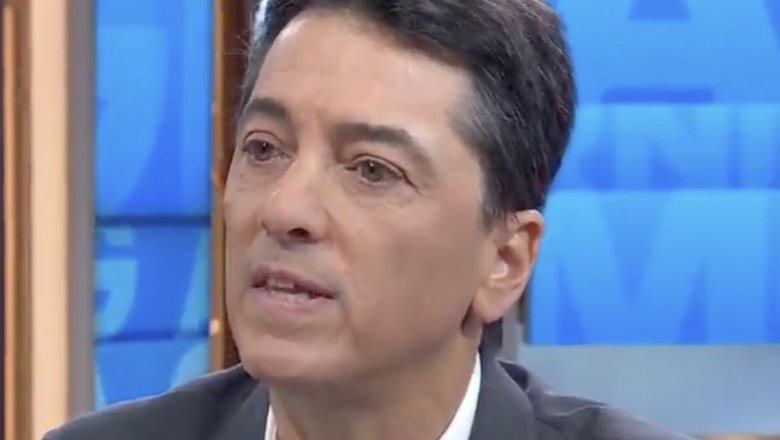 GMA
The Happy Days star is speaking out against his accuser.
On Wednesday, Jan. 31, 2018, Scott Baio appeared on Good Morning America to publicly comment on the sexual abuse allegations brought against him by his former Charles in Charge co-star Nicole Eggert. "The story seems to change quite a bit and I can't keep up with it quite honestly," Baio stated.
After GMA anchor Amy Robach asked him if he'd engaged in any sexual behavior with Eggert when she was 14, 16, or 17 years old, Baio replied, "Absolutely nothing." Furthermore, he noted, "And I find it interesting, Amy, that the moment that her first allegation that we had sex when she was 17 — which is not true — as soon as that was proven to be 100 percent false, she comes up with a new story where something happened once a week for years."
In an attempt to prove that the alleged abuse did not happen, Baio told Robach, "I don't know if you've ever been on a sitcom set but on any given day, on every day, and especially on Charles in Charge — which was a picnic every day. It was one of my favorite jobs I've ever done. There are teachers, parents, family, crew, producers, my dad. So how any of this could have happened is absolutely impossible and I don't know how anybody can believe what she's saying when her first allegation of having sex when [she was] 17 proved to be 100 percent false."
He added, "And her story keeps changing. She makes up new things."
Baio also maintained that he'd never been alone with Eggert on set. He also admitted to having had sex with Eggert once when she was at least 18 years old, after, he said, she seduced him.
Scott Baio denies sexual misconduct allegations: "My 10-year-old daughter does not need to be hearing about this from friends at school – these false allegations...that's why this has got to stop." pic.twitter.com/5jdJgalA9z

— Good Morning America (@GMA) January 31, 2018
As Nicki Swift previously reported, Eggert accused Baio of inappropriate behavior on Twitter on Saturday, Jan. 27. Baio denied her claims on Facebook Live and asked why she didn't go to the police if she believed he'd abused her.
Earlier in the month, Eggert appeared on The Dr. Oz Show to discuss her allegations against Baio, though the episode never made it to air, as Baio's legal team sent a cease and desist letter to the show. On Jan. 30, Eggert visited Megyn Kelly TODAY and opened up about the accusations she's brought against Baio. She claimed that Baio had sexually assaulted her in his car in his garage when she was 14 years old. She said he played on her emotions and hormones, abusing her "once a week."
"The issue with him is that he was our boss," Eggert explained to Kelly. "And he also was telling me, 'You can't tell anybody. This is illegal. I'll go to jail. The show will be over. Everybody will be sued. You'll be out of a job. You'll ruin everybody's life.' And it's scary. That's intimidating, especially when you're that young."
She also stated that she was 17 years old when she and Baio had sex. As for why she had previously lied about when the two had had intercourse, Eggert claimed that she was trying to protect the show. She also noted, "I didn't want anybody to look at me and think I was weak."