Inside Jake Gyllenhaal And Heath Ledger's Close Friendship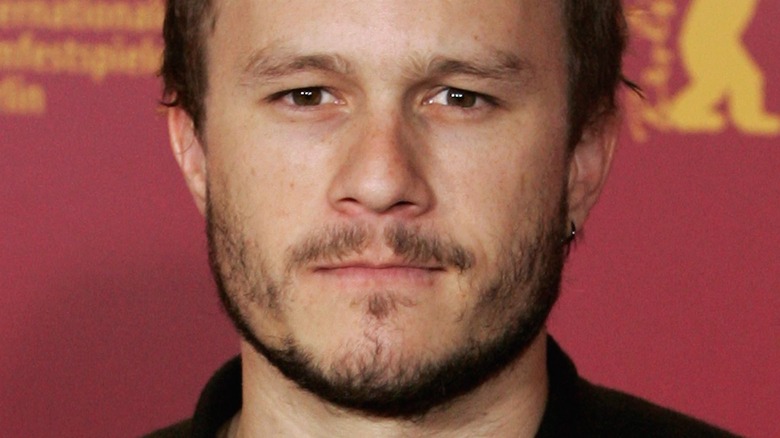 Sean Gallup/Getty Images
Jake Gyllenhaal and Heath Ledger occupied different social circles in Hollywood, but their paths crossed when they both co-starred in "Brokeback Mountain" in 2005, a movie based on a short story written by award-winning author Annie Proulx. The two played Jack Twist and Ennis Del Mar, respectively, two cowboys who fell in love after spending a summer on the titular mountain.
The actors were aware that the story touched on a controversial subject, but Gyllenhaal's doubts went away once he read the script. "It was really the most beautiful love story I had ever read, and I couldn't not do it," Gyllenhaal told Oprah. "When you see the movie and you read the script and you read the short story, I think all those things [like potential controversy] kind of oddly go away." Ledger felt the same way, too. "I think it bled into my initial reaction," he said in the same interview. "But then that kind of disappeared, and I was just left with this beautiful story. It felt important. It felt like a story that had never been put to screen."
The film ended up receiving rave reviews from critics and audiences alike, with both actors gaining recognition for their raw portrayal of forbidden love. And the other thing Gyllenhaal and Ledger got out of it? An enduring friendship.
Jake Gyllenhaal and Heath Ledger's friendship was based on 'profound love'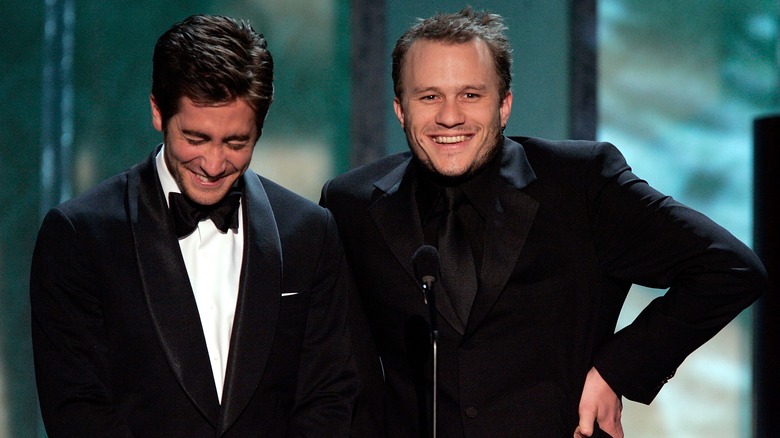 Kevin Winter/Getty Images
Heath Ledger's experience working with Jake Gyllenhaal was nothing short of amazing. "Wonderful," he said of his co-star in a 2005 MovieWeb interview. "I couldn't have asked for a better person. He comes from a beautiful family and he's a wonderful actor." However, it wasn't "Brokeback Mountain" that made them so close in the first place —it was because of their string of failed auditions for Baz Luhrmann's film, "Moulin Rouge."
"When Ewan was cast, I finally met Heath and we sort of became friends before Brokeback Mountain based on our mutual frustration," Gyllenhaal told GQ Australia in 2018. "When Brokeback Mountain came out and it got all the attention it did, I remember, a few months later, Heath called me and he was like, [affects Ledger impersonation] 'Hey mate, I got some news for you'. I said, 'What?' He said, 'Baz just offered me his next movie. I just wanted you to know, I f***ing turned it down!' [Laughs heartily] So that was how much Heath loved me, you know. That was how I met him."
And when it came to working together, Gyllenhaal said the experience was a "really deep and fun one." He told Vanity Fair that, during that time, the relationship between them was "based on a profound love for a lot of people that we knew and were raised by in our lives," adding that having "a deep respect for their love and their relationship" was something they had in common.
Jake Gyllenhaal took Heath Ledger's death hard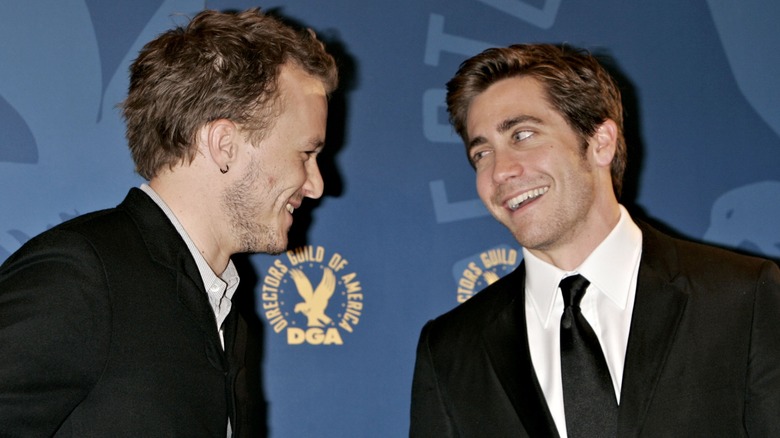 Kevin Winter/Getty Images
When Heath Ledger died in 2008 following an accidental drug overdose, Jake Gyllenhaal had a tough time processing his death. In a 2016 interview with People, he admitted that it affected both his personal and professional life. "It affected me in ways I can't necessarily put in words or even would want to talk about publicly," he confessed. "I think I was at an age where mortality was not always clear to me."
He opened up even further in an interview with NPR, admitting how incredibly much he missed his friend. "I miss him as a human being and I miss working with him, and what an unfortunate thing it is that we won't be able to see the beauty of his expression," he shared. And apart from missing Ledger as a friend, Gyllenhaal lamented the fact that they will never get to work together in a creative capacity again. "While there are many parts of the real story that are sad, one of the saddest things is that I won't be able to exchange ideas creatively with Heath again, because that was one of the most beautiful things to come out of that," he told Out.
Ultimately, though, Ledger's death taught him an important lesson. "Life is precious," he said. "I think losing Heath and being a part of a family that was something like the movie, makes you see that, makes you appreciate that and hopefully moves you away from the things that really don't matter to the things that do."