Is Madelaine Petsch Dating Anyone Since Splitting With Travis Mills?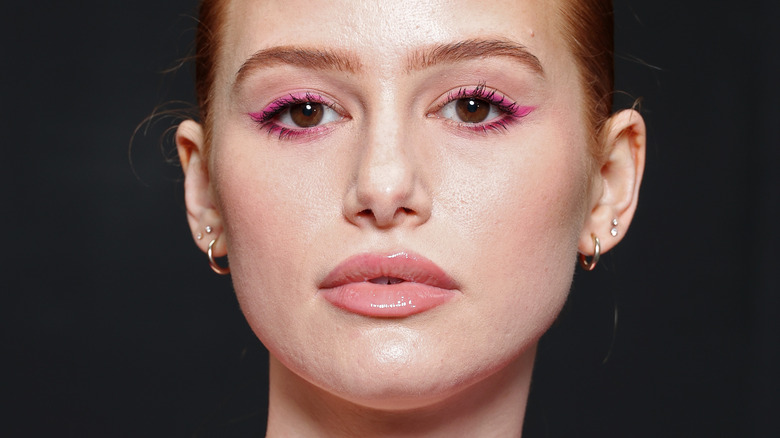 Pascal Le Segretain/Getty Images
The CW's "Riverdale" has become something of a cultural phenomenon among Gen Zers since premiering in 2015. While it boasts a star-studded cast of Lili Reinhart, Cole Sprouse, Camila Mendes, KJ Apa, and Madelaine Petsch, it's Petsch who has been a stand-out character from the start. From her trademark scarlet lipstick to her savage one-liners, Petsch's Cheryl Blossom pulls no punches — and fans love her for it. Cheryl's time on the show has been equally memorable given her role at the center of a time-spanning, multi-character lesbian love story, but (thankfully) Petsch's real-life romances are a little less complicated.
After three years of dating, the "Riverdale" actor split from Travis Mills in 2020. A source told Us Weekly at the time that Petsch had "moved her stuff out of his Los Angeles place." Mills took to Instagram to detail the split, calling the relationship "the most non-superficial [and] grounding experience in my life." He added, "I mean it when I say I'm so incredibly grateful to have shared the last [three] years with someone as compassionate, smart, and wonderful as Madelaine." Petsch did not address the breakup at the time, though she later opened up to Flaunt Magazine about how her mental health had suffered. "Every day was definitely a challenge and therapy was absolutely key for me to keep sane," she explained. The good news is that after working through things on her own, Petsch may have found love again with someone new.
Madelaine Petsch has been linked to Miles Chamley-Watson
In 2020, Madelaine Petsch has been linked to Olympic fencer Miles Chamley-Watson (via J-14) after a since-deleted Instagram post showed Chamley-Watson walking Petsch's dog, alongside her "Riverdale" co-star Camila Mendes. In a separate Instagram post, the fencer was pictured sitting next to Petsch at the "Riverdale" cast's Friendsgiving dinner later that year. A few months later, the two were spotted walking together in photos obtained by The Daily Mail. The outlet further reported that Chamley-Watson is close with other members of the "Riverdale" cast and he reportedly relocated to Vancouver during the show's filming to spend more time with Petsch.
While all evidence points to Petsch and Chamley-Watson being a couple, the pair have not commented on their romantic status. This seems to be intentional on Petsch's part. Her relationship with Travis Mills was heavily documented on Instagram, and she ended up purging her social media accounts in the wake of the breakup. "I was so public with my boyfriend," the "F**k the Prom" actor shared with Cosmopolitan in 2021, remarking on the fact that she and Mills had constantly broadcast their love via Instagram and YouTube. "I wish I would've pulled back a little bit. ... Moving forward, I will keep personal relationships like that off my YouTube."
Madelaine Petsch and Miles Chamley-Watson find purpose in their crafts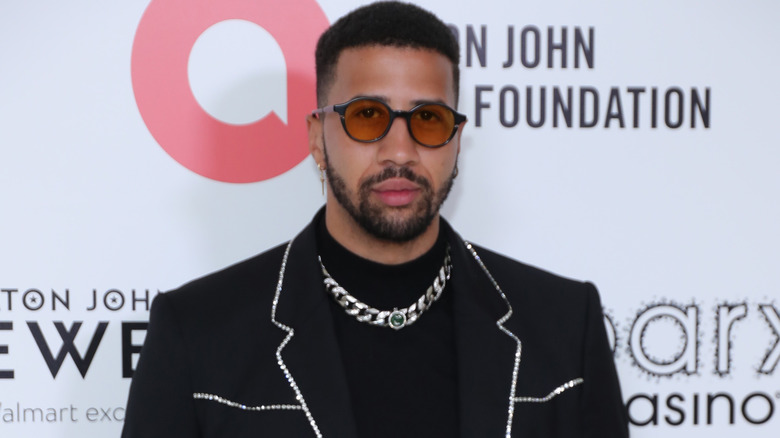 Leon Bennett/Getty Images
As fans wait for official confirmation about Madelaine Petsch and Miles Chamley-Watson, they've been wondering about Chamley-Watson's background. Unlike Petsch's rapper ex, Travis Mills, Chamley-Watson made a name for himself by competing in the 2012 and 2016 Summer Olympics, winning a bronze medal in the process. The London-born star also uses his platform to speak out about issues he cares about, such as competing in a sport dominated by white athletes. "I will continue to put the sport I love on my back for my people and continue to diversify and change my sport," he shared on Instagram.
Chamley-Watson has additionally been open on Instagram about how fencing has changed his life for the better. Sharing a picture on Instagram of his first win at age 11, he wrote, "This was the first year I didn't spend every day in the principal's office because I found fencing." Like her rumored boyfriend, Petsch has also found purpose through her craft. Speaking to Business Insider, the actor talked about how the pandemic impacted her mental health and how acting has turned out to be a positive coping mechanism. "When I'm somebody else is when I feel like I can let go of all of my crap and my own baggage," she said. "It actually made me get through what I was going through so much better because I was able to process in a rational sense when I was ready."