Kelly Clarkson And Jerry Springer Have One Embarrassing Thing In Common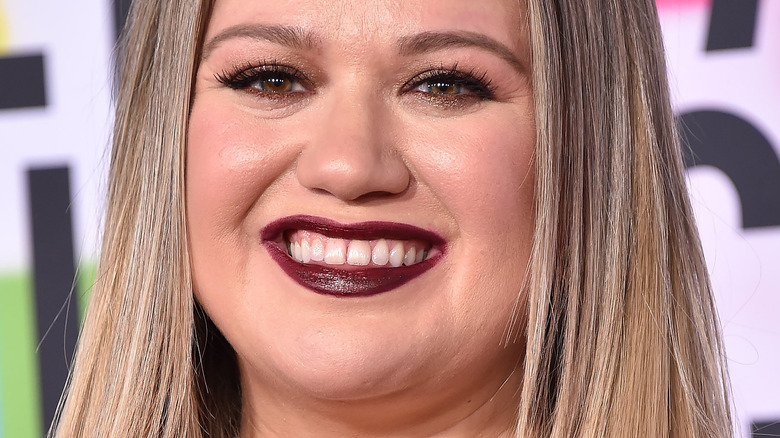 DFree/Shutterstock
Kelly Clarkson and Jerry Springer ren't exactly the first two people you think of when you think of two celebrities who have major things in common, but it turns out these two have more similarities than you might think. Of course, the most obvious one has to be that they're both popular daytime talk show hosts.
It pretty much goes without saying that Springer has lamented his place as one of the most famous daytime hosts of all time, with his notorious "The Jerry Springer Show" going down in history as one of the messiest, can't look away, car crash TV shows of all time, airing for a whopping 28 seasons between 1991 and 2018. The series showed us all the shocking stories America has to offer, with plenty of guests confronting each other with everything from paternity tests to lie detectors over the years. Say it with us now; Jerry! Jerry! Jerry!
Then, kind of on the other end of the daytime talk show scale, we have "The Kelly Clarkson Show." A little more demure when compared to "The Jerry Springer Show," Clarkson opted to leave the craziness behind (for the most part) for her series, inviting famous faces on her show to chat about their lives and latest projects. But it turns out that both being uber successful hosts actually wasn't the big thing these two bonded over when they sat down for a chat.
Jerry Springer and Kelly Clarkson were both in 'horrible' movies
When Jerry Springer paid a visit to "The Kelly Clarkson Show" in 2020, he and Kelly Clarkson got pretty candid about something embarrassing they'd both done — box office bombs! Yep, Springer and Clarkson both have (in their opinion, of course) bad movies in their rearview mirror, which they can laugh about now. "You also made a movie," Clarkson told the former "America's Got Talent" host, as he jokingly hit back, "And so did you, Fancy Pants." "Mine was contractually obligated. It was horrible! How was yours?" Clarkson then asked, to which Springer admitted he hated his movie, adding, "It was called 'Ringmaster' and it came out right when my show was really doing well and so they wanted to make a movie about, [a] Ringmaster, because really it's a circus, my show." They both then bonded over their tragic movie pasts, calling their projects (in their words, not ours) "horrible."
Springer's "Ringmaster" came out in 1998 and didn't exactly set the box office on fire. In fact, it pretty much bombed, only recouping $9.2 million of the reported $20 million it took to make it, per Box Office Mojo. As for Clarkson's movie mishap, she was referring to her notorious post-"American Idol" release, "From Justin To Kelly," which she starred in alongside "Idol" runner-up Justin Guarini. That pulled in $4.9 million at the box office in 2003, according to Box Office Mojo, much less than its $12 million budget.
Kelly Clarkson desperately tried to get out of her movie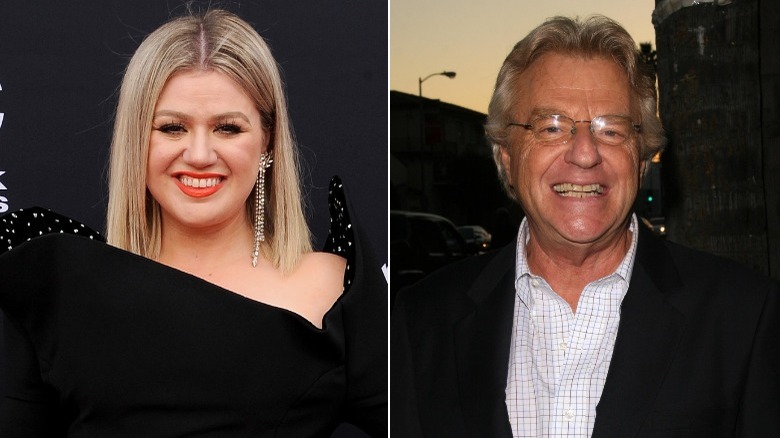 Tinseltown & s_bukley/Shutterstock
It was hardly a shock to anyone who's heard of "Ringmaster" or "From Justin To Kelly" to hear Kelly Clarkson and Jerry Springer totally trashing their movies. Both have made no secret of the fact they're not exactly proud of their movie careers, with Clarkson in particular opening up about just how bad her experience was. "It was a very miserable time of my life. I feel like it's one of those things where, 'There are plenty of people that would love to do this — why don't you ask one of them?'" she told Los Angeles Times in 2019, revealing she couldn't get out of it because of her airtight "American Idol contract. "I cried. I talked to many lawyers and could not get out of the movie."
As for Springer's foray onto the big screen? Well, it got plenty of criticism when it was released, including Washington Post listing it amongst the worst movies of 1998, while MTV News went as far as to brand it one of the best worst movies in history. Yikes. 
But at least Clarkson and Springer know how to laugh about it now, right?