Houston Astros Player Jeremy Pena Has A Famous Father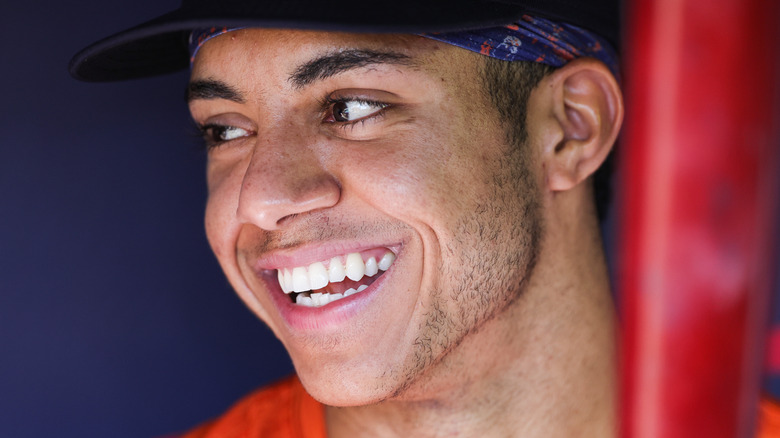 Carmen Mandato/Getty Images
Jeremy Peña, aptly nicknamed "La Tormenta," is bringing something fresh to Major League Baseball. There's always talk about the legends, like Alex Rodriguez or Derek Jeter, and their major feud. Or New York Yankees superstar Aaron Judge, who loves having his mom at his games. If that's not cute enough, the fact that Judge married his high school sweetheart, Samantha Bracksieck, will endear him to you even more.
While we know so much about these famous faces, Peña is a bit newer to the baseball industry. According to MLB stats, the Dominican Republic native began his professional baseball career in 2018, making his official league debut in 2022 with the Houston Astros. Playing against the Yankees in the 2022 American League Championship Series, Peña was named the MVP. "It's surreal," he told The New York Times. "You dream about this stuff when you're a kid, and shout-out to my teammates: We show up every single day. We stayed true to ourselves all year. We're a step away from the ultimate goal." While Peña is becoming a legend in his own right, his father was also a famous baseball player. Like father, like son.
Geronimo Peña played for the St. Louis Cardinals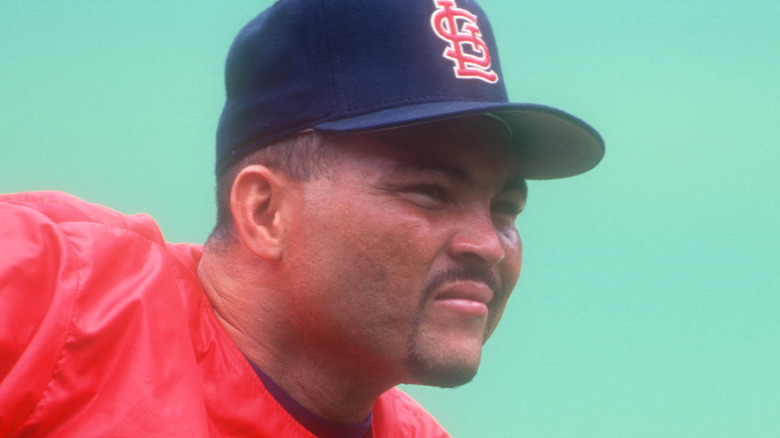 Mitchell Layton/Getty Images
According to Baseball Almanac, Gerónimo Peña was born in the Dominican Republic just like his son Jeremy. He would later get his professional baseball start at the age of 23, joining the MLB in 1990. However, Gerónimo and Jeremy didn't play on the same team: instead, Gerónimo played for the St. Louis Cardinals, with a brief stint with the Cleveland Indians in 1996. Throughout his MLB career, he amassed 30 home runs, a .262 batting average, and played in 378 games. In his first year with the Cardinals, Gerónimo's contract was worth $100,000, but by his sixth and final year with the team in 1995, he was earning an impressive $770,000.
Per The Runner Sports, Gerónimo and his wife Cecilia welcomed their son Jeremy in September 1997, not long after Gerónimo's retirement. After moving back to the Dominican Republic, they returned to the United States when Jeremy was nine, settling in Providence, Rhode Island. The move to the U.S. was a huge deal for Jeremy's future career in the same world as his dad.
Jeremy Peña's dad taught him everything he knows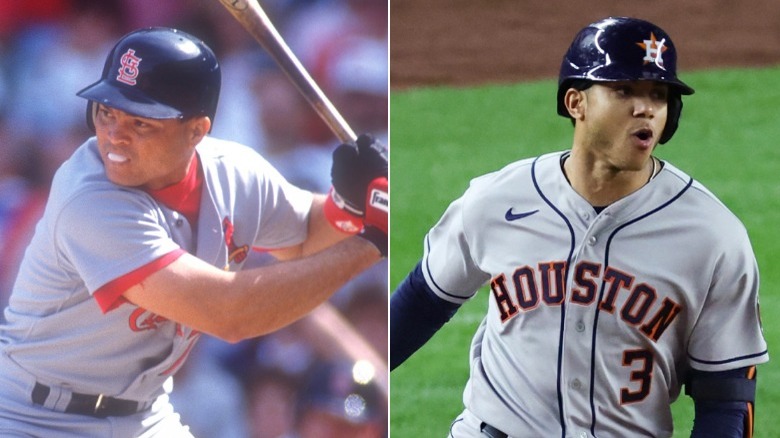 Mitchell Layton & Al Bello/Getty
Having followed in his footsteps, it goes without saying that Jeremy Peña's father Gerónimo had a major influence on him. When The New York Times wrote about Jeremy's up-and-coming stardom in 2022, they said, "It has helped that he can lean on his father, Gerónimo." Houston Astros manager Dusty Baker explained to the paper why Jeremy was successful at such a young age, saying, "It probably comes from his background. From his culture, from his dad who played, from his mom that he's close to, and the fact that I think he's the only Dominican dude I know who went to University of Maine." Clearly, having a tight-knit family made all the difference for Jeremy on the way up.
Earlier in 2022, Jeremy hit a home run while his parents, Gerónimo and Cecilia, were watching Jeremy play and giving an interview. "A home run for your son!" the interviewer said excitedly, before giving the Peñas the mic. "Happy, happy, happy now," Gerónimo said. The interviewer then asked Gerónimo if he taught his son everything he knows. "Yes," Gerónimo said, smiling. "We try, we try hard," the proud dad added. That's an impressive family bond right there.