Inside Taylor Swift's Relationship With Ina Garten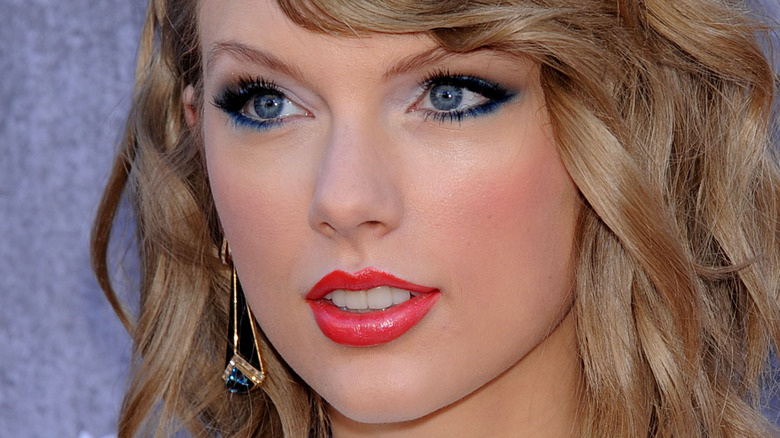 DFree/Shutterstock
Taylor Swift is one of the ultimate idols for millions of people all over the world. Thanks to her dedicated Swifties, pretty much everything the star touched turns to gold (or, more likely here, multi-platinum) so much so that Swift is still breaking records all over the place years into her stellar career. Case and point? "Midnights," which dropped on October 21. The album was highly anticipated by Swift's fans, who supported the release so much that Billboard reported it sold the equivalent of more than 1.4 million copies in the U.S. in the first five days of its release alone. Woah.
So, with Swift having so many loyal fangirls and fanboys in her corner, it may surprise you to hear that she actually feels the same way about other celebrities. Case and point? The "Anti-Hero" singer's admiration for none other than cookbook author and former staff member of the White House Office of Management and Budget, Ina Garten. Yep, it turns out Swift is a total stan of the star, and she's not been afraid to hide her affections over the years.
Taylor Swift called Ina Garten her hero
Taylor Swift's love for Ina Garten really came to light back in 2014 when she was lucky enough to get a private cooking lesson with The Food Network star. During their fun kitchen session, Swift admitted that the chef was her "hero," as she joked that she would often try out Garten's recipes but get annoyed when her friends told her they wouldn't be eating her hearty meals. "I'll cook for these boys, and they'll be like, 'I'm on a diet.' I'm like, 'I can't hang out with you,'" the "Love Story" singer said, per People, as they were joined by her mom Andrea, and her brother, Austin.
But that's hardly the only time Swift has shown off her fangirl side. A few years later, she shared a sweet tribute to Garten with Food Network, revealing they'd crossed paths a few times before and it was Garten who inspired her love of cooking. "[Garten's] one of those people who is even better, funnier, warmer than you'd hoped her to be," the star shared, revealing she first found out about the kitchen queen when she was a teenager and started watching her cooking shows. "Watching Ina prepare a meal changed my perspective on cooking and reframed it as something relaxing. She made cooking feel like self-care," Swift shared, revealing she's loved to hit the kitchen ever since. "I'll always be grateful to her for giving me that," she added.
Ina Garten called Taylor Swift 'a beacon of light for women'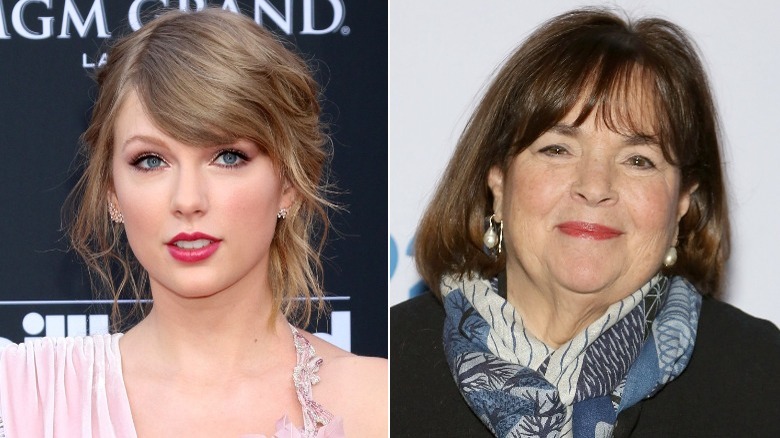 Manny Carabel/Getty & Kathy Hutchins/Shutterstock
Don't think all this admiration between Taylor Swift and Ina Garten is just a one way street. Oh, no. It turns out that Garten is just as big of a fan girl in return, as she too has shared some very sweet sentiments over the years about the country hitmaker turned pop superstar. Back in 2019, Garten shared a birthday tribute to Swift on Instagram in December 2019, posting a selfie that showed the two smiling alongside the caption, "You're a beacon of light for women of all generations, including me! What a brilliant speech at the Billboard awards. Congratulations!" She did the same again two years later, sharing an Instagram snap of Swift in concert and writing, "Happy Birthday to one of the most creative artistic geniuses of our time! You are such an inspiration for anyone who wants to sail their own ship." Garten really is a fan of her bestie's music too, as People revealed she owns all of Swift's albums. Now that's a supportive friend!
Garten later admitted on "Today" in October that this sweet friendship began when Swift was 25 years old, explaining their bond really started when they were both on the NBC morning show and she got to watch Swift perform. "I just so fell in love with her," she shared.
This friendship? We love it!