The Big Secret Timothée Chalamet Kept From Steve Carell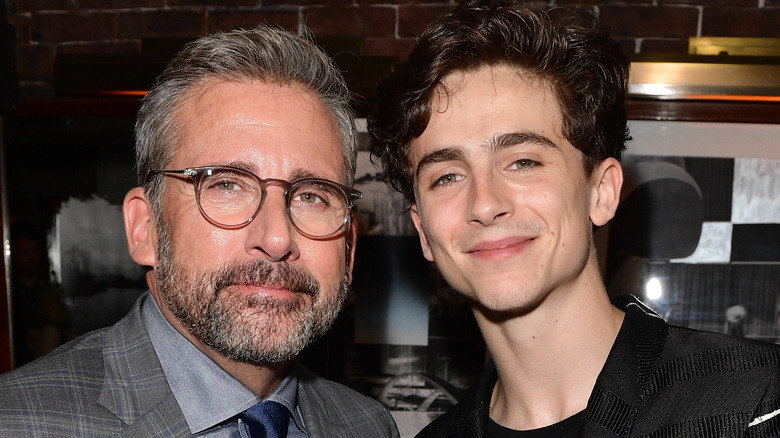 George Pimentel/Getty Images
There's no denying it at this point — Steve Carell is an icon. While he's had a wonderful career as a film actor, he is undoubtedly best known for playing the chaotic yet lovable Michael Scott in "The Office." Even so, Carell showed his range with films such as "Little Miss Sunshine" and "Foxcatcher," the latter of which he received an Academy Award nomination for, per IMDb.
Alternatively, Timothée Chalamet exploded onto the scene as a dramatic actor with Greta Gerwig's "Ladybird" as well as his sensational turn in "Call Me By Your Name."  According to his IMDb profile, he then stole hearts as Theodore Laurence in "Little Women," and tried his hand at science fiction with "Dune." His comedic ambitions are less of a factor, but he did host "Saturday Night Live" once. 
When the two were cast as father and son in "Beautiful Boy," it sounded like an ideal match — especially to Chalamet. However, the "French Dispatch" star hesitated when meeting Carell for one major reason: "The Office."
Timothée Chalamet fanboying over Steve Carell is all-too-relatable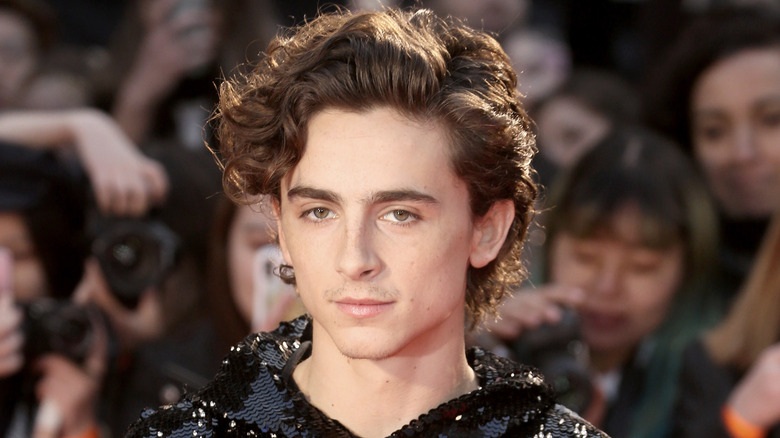 Fred Duval/Shutterstock
While Timothée Chalamet — who has some deep thoughts about social media — and Steve Carell may sound like an unlikely combination, the actors developed a believable chemistry despite "Beautiful Boy" debuting to mixed reviews. However, like many of us, the native New Yorker found himself starstruck by Carell, who he grew up watching as Michael Scott in "The Office."
'"The first time I met Steve was at a chemistry read," Chalamet revealed to W Magazine. Despite being a big fan of "The Office," he was afraid to tell Carell because he "didn't want to weird him out." The 26-year-old then quipped: "Have you ever gotten it wrong when you meet a famous person you really like? And then it's kinda your learning experience? And you're like, 'Okay, I'm not gonna do it like that again.'" He tried to play it cool, giving the "Crazy, Stupid, Love" star a "big hug" but made sure "to keep it focused to the scenes."
Chalamet went on to add, "The irony is that since we've been promoting the movie, it's come out that [I'm a fan]." Since then, the two have maintained a mutual admiration for one another.
Steve Carell praised Timothee Chalamet
Cindy Ord/Getty Images
Little did Timothee Chalamet know, Steve Carell was also a fan of his prior to working together on "Beautiful Boy." In fact, Chalamet first got on Carell's radar when the latter saw "Lady Bird."
"I said to my wife afterwards: 'That one guy. Who is that? What's going on? There's something special there,'" Carell told The Guardian. He then expressed his enjoyment of working with the younger actor, praising the "Dune" star's talent and work ethic.  "So in fact I think his performance in Beautiful Boy is my favorite on a selfish and personal level because I witnessed and shared in it."
For his part, Chalamet was also quick to compliment Carell, stating that picking a favorite film of his was difficult. The New Yorker singled out "Foxcatcher" before adding that "The Big Short" and "Bruce Almighty" were his other top picks. According to Bustle, the novelty of working with Carell never quite wore off for Chalamet. As he explained: "My favorite thing I've heard about the poster is that somebody told me, 'You look like you're just happy to be in a picture with Steve Carell.' And it's kind of true, if you look at it long enough."