What Languages Can Meghan Markle Speak?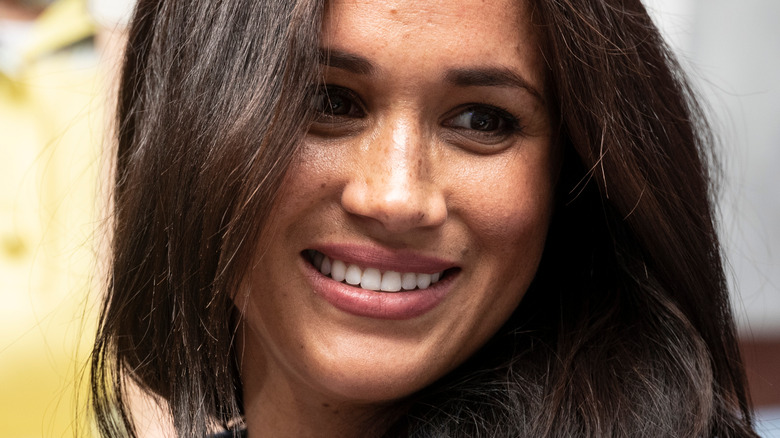 lev radin/Shutterstock
Meghan Markle left her acting career behind to write her name in the history of British aristocracy when she married Prince Harry in May 2018, thus becoming Meghan, Duchess of Sussex. But where the "Suits" alum ended up is miles away from where she had planned. Even acting was already a plan she never expected to materialize. "I knew I wanted to do acting, but I hated the idea of being this cliché — a girl from L.A. who decides to be an actress. I wanted more than that," she told Marie Claire in 2013.
She wasn't willing to give up her passion, though. Instead, Meghan double majored in theater and international relations at Illinois' Northwestern University with the hopes of igniting a political career. "I had always loved politics, so I ended up changing my major completely," she explained. But being a girl from L.A. worked to her advantage. While visiting her family over the Christmas break, a friend introduced Meghan to an agent.
"He saw a student film that I had done and said, 'You know what, you're going to make money, and I'll take 10 percent, and I think you should stick around,'" she recalled. So acting it was. That is, until Meghan met Harry in early 2016, according to The Telegraph. But her international relations background proved valuable, arming her not only with knowledge of world affairs and politics, but also with language skills that came in handy in her role as duchess.
Meghan Markle spent time in South America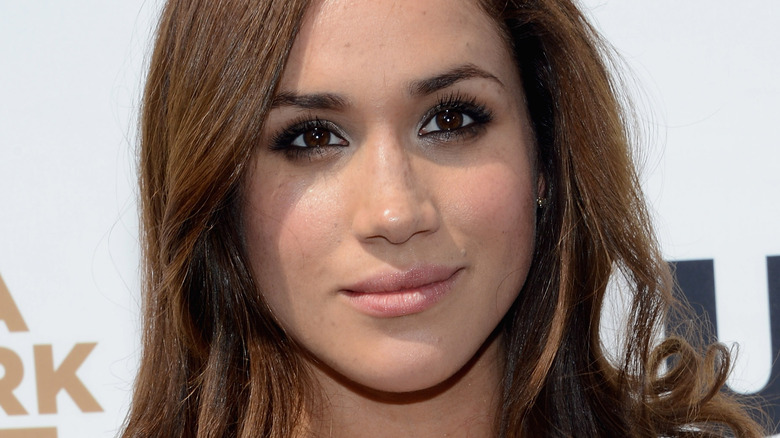 Jason Kempin/usa/Getty Images
Meghan Markle surprised us all when she seamlessly switched to Spanish during a charity event in the summer 2020, People reported. "She spoke Spanish perfectly with one young woman," said Father Greg Boyle, the founder of Homeboy Industries, a group that helps former inmates and former gang members. "She just went right into Spanish, which was a revelation — and it was very good."
During their volunteer work, Meghan and Prince Harry helped with the cooking, spending most of the day in the kitchen where the dominant language was Spanish. Meghan's knowledge of the language helped the couple relate to the workers, Boyle told Access Hollywood. "People were immediately vulnerable with him and with her," he said. Meghan's Spanish is good probably because she learned it straight from the source.
When she was a 20-year-old international relations student, the former actor secured an internship at the U.S. embassy in Argentina, where she became proficient in Spanish, according to the royal family's website. "By my junior year I had finished most of my credits, and I applied for an internship at the U.S. Embassy, so I ended up working in the embassy in Buenos Aires for a few months," she told Marie Claire. Meghan continued to improve her Spanish in the years that followed. In late 2002, she spent three months in Madrid, Spain, where she lived with a local family and took classes taught in Spanish, according to a 2018 Chicago Tribune report. 
Meghan Markle speaks some French
Spanish isn't the only language Meghan Markle has impressed crowds with. The Duchess of Sussex has been captured speaking French on different occasions, including on a 2019 trip to Morocco, a country that was occupied by France between 1912 and 1955. During their three-day tour, Meghan and Prince Harry visited schoolchildren in the north African country, where she could be heard talking some French with local girls in a clip shared on the Prince and Princess of Wales' Twitter (above).
Meghan first interacted with one who told her she strived to become an astronaut before turning to the second. "Et toi? Qu'est ce que tu veux être?" she asked, meaning, "And you? What do you want to be?" Meghan is able to speak a little French thanks to the six years she studied it in school, according to the royal family's website. But that was a while ago and Meghan doesn't feel as comfortable with the language anymore.
That became evident when Harry teasingly suggested she address a Canadian crowd in French, which she promptly refused, People reported. But, she hasn't lost her interest. In early 2016, Meghan included the language among the New Year resolutions she shared on her now-defunct lifestyle blog, The Tig. "Run a marathon. Stop biting my nails. Stop swearing. Re-learn French," she listed. And she stood by her words. "[I've been] trying to get better at my French over the last year," she said in 2018, the Daily Mail noted.