How Reba McEntire Played A Role In Billy Ray Cyrus' Success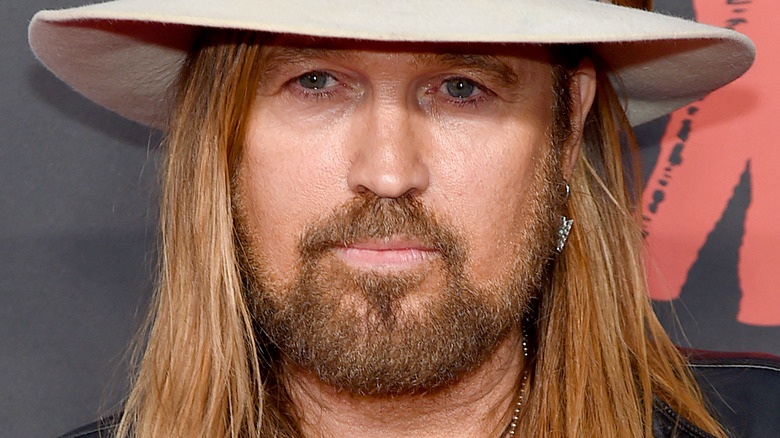 Jamie Mccarthy/Getty Images
Billy Ray Cyrus experienced his fair share of heartbreak before "Achy Breaky Heart" made him a country music sensation. The man with the mullet — and the moves that made line dancing hot again — once studied to become an air conditioner repairman, per The Daily Independent, while what he was really hoping to do was fulfill his dream of being a professional baseball player. But, those dreams move on if you wait too long — or if you see Neil Diamond in concert, which is what made the Kentucky native decide to suddenly change course while he was playing ball at Morehead State University, according to Louisville Music News.
Billy Ray formed a band called Sly Dog, but after the group lost all of its equipment in a fire, he decided to seek his fortune in Hollywood, where he ended up selling cars to make ends meet. He had to head back home and come up with a new plan, but would eventually make it back to Los Angeles, telling Deseret News that Dolly Parton's career inspired him to branch out and try acting. Billy Ray and Parton would go on to appear in the same insanely popular show together when Billy Ray's daughter, Miley Cyrus, scored her own Disney series, "Hannah Montana."
The decision to pursue an acting career was something Billy Ray also had in common with Reba McEntire, who played an important role in the singer's long journey to success.
Billy Ray Cyrus was discovered while opening for Reba McEntire
After his first shot at making a living as a performer in Los Angeles proved fruitless, Billy Ray Cyrus returned to Kentucky and began performing with his band Sly Dog again. Per Louisville Music News, the group scored a steady gig at the Ragtime Lounge in Huntington, West Virginia, and Cyrus spent his time off looking for other opportunities in Nashville. It was there that he met Del Reeves through his daughter, per the Los Angeles Times, and the country icon hooked Cyrus up with his manager, Jack McFadden. Attempts at shopping demo tapes around were unsuccessful, but after Mercury Records exec Buddy Cannon saw Cyrus open for Reba McEntire during a show in Louisville, Kentucky, the singer finally got his long-awaited recording contract.
However, Cyrus still had dues to pay. On "The Big Interview," he revealed that he was living in his Chevy Beretta when he recorded his debut album, "Some Gave All." The record would become 1992's top seller, per the Los Angeles Times. It included a little ditty called "Achy Breaky Heart," and the video that Mercury Records filmed to accompany the song helped Cyrus become an achy breaky heartthrob, per USA Today. TV Guide even turned McEntire into a Cyrus fangirl on the cover of a 1992 issue. She had a wide smile on her face, while hugging Cyrus tightly from behind, as the cover line read, "Sobbin', Throbbin Reba: Eeeeyow, Billy Ray!'"
How Reba McEntire felt about Old Town Road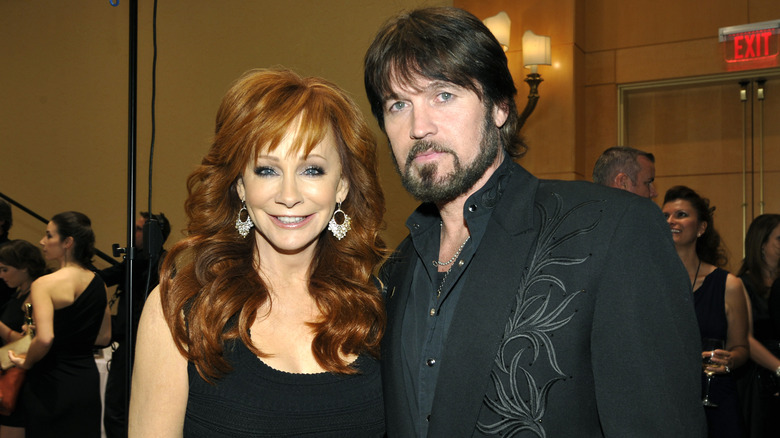 John Sciulli/Getty Images
In 2009, a TMZ camera man randomly asked Reba McEntire if she would cover "Achy Breaky Heart," and she shook her head "no." (We can't help but wonder whether Billy Ray Cyrus was aware of this slight when they crossed paths at the 2013 Celebrity Fight Night event and posed for the above photo.) Years later, McEntire was asked to share her thoughts about "Old Town Road," the Lil Nas X song that Cyrus was featured on for a remix. On "The Kelly Clarkson Show," Cyrus explained that Lil Nas X chose him for the collab because the rapper used to watch "Hannah Montana." 
The original version of the song had caused some disharmony among those in the country music industry — Billboard removed it from the country charts, per Rolling Stone, and even after Lil Nas X remixed it with Cyrus, the duo was not invited to perform the smash hit at the 2019 ACM Awards, as noted by the Chicago Tribune.
At the ACMs, McEntire was asked whether she considers "Old Town Road" a legit country song, and she sided with Lil Nas X. "Country music has always been very diversified ... One time it will be very traditional, then it will be very contemporary," she said, per Hollywood Life. "It's cyclical." She argued that the focus should be on creating music that moves people — which is something she, Cyrus, and Lil Nas X have all done successfully.