The Truth About Dolly Parton And Billy Ray Cyrus' Relationship
Michael Kovac/Getty Images
It's hard not to think of music icon Dolly Parton as an actual member of singer Billy Ray Cyrus' family. The two country music stars have grown so close over the years that many fans believe the two to be actual relatives. In fact, Cyrus even credits Parton for his success. In 2016, he told Closer Weekly, "I love Dolly. I probably wouldn't be doing what I'm doing without her." 
Cyrus emphasized that Parton has been there for him since the beginning. "Keep in mind, she was there in 1992 when I went from living in my Chevy Beretta to recording my first album. Pretty soon after that, I was opening her shows! She sent a letter to my dressing room and we just bonded from that night on."
Parton, for her part, adores Cyrus just the same. When Cyrus appeared on TODAY in November 2020, Parton recorded a video message of support for her good friend. She said,"I wish I could have been there with you today but I sure had a fun time singing a duet with you on my Holly Dolly Christmas album and singing with Miley, too."
Parton is of course referring to Miley Cyrus, Billy Ray's daughter. And, for those of you who did not watch Hannah Montana growing up, Parton is also Miley's godmother. This may be another reason why fans think Parton and Billy Ray are related. Yet, ironically, it was a romance rumor between Parton and the "Achy Breaky Heart" singer that brought the two together.
Dolly Parton and Billy Ray Cyrus were once romantically linked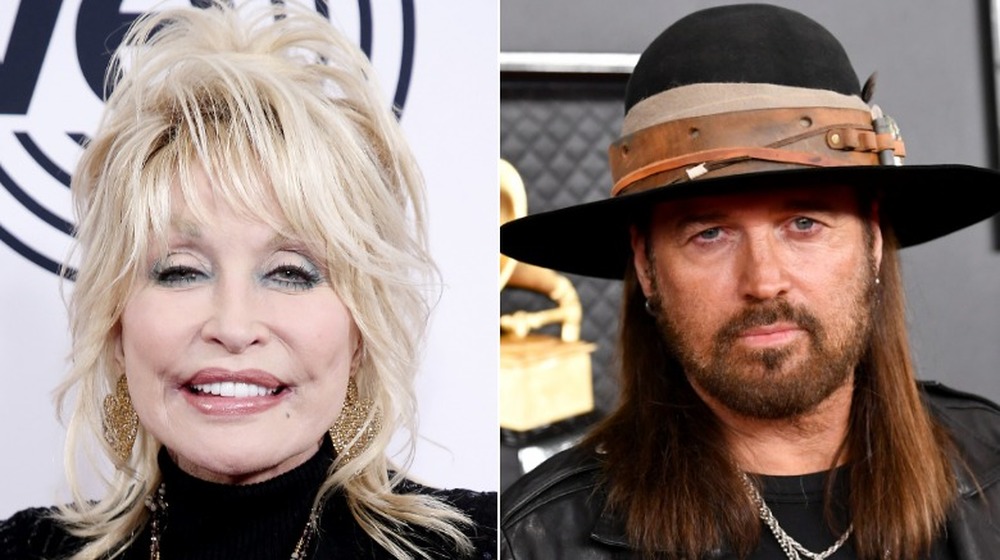 John Lamparski, Amy Sussman/Getty Images
Country legends Dolly Parton and Billy Ray Cyrus may be practically family now, but at one point, there was a romance rumor between the two. Cyrus says the rumor began when he was the opening act for Parton after the success of his hit song "Achy Breaky Heart." He recalled to Closer Weekly, "When I was on her tour, there was a headline that she and I were romantically involved."
Of course, the "Jolene" singer was super cool about the whole thing. Cyrus explained, "My manager took me to meet her for the first time and I said, 'I'm so sorry.' Dolly looked me straight in the eyes and said, 'Honey, that s**t sells records!'" He added that those wise words from Parton proved to be true because Cyrus' first album Some Gave All remained at No. 1 on the charts for several weeks.
Yet, the two have always been just friends. Cyrus has been married to Miley Cyrus' mother, Tish Cyrus for years, and Parton has been with hubby Carl Dean for more than 50 years! Parton seems to still love to make Cyrus blush to this day, though. When Cyrus was on TODAY in November 2020, Parton sent him a video message saying "Of course, you know I got a crush on you."
Leave it to Parton to steal the show! Romance rumors aside, these two have a lot of history and a lifelong friendship that seems rare for showbiz.